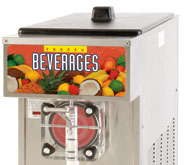 When a consumer orders a favorite coffee drink at their local café, chances are that drink is being prepared with a Grindmaster-Cecilware product.
The company is headquartered in Louisville, Ky., and is comprised of four different companies: Grindmaster Corp., Cecilware Corp., Crathco and American Metal Ware. Grindmaster-Cecilware was formed in 2009 through the merger of the two companies and continues to be the industry leader in beverage dispensing equipment, but also operates a small division of foodservice equipment, CEO Nestor Ibrahim says. "We have a very long history and strong brand," he adds. "We are four very strong, established brands that have created synergy and critical mass in the marketplace."
Cecilware was founded in 1911 and manufactured foodservice equipment in Long Island, N.Y., and Grindmaster began in 1933 after Richard Shuman patented his unique style of coffee grinders. Through the years, both companies expanded operations through product development, diversification and acquisition. Grindmaster acquired Crathco, a manufacturer of cold beverage dispensers, in 1988, and then American Metal Ware, a manufacturer of coffee and tea brewers and urns, in 1995. "We will continue to lead with innovation and manufacture at the cost point that satisfies the needs of our customers," Ibrahim says.
Customer Satisfaction
Grindmaster-Cecilware products are used by some of the largest restaurant chains and beverage producers, including Nestle, Starbucks and Dunkin' Donuts. The company's products are also used in grocery and convenience stores and hotels. New beverage options have become a major focus of the company's customers, which has increased demand for new dispensing equipment. Every major restaurant chain is experimenting with new beverages, Ibrahim says.
"Some even have two or three they are testing and each requires a specialized piece of equipment," he adds. "Even as mature of a company as Starbucks is experimenting to deliver new beverages or the same beverage differently. This impacts the equipment that dispenses the beverage. We are very active and trying to adapt to be able to respond to as many inquiries, requirements and demands our customers have today. The opportunity for us is wide."
The company is also seeing the need for new or reinvented beverages to be dispensed in single-serve options, CFO David Dudding says. "We are at the leading-edge of that in the commercial side," he notes. "The needs are shifting more towards single-serve and the equipment is being developed to handle that change in customer needs."
Grindmaster-Cecilware's latest products are more often than not dictated by what the customer needs rather than by industry trends. "We are very focused on the customer vision and trend setting than trying to be everything to everybody," Ibrahim explains. "It's not about what the industry is doing, but what the customer needs." Grindmaster-Cecilware's customers explain what product they need to dispense and the company translates that into a piece of equipment. "Sometimes it's new equipment or customizing existing equipment," he adds. "We listen to the customers and work with them. While we continue to lead the industry with mainstream products, many of our new introductions have been products designed for a specific use of a customer. Our customers work directly with our engineers and contribute – to a large extent – to the innovation we put into our equipment."
Attention to detail is a key requirement for the company's engineering initiatives, Vice President of Engineering Jose Avendano says. "Our engineering department executes extensive testing during our product development cycle to ensure that concerns are addressed prior to launching a product to the marketplace," he adds. "Test plans are tabulated and predefined, and the test plans only get more robust as new products and projects are executed." The engineering department's policies and procedures have been vital in securing Nestle's preferred supplier status, as well as the company's ISO 9000 certification.
Equipment Excellence
To provide its customers with exactly what they want, Grindmaster-Cecilware relies heavily on its research and development teams located in Louisville and Bangkok, Thailand. The two locations actively research new equipment and technologies and reinvent equipment to provide new options for beverage dispensing. "We are constantly innovating with new equipment that serves the changing needs of the customer," Ibrahim notes.
After the product is developed by the research and development teams, one of Grindmaster-Cecilware's three manufacturing plants in Louisville, Bangkok or Northbrook, Ill., begins building the product. The company's manufacturing facilities in Louisville and Bangkok are both ISO 9001-certified, which Ibrahim says keeps its facilities disciplined and on the cutting-edge of manufacturing methods. "We also go through inspections by some of our larger customers who have more rigorous demands," he adds.
The products developed at Grindmaster-Cecilware are very technically advanced. The end-user sees only one button or a touch screen that dispenses the selected beverage when pressed. "There is a whole process that happens behind the scenes," Ibrahim says. "There are sophisticated controls that are constantly changing because the electronic industry is constantly evolving."
Newer technology is always being utilized in its products. For example, the company is switching from fluorescent to LED lighting for the display backlighting on its products because it's more energy-efficient and leaves a green footprint. "We understand that if our success is to continue, we must always be a good corporate citizen," the company says. "This means operating appropriately and responsibly in many ways, from minimizing our impact on the environment to preserving a culture that expresses our commitment and support to our employees, their families and the communities where we live and operate." Grindmaster-Cecilware's goals are to reduce its use of natural resources and its production of solid waste, maintain recycling initiatives in every area of operation and continue research and engineering initiatives to create energy efficiency and sustainability in all product lines.
Because of the product complexities, training is a large part of the Grindmaster-Cecilware culture. Every employee is trained in-house and those programs provide them with opportunities to advance within the company. The sales team is trained continuously on the latest innovations and products. Grindmaster-Cecilware provides product service training to its employees and also to its customers so they can understand and maintain their products in the store. "If the equipment is too complex, we send someone to train the customer on the equipment," Ibrahim says. "Many of our customers test our equipment over a long period of time before they buy and they go through the training process."
Key Partnerships
The supply chain team at Grindmaster-Cecilware is based in Louisville and focuses on the planning, purchasing and management of inventory with suppliers. Its suppliers play a major role in the development of new products, Director of Supply Chain Dwight Smith says. "We engage our suppliers in the early stages of new product development to ensure we're utilizing the latest technologies available in the market," he explains.
To optimize the supply chain team's time, the company is working to establish innovative agreements with its suppliers that would make them responsible for managing inventory. This would allow the supply chain team to focus more on new product development, product cost improvement and technology. "I see the supply chain personnel increasing their involvement in the strategic planning of the business and the new product development initiatives with engineering," Smith says. "We are working together with engineering and involving our suppliers to support our customer's needs with product innovation and the latest technologies." The company's goal is to utilize its experienced people more in these types of strategic activities.
Many of Grindmaster-Cecilware's suppliers are long-term partners with the company and understand its needs. To maintain those relationships, the supply chain team hosts supplier meetings to discuss project reviews and conduct strategic planning sessions on a semi-annual basis. This has proved positive in terms of staying engaged with its suppliers on all fronts. "Our focus is on continued improvement relative to total cost, quality and product reliability," Smith says.
Leading the Future
Grindmaster-Cecilware plans to continue succeeding through innovation and new products. "Our new products will thrill and take the industry by surprise," Ibrahim says. "We are ahead of the game in developing new products and understanding the needs of the customers."
The company believes its competition will not be able to compete against its broad catalog, the quality of its products and at its low-cost manufacturing model. "We provide tremendous contribution to our segment of the industry with new products, on-time delivery to the most prestigious customers worldwide," Ibrahim adds. "We feel our future successes will outweigh our past successes."