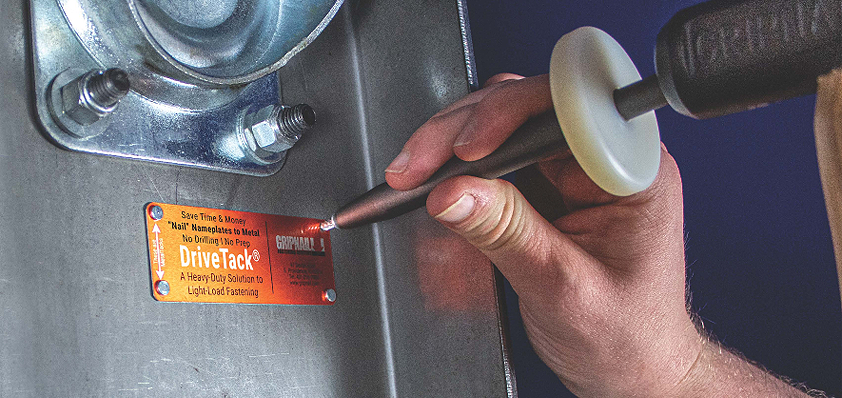 Gripnail Fastening Systems
Gripnail Fastening Systems was founded in 1966 in East Providence, Rhode Island by Peter and Peggy Hallock with the help of Peter's father, renowned inventor Robert Hallock. The product? A revolutionary mechanical fastener that  bites into metal  to form a solid metallurgic bond. The Gripnail would go on to be the standard mechanical fastener for the HVAC duct-lining industry. Not long after that, Gripnail developed a patented line of fasteners and application equipment for the OEM industry. This line of products would lead to broader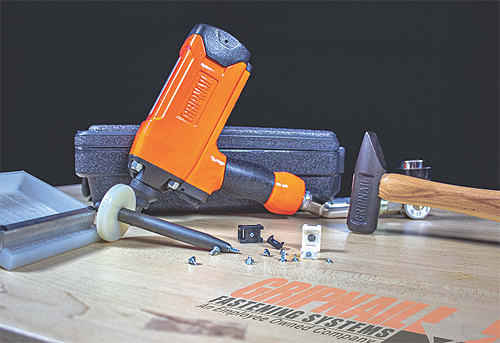 international success for Gripnail.
Gripnail cites the 211 Air Tool and its system of fasteners as an example of how the company succeeds in its mission to deliver quality and production efficiency. The 211 Air Tool is a pneumatic tool that "nails" specialized fasteners into metal without the need to pre-drill holes.
Over the years, Gripnail's engineering and production teams have developed the product into a versatile piece of equipment used in a wide range of industries such as pumps and valves, motor housings, wire management and OEMs. With simplified pneumatics and built in safety features, the 211 has the power, reliability and simple design to place it as the cornerstone of Gripnail's OEM fastener system.
So, what kind of system is this?
No drilling. No adhesives. No surface prep needed. "The expectations of our customers are pretty simple," Grip-nail CEO Chris Ryding says. "They are manufacturers just like us, and it's easy for us to relate to their need for a more efficient way of doing things without sacrificing American-made quality. We deliver that standard every day, and the employees at Gripnail take this approach to proactively develop and produce products that improve the manufacturing process for their customers."
A product line that has been developed from this process is the MetalTack®. The MetalTack is a specialized fastener designed as a heavy-duty solution to light load fastening. MetalTacks were engineered as a fastener that can permanently affix light load attachments to metal without any drilling, surface prep, adhesives or pre-fabricated holes. The concentrated impact from the 211 Air Tool, combined with the unique design of the MetalTack creates a mechanical bond that withstands more than 250 pounds of pull strength.
"The goal to removing adhesives or drilling was self-evident to us," Ryding continues. Adhesives have a "shelf life" which makes using them a less than permanent solution, and will not allow bonding to dirty, rusty or oily surfaces. Drilling holes is labor intensive, metal drill chips are difficult to clean and may cause damage to expensive machinery. A MetalTack prevents foreign debris from entering a work environment.
What If I Already Have Pre-Fabricated Holes?
Gripnail understands changing a process is not always feasible and that is why it took the current industry practice and made it better. DriveTack® was designed as the better drive screw for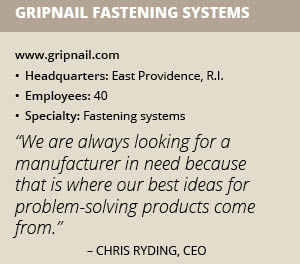 situations where pre-fabricated holes are embedded in the customer's manufacturing process. DriveTack has engineered features that make installing the fastener much more efficient. Unlike traditional drive screws, DriveTacks have flat heads which allows them to be installed with a magnetic tipped hand driver. The nail point makes for easy hole alignment and prevents the fumbling inherent during installation of traditional flat-tipped, domed-head drive screw fasteners.
Automation Is Always On The Menu
Gripnail's culture for continuous improvement drove development of a variety of additions to the application systems, ranging from air tool accessories to inline automated presses. Unique products such as a 360-degree air coupler, extended reach Air Tool drivers, and fastener singulators have been designed to make the MetalTack application process more efficient.
Gripnail's research and development department is consistently looking for unique fastening solutions to modern manufacturer problems. As Ryding explains, "We are always looking for a manufacturer in need because that is where our best ideas for problem-solving products come from." Gripnail's Engineering Team specializes in manufacturing automation and is ready for the task of designing custom fasteners. "Custom fasteners we've made in the past have become some of our main items in the product offerings."
Not only does Gripnail make all kinds of fasteners, it makes various fastening systems to provide higher quality and efficiency. Ryding claims this goal can be achieved with automation. Gripnail customers have had questions about the opportunity of automation and applying this automated fastening system to their manufacturing process.
Looking back, Ryding says, "It isn't a matter of if we can automate our process, it is a matter of how you want it automated. What works for you? We have been able to apply our fastening system to a wide variety of industries and a wide variety of production lines. Whether it's a standalone Air Tool with our Strong Arm Work Station, or a fully automated press seamlessly attached to a larger manufacturing line, Gripnail can deliver that custom fit that works perfect for the individual customer."
Visit www.gripnail.com to see the many types of fasteners that can help your manufacturing process. Featured products include the PunchPin® (for thin gauge metal, especially electrical enclosures), TackMounts® (wiring mounts for wire management) and CD Cup Head Weld Pins (for attaching a variety of textiles such as insulation).
Gripnail will be attending and exhibiting at the 2019 FABTECH Show in Chicago this November at booths A5176/A5177. They invite all manufacturers looking to improve production quality to stop by and say hello.