Ideas and innovation
Market leader of wire joiners, tensioners and wire rope suspension solutions for the construction industry, Gripple has supplied equipment for major customers such as Wembley Stadium and the Atlantis Hotel, Dubai
With a history dating back to 1984, when founder Hugh Facey began production of field fencing, barbed wire and fencing staples in a disused furniture factory based in Sheffield, Gripple was
established in response to the frustrations of a farmer. Aggravated by the cumbersome ways of joining fence wires by bending and knotting, the farmer bemoaned the lack of alternatives available to Hugh; through this conversation the seeds of an idea were planted and the concept of the Gripple fastener was born.
The original Gripple product (simply named because it grips and pulls wire) is basically a small zinc die cast housing with two channels that hold a spring-loaded wedge or roller – when a piece of wire is inserted, it compresses the spring and bites into the teeth on the wedge or roller.
"Gripple was launched to market the product to the agricultural sector for joining fencing, it then progressed into serving vineyards before launching into the construction market in 1997. Today 70 per cent of turnover comes from the construction industry where Gripple technology is used in combination with wire rope and accessories, in the suspension of mechanical and electrical services in the construction of commercial and industrial buildings," begins Ed Stubbs, Managing Director at Gripple.
He continues: "In 2016 our turnover was £55 million, with the majority of our success coming from the construction industry, however our traditional markets also continue to grow. Our agricultural business has grown on average by more than five per cent over the last five or six years; the growth of the industrial business globally has averaged over 20 per cent per annum since it was founded in 1997."
Given the scale of success Gripple has achieved, it is no surprise that it has been the recipient of a multitude of awards, including The Institute of Mechanical Engineers award for Best Factory in the UK. "We first won that in 2006 and we plan to win it again in 2018," Ed notes. "In 1990, we won a gold medal at the International Concourse Lépine Awards, which is a very prestigious French innovation award; it is only given in a year when they have an applicant worthy enough of winning. Other recipients include the iron lung and the ball point pen."
Gripple has also won five Queen's Awards for Enterprise. Ed notes that the company has in fact won in every category, with the 2016 award being its second for international trade. "That award really recognised the global nature of the business now. Today, we are 87 per cent export, selling in over 80 countries. We have small manufacturing operations to service the local markets in Chicago and New Delhi, but all of the Gripple units are manufactured in Sheffield.
"Additionally, this year we have opened warehousing and offices in Canada and Poland; we have joint venture operations in Portugal, Spain and Italy and long-standing partners in markets such as Japan, Austrian and Pacific Asia. We are pushing very hard in Poland and Eastern Europe, in Japan and in Canada – three areas where we are looking to see substantial growth in the short term."
Geographical expansion is a very important part of the growth that Gripple has achieved, but as Ed points out, a second significant driver of its success is the continuous release of new products. "We have a target stating that 25 per cent of our turnover has to come from products less than four years old. As we are now 28 years old, that is quite a significant challenge. "We invest over five per cent of our turnover in research and development (R&D), and in Sheffield we have an ideas and innovation department focused on new products; we employ eight full time mechanical engineers and designers focused solely on new product development."
New Gripple innovations tend to build on the idea behind the original Gripple product – solving a problem with a new, quick and easy solution, and Ed gave some examples of recent launches: "Last year we introduced a Gripple pipe clamp, a solution that uses our wire rope and gripping technology and is designed for all types of pipework within mechanical and plumbing services. It secures different pipe sizes with one universal solution. Traditionally builders and plumbers need to buy different components for every different pipe size, which makes the Gripple pipe clamp a very fast alternative. No tools are required for installation and its self-click closure provides easy and fast fixing – up to six times faster than traditional methods such as threaded rod." A quick look at the video demonstration on Gripple's website illustrates exactly the simplicity of this solution. "I think this is a really exciting range that is going to grow the industrial side of the business significantly," adds Ed.
He continues: "Another area I would highlight is in slope stabilisation and erosion control. We have developed a full system that includes matting, anchors and pins that we call Terra-Lock, and this can be used to create slope stability, delivering significant time and labour savings, immediate security and aiding vegetation growth. A good example of its use would be on the sides of motorways."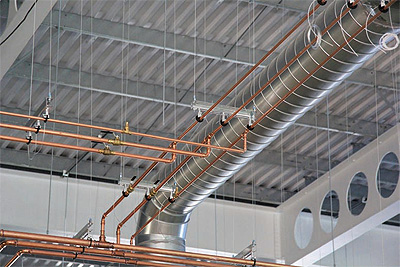 Further significant launches are planned for the next 12 months, including one for high rise buildings and one for prefabricated concrete decking particularly for the US market.
"What sets Gripple's new products apart is they are created based on feedback from our customers and the market, which links to the importance of having Gripple salespeople on the ground around the world," Ed states. "Physically seeing a problem is really important because not only does it help us sell existing products, but it also reveals problems that are only evident if we are there in person. These problems are developed into new products, allowing us to hit new product targets and continue to drive growth."
Indeed, such is the key role played by the staff at Gripple that it was highlighted during the company's recent appearance on The One Show on the BBC. "We are 100 per cent employee owned, which means every employee worldwide owns voting shares in the business, and it's now a requirement in our employment contract that after 12 months, any new employee has to own a minimum of £1000 worth of shares in the business – they have the opportunity to buy and sell shares once a quarter.
"We call it having skin in the game – it raises the level of engagement, participation and challenge that we get from all our employees because essentially, we are all equal. We are all aligned in doing the best for the business."
This is also enshrined in a company called GLIDE (Growth Led Innovation Driven Employee company). GLIDE is an employee-owned company that represents all Gripple's shareholder members who work in its partner companies (including Gripple Automation, PMS, Loadhog, Go Tools and Laser Scanning) and any shareholder in any investee company is automatically a member of GLIDE. GLIDE is a private company limited by guarantee, which means that it has been set up, for example, on the same basis as a sports club, where the individual shareholder's liability is limited to £1. GLIDE was established to preserve and develop employee culture; to look after the interests of its members and to generate engagement by everyone in the company.
It is clear that a willingness to take an innovative and unusual approach to business runs through the heart of Gripple, and as its 30th anniversary approaches, Ed and his team are very much looking forward to seeing its continuing expansion. "This is especially true for our spin-off Gripple Automation (www.grippleautomation. com), which is only a year old in terms of supplying external customers but we think has massive potential. Based on the feedback I've had, Gripple Automation could become the leading automation machine building company in the UK of which there are currently relatively few, that would be great to see."
Gripple will also continue to improve its production efficiencies in the UK so it remains as competitive as possible and can continue to maintain its 15 per cent growth target. The company looks set to achieve even further heights as it moves into the future.
Gripple
Products: Manufacture wire joiners, tensioners and wire rope suspension solutions