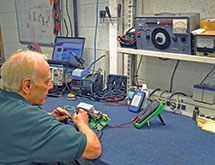 Product quality and reliability are absolute necessities for Gruber Industries' customers. "We cater to the critical backup power and data center industries, where failure is not an option and time is not free," says Eric Korda, director of manufacturing operations for the Phoenix-based company. "The products that we manufacture, refurbish and sell are typically critical to the performance and/or protection of our customer's networks and facilities."
Thousands of uninterruptable power supply (UPS) systems refurbished and sold by the company are utilized around the world to keep essential computer services, emergency lighting and life support equipment on at data centers, hospitals and small businesses in the event of a power outage. Gruber Power Services – one of Gruber Industries' three operating divisions – is the largest UPS refurbishing company in the United States.
"We use state-of-the-art equipment, load banks and processes to ensure that every unit that leaves our facility is 100 percent functional and capable of supporting its rated load," Korda says. "We also send every refurbished unit through full cosmetic treatment, where units are thoroughly cleaned inside and out, every nut and bolt is checked, and a fresh coat of factory-matched paint is applied. Our units leave our depot in like-new condition."
'A Service Organization'
Quality and reliability have been main focuses of Gruber Industries for more than 30 years. "Since 1984, Gruber Industries has provided unparalleled customer service and quality," Korda says. "We strive every day to manufacture or supply to our customers the best products and services available in today's global marketplace. We consider ourselves first and foremost a service organization that sells solutions, not just products; it's the services we provide that drive the products we produce and sell."
Each of Gruber's divisions specializes in a different aspect of the critical power and data center industries. In addition to its UPS refurbishing work, the Gruber Power Services division also sells and services all makes, models and sizes of critical power equipment including battery cabinets, maintenance bypass equipment and generators.
Gruber Power Services also manufactures high-performance batteries for stationary applications. "Our maintenance-free, valve-regulated lead-acid (VRLA) absorbed glass material batteries are specifically designed for UPS applications and engineered to out-perform all of our competitors, which is why we back them up with an industry-best four-year limited warranty," Korda notes.
The Gruber Communication Products division manufactures data cabling and networking products as well as a full line of metal products for the telecommunications industry including server/equipment racks, shelves, panels and other wire management products. Products are manufactured in Gruber's 35,000-square-foot manufacturing facility in Phoenix.
Most of the company's products are assembled by hand, with automation used only on processes that do not affect the form of the end-product. "For example, we use an automated process to measure, strip, cut and otherwise process raw wire and fiber, which is then hand terminated and pneumatically crimped," he adds. "This strategy allows us to be extremely flexible in our manufacturing process while maintaining a reasonable degree of efficiency."
All of Gruber Communication Products' cables and other products are custom-made. "Although many of our products are closely related, few are identical," Korda says.
The company's third division, Gruber Technical Services, specializes in the design and construction of data centers including cooling, critical power equipment, access floor, structured cabling and consulting and design.
Future Opportunities
Gruber Industries has a history of growth within its product and service lines, which it continues to build on. "Many years ago, Gruber was primarily an installer of data center structured cabling and networking equipment," Korda says. "We suddenly lost a key supplier and found ourselves unable to meet our commitments. Instead of losing our contracts or scrambling to find new suppliers, we began manufacturing the cables and patch panels needed to complete the installation jobs we had in the pipeline, and Gruber Communication Products was born."
The company has plans to introduce new products, including an expansion of its GPS Elite line of batteries, initially launched in 2010. "We are actively working on expanding the line to include batteries for solar applications," Korda says. "We also hope to someday be the first battery manufacturer to bring lithium ion and copper fusion technology into batteries and cables for critical power applications."