Grundfos Manufacturing Limited
Get pumped
Celebrating its 40th year in operation in 2013, Sunderland based Grundfos Manufacturing Limited has developed a leading reputation in advanced pump solutions and is viewed as a pioneer in water technology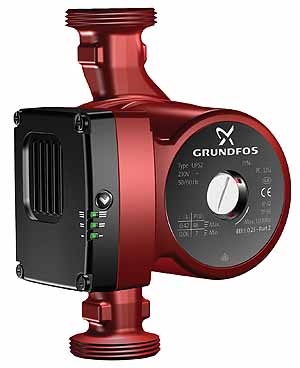 With an annual production in excess of 16 million pump units, and 19,000 employees globally, Denmark-based Grundfos Group is one of the world's leading pump manufacturers and the largest manufacturer of circulators, covering approximately 50 per cent of the global market. In addition to pumps, the group also produces standard and submersible motors as well as cutting-edge electronics for monitoring and controlling pumps.
These products are manufactured in the BioBooster and Lifelink divisions, which form part of its new business activities, as Mark Lister, General Manager of Grundfos Manufacturing Limited, explains: "Grundfos is committed to delivering solutions that strengthen reliability and sustainability of water supply in the developing world. Grundfos Lifelink water solutions combine our innovative and reliable technology with professional service networks to support operations on the ground.
"We believe that partnerships across sectors and business model thinking are also needed to provide sustainable and scalable solutions. Grundfos addresses the missing link to sustainability in water supply through innovative Grundfos Lifelink solutions that take a holistic and long-term approach."
On top of this, the group has also introduced Grundfos Blueflux, a new technology label that ensures equipment is of optimum quality.
Since its establishment in 1945, Grundfos Group has expanded to more than 55 countries and is represented by over 80 companies such as the UK based subsidiary Grundfos Manufacturing Limited. Based in Sunderland, the 190-strong company works closely with other UK based subsidiaries Grundfos Pumps Limited, Bedforshire, Grundfos Service, Lancashire, and Grundfos Watermill, Kent.
It is in Sunderland that the company produces and distributes items, from small domestic circulators through to larger applications that go into buildings in the UK and Ireland; these include the Shard and Heron Towers in London. The company also manufactured a range of products to support the Olympics in 2012.
Discussing the company's operations, Mark explains: "The Grundfos brand is synonymous with quality. We are a premium brand that the customer trusts as they know Grundfos has the performance and history that will ensure success for their projects. In England, our focus is developing customer-oriented solutions; as more than just a pump company, we can provide full offsite manufactured solutions to meet our customers' needs. Although globally there are pressures in some of our core markets, in the UK we see strong growth in this area across commercial building services, fire suppression and water utility markets."
Despite a continued focus on domestic water pumps, Grundfos Manufacturing Limited made the strategic decision to diversify its services with bespoke solutions in 2014 after developing a range of engineered-to-order fire suppressant units. Targeting the engineer-to-order sector, the company has been creating specially made fire suppressant packaged pump houses (PPH) to meet its customers' specific needs, a move that resulted in seven contract wins in 2014 for delivery to customers including an oil refinery, a Welsh hospital and a UK power station.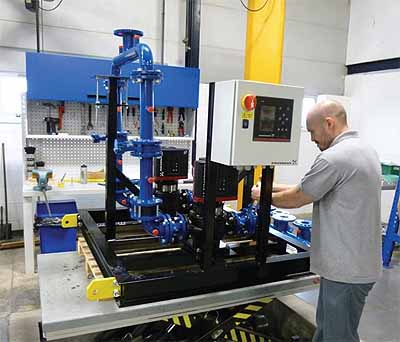 Suitable for schools, commercial buildings, retail outlets, general industry, MoD and hospitals, the PPH's are constructed, pre-wired and tested to individual site requirements at the company's Sunderland facility prior to dispatch. They can also be built fully compliant to any known fire standard and can cater for virtually any quantity of pumps required. Furthermore, they are fitted with a choice of components from trusted suppliers to guarantee a robust yet cost-effective solution. Having passed all quality checks and achieved duty parameters that prevent incorrectly sized equipment reaching the site, units will arrive at the customer's facility ready to be connected externally, mechanically and electrically. Because the products start immediately, customers benefit from reducing labour and time on site costs.
In addition to this product development, Grundos Manufacturing Limited – as well as the group as a whole – is focusing on Innovation Intent, a programme targeting sustainability, a changing world and ground-breaking technology. One example of this is the company reducing its consumption of clean water by 15 per cent, corresponding to 300 cubic metres, in line with the group's water strategy of halving its consumption of clean water by 2025 in comparison to numbers in 2008. To make this reduction possible, the company is using rainwater to flush toilets in part of its factory as well as in its newly renovated offices through a rainwater system that it developed.
Taken from a downpipe that collects water from a roof covering some 2000 metres, the water is then led to a three cubic-metre tank before it is pumped to where it is used via a small holding tank that is automatically supplied with mains during dry periods. All valves, sensors and pumps in the system are monitored and controlled via a dedicated Grundfos Rainwater System controller, which is now marketed externally. So far, the rainwater system has been sold to 200 customers in Belgium, while the Sunderland based firm considers reducing its water consumption further through increasing the capacity of its tank and connecting new pipes to more toilets.
Within the city of Sunderland, Grundfos Manufacturing Limited is seen as key player in the community. The company is one of the city's largest employers and regularly raises money – internally and externally – for local charities, as well as being a long-term supporter of a special needs academy in the city. Grundfos also supports local children's football teams.
Mark Lister is a key member of the Sunderland Business Group, an important body of city business leaders, as well as the regional North East Chamber of Commerce. The company is also a founding supporter of the city's Work Discovery Week, which links the city's schools with its largest employers.
The Sunderland site prides itself on its impeccable health and safety record. Last year the company celebrated three years without a serious accident – quite an achievement for a busy manufacturing plant. A few months previously, GML had been awarded the prestigious gold award from the Royal Society for the Prevention of Accidents (RoSPA) for its health and safety record and the innovative measures it had introduced in Sunderland.
Moving forward, Grundfos Manufacturing will remain focused on maintaining and enhancing its existing product range to meet the needs of clients in the future. It will also develop an engineered-to-order service for larger products and commercial applications that go offsite, which will enable it to design, build and distribute bespoke commercial engineered-to-order systems and solutions that will go into some of the most iconic buildings in the UK and Ireland.
Grundfos Manufacturing Limited
Products: Pumps