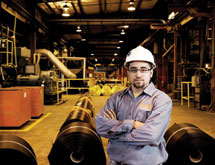 It isn't enough to be the industry leader in geosynthetic liner systems. GSE Environmental plans on continually paving the way to create new and improved products for the industries it serves, as well as for the environment.
Since 1972, the Houston-based manufacturer has been developing liner systems to prevent contaminants from leaking into groundwater or to contain water in ponds or canals. GSE's products are used in applications such as solid and hazardous waste disposal, coal ash containment, retention ponds, roadway construction, water storage and agricultural containment, as well as mining operations. The firm serves clients around the globe with manufacturing facilities in Egypt, Thailand, Germany and Chile, as well as a new greenfield factory in China scheduled to begin operations in late 2013.
"Geosynthetics take the place of natural soil materials as barrier and drainage systems," explains Jeffrey Nigh, executive vice president of global operations. In addition to being more economical and less cumbersome, he claims that GSE lining systems perform "six orders of magnitude better than clay." In addition to geomembranes, the company manufactures geosynthetic clay liners (GCLs), geonets and composites, geotextiles, high-density polyethylene (HDPE) concrete protection products, and other specialty geosynthetic products.
Much of the company's continual improvement success stems from its constant collaboration with clients.  "Our sales teams speak with clients to understand what they need to run their businesses more profitably and safer," Nigh says. "The salespeople, in turn, collaborate with our R&D people to develop better solutions through improving existing products or creating new products."
Leak Detection
One of the more notable improvements created from these collaborations is that clients are able to test for leaks in GSE's products after installation. "One of our customers' chief complaints was that they were discovering leaks after the geomembranes had been covered with soil," Nigh says. "Considering these are typically pretty large installations, it was also important that clients could pinpoint the location of the leaks."
GSE's leak location liners feature an electrically conductive bottom layer. This allows leak testing to be performed on both exposed and covered applications. In addition, this feature enables leak detection in less than ideal conditions because the conductivity is built in to the product and does not rely on the conductivity of the underlying soil. "This quality is built into the material," Nigh says. "If a leak is suspected 20 years from now, they can re-test the liner system and detect the leak within a few inches of its location."
Applied Technology
GSE developed liner systems for a nuclear power facility in Arizona. Being the only facility of its kind that wasn't located near a body of water that is needed for cooling, the challenge was to source a sufficient amount of water that was readily available. "The client built hundreds of acres of ponds to store and maintain water," Nigh says. "The client utilized two layers of GSE's leak location liner as well as a layer of its geosynthetic clay liner and drainage geonet, which helped the power provider to achieve this goal."
More Innovation
One of the more expensive aspects of geosynthetic liner system installations is the need to seam the sheets together. To help reduce this cost, GSE has come up with a 34-1/2-foot-width membrane – the widest in the industry – which reduces the seams by 50 percent. "Considering the industry standard width is 22 feet, this helps our clients greatly," Nigh asserts. "Also, because seams can be a source of leaks, this is a huge step in quality."
GSE was also the first to market membranes with textured surfaces, and has since made significant strides in this area. Various soil types and applications may require a membrane with more texture to accommodate sloped applications. "We can customize our manufacturing process to add more texture to a liner, depending on the client's slope and frictional requirements," Nigh says. He adds that GSE is the only company that has developed liner systems with shear strengths to meet the demands of projects in areas with high seismic activity.
Of course, the systems are only as good as the raw materials used to manufacture the products. Nigh says that its researchers also collaborate with suppliers to ensure the best polyethylene formulations are used. "Because we work so closely with suppliers, we are able to find the best raw materials available," Nigh notes.
Coal ash containment systems are an emerging market for the firm. "Working with the Ohio State engineering department, GSE has developed a drainage layer that is specifically designed for the fine texture of coal ash," Nigh says. "Due to extensive testing, we've proven that our drainage composites will not plug up over time." He adds that this system is offered exclusively by GSE.
Nigh attests that these strides haven't been easy. "We're presented with difficult challenges," he says. However, collaborative efforts with clients, rigorous testing and continual research have helped GSE, as well as the industry, move forward.