Cut the cord with Gtech
As a schoolboy, Nick Grey considers himself to have been a self-confessed 'pain in the neck' for his teachers. This was not due to a poor disciplinary record, or a lack of respect for authority, rather it was simply because his mind was one that was brimming with wild ideas. There is nothing wrong with that, of course, but as Nick now realises, with his teachers' focus being on getting 30 to 40 pupils through the yearly curriculum, facilitating his imagination was not always at the top of their list of priorities.
Having left school, Nick found himself fitting double glazing on a building site, but his penchant for coming up with new ideas remained undiminished. Soon enough he would find himself working for one of the leading vacuum manufacturers, Vax, initially as a laboratory technician. Having finally found a place where his creativity was encouraged, Nick's desire to create solutions for existing problems ultimately saw him made a design engineer, a job he admits at the time was his dream role. Nick would eventually find his way into the role of Head of Product Development, but he saw his future as being outside of the confines of Vax.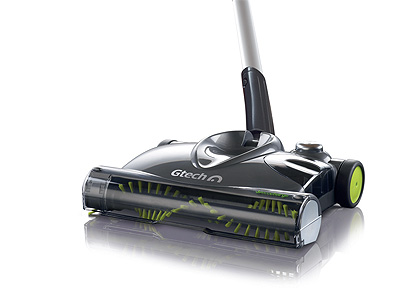 Saving up the capital required to last him an estimated 18 months, and having purchased a computer-aided design system to allow him to work from his Worcestershire home, Nick took the decision to resign his position at Vax and establish Gtech (Grey Technology). "The first product I began working on was what would go on to be the world's first cordless power sweeper," Nick explains. "Licensing the product to other companies, including Shark in the United States, these sweepers absolutely took off with as many as 450,000 being sold per month at one stage. Naturally, I felt honored that the product was proving such a success and that people loved using it."
This success was the springboard for the launch of the Gtech brand in the UK, having previously made the bulk of its profits from international markets. Initially this was something of an 'expensive hobby', as Nick describes it, but after spending some time perfecting its approach, the company would go through a transition whereby today around 95 per cent of its business is UK based. With this pendulum having changed direction, its efforts now turn to once again building up the global recognition of the brand.
The growth of Gtech in such a short space of time has been nothing short of incredible and is clearly still a source of surprise even to Nick. "This time last year we were working from what was, in essence, a farmyard where I had relocated with no more than 15 people," he describes. "This rapidly increased to 120 people working from Portakabins and an R&D workshop that was in fact an old brick kitchen. Then, in September 2016, we completed our move into our new home, which houses state-of-the-art R&D facilities, test labs, 3D printers and ample space for our customer service and marketing teams."
The Gtech of today has employees, not only in the UK, but also in the United States and in China, and to date has sold over 22 million products in 19 countries. Experts in the field of cordless innovation, the ideas of its founder and his talented team have brought about a range of cordless upright and handheld vacuum cleaners, cordless garden tools, power sweepers and the Gtech eBike.
"One of the things we are working towards at present is servicing the demand for a truly light weight, easy to use vacuum cleaner that not only delivers high performance, but also minimal contact with dirt and dust," Nick says. "Our goal is to make a vacuum that is as clean as possible when it comes to emptying its contents. In a lot of ways, I think the floor care industry has missed a trick in that customers seem to just expect themselves to get covered in dirt when emptying a vacuum. As representatives of the industry we do not feel this is right and it is something we will continue toaddress until we perfect a solution."
Gtech has also shown itself to be a company not afraid to break out from what is perceived to be its comfort zone, a case in point being the eBike. Designed to resemble a traditional bike, the eBike's powerful lithium-ion battery and motor gives the rider a boost when needed, for example when tackling the odd hill. "The issue of increased traffic on our roads was one of the
reasons behind the creation of the eBike," Nick continues. "While, at times, Worcester can be a lovely place to drive, a lot of the time roads in and around the city centre are choked with cars, and it is a problem that is getting worse. Having seen what, we felt was a growing adoption of cycling by the public, we started looking at electric bikes and were taken aback by how overly complicated they could be.
"In response to this, we embarked on a project to create an electric bike where the rider simply sits on the seat and if they wish to go faster they pedal and if this wish to slow down they use the brake. The electric motor will provide you with a good start and give that little extra push to get up hills, providing a much more simplified, yet improved way of cycling, which people who have tried it have quickly grown to love."
Customer satisfaction consistently tops the list of Nick's priorities when it comes to a new product or design. "I would say I have something of a personal obsession with my work being liked," he reveals. "Our consumers pay hard-earned money for my products and I take it very seriously indeed that they are fully satisfied with what they receive. Linked to that is the customer service they receive and this is also something that I feel is fundamental for us to get right everytime."
Having built foundations for the business around the aforementioned qualities, the future, both short and long term, fills Nick with a high level of excitement. "Over the next 12 months we will be looking to launch five or six new products, two of which exist in completely new areas of business for Gtech," he enthuses. "This will be a big departure for us and is something we are planning to launch at the 2018 CES tradeshow in Las Vegas."
Ahead of that event, Gtech will be introducing further products and applications in the Autumn of 2017. "There are several companies, Gtech included, doing some very exciting things at the moment as we all vie for market share and to establish ourselves among the top two players in this sector," Nick concludes. "Gtech is coming along very rapidly, growing quickly as we pursue this goal. We firmly believe that on a technological and customer experience level we not only match the standards of the industry leaders, we exceed them. If we can take this and continue to add to our marketing capabilities, we hope that it will bode very well for our long-term prospects. Above all we are very grateful to our loyal customers."
Gtech
Products: Cordless appliances
www.gtech.co.uk