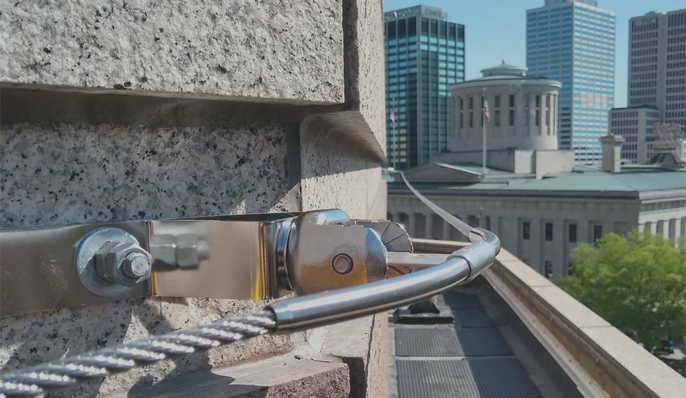 A head for heights
Prior to May 2021, the US-based Pure Safety Group had a family of height safety brands, including names such as Stronghold by PSG, Ty-Flōt, Checkmate, HART and Guardian. Each of these brands possessed its own proven pedigree. Guardian, for instance, boasted scale and expertise in US fall protection, while Checkmate was able to call upon cutting edge fall protection design and innovation with a UK manufacturing, training and design center, and Ty-Flōt was a pioneer in dropped object prevention and foreign material exclusion.
"In May of this year," explains CEO Jeff Ward, "we took the decision to combine everything under the Guardian banner. As a result, the expanded Guardian is now the world's largest independent fall protection and prevention brand, working under a shared vision to blend scale, agility and 360-degree thinking in order to make it easier than ever for our partners to operate safely at height."
As a result of the aforementioned decision, Guardian and its 400 directly employed safety experts is able to offer design, manufacturing, height safety training, and engineered systems across North America and the UK, serving to partners with a 360-degree height safety offer. "We supply our range of fall protection, dropped object prevention and foreign material exclusion products through distribution partners who serve construction and general industry specification and health & safety experts," Jeff adds. "Our height safety training offer is a blend of in class, on-site or online, which we can design around our client's specific needs, while our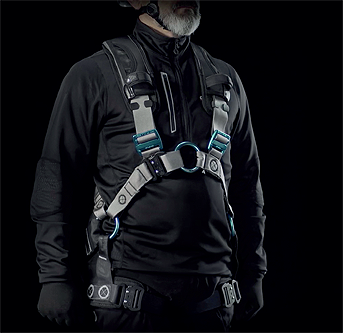 engineered systems offer is one where we can design, supply and maintain fall arrest systems. This holistic offer aims to help clients take all the complexity and hassle out of height safety."
Brand strength
Speaking further about the rebranding of the business, Jeff provides us with additional insight into the thinking behind this significant decision. "To leverage the full potential of the acquired businesses is to understand deeply the unique strength each one brings," he states. "We are fortunate that each business brought with it unique talent and expertise, and our recent move to Guardian highlights our passion to be one unified company rather than a group of companies. We are better together, and it is our strong belief that our simplification and unification can help further reduce fatal falls from height and help workers get on with what's important to them. Our recent (January 2021) end user research told us that the Guardian brand was not only our strongest brand, but the strongest brand in the US construction and general industry space overall."
Today, the Guardian business possesses manufacturing capabilities in the United States, Canada, and in the UK. "In these locations, we manufacture self-retracting devices, anchors, body harnesses, and lanyards to name just a few products," Jeff details. "Every brake we place into a self-retract device, or stitch we put into a harness, is done with precision and pride as we all know these are made to potentially save or rescue someone's life. We have some special patents in the company that also rely on our ability to be flexible in our manufacturing capabilities. We actually have over 400 design and utility patents.
"One good example is our FABX self-retracting lifelines, which are the only ones that have a modular, sealed brake built-in. They are also the only devices of their kind in the world that have computer-aiding torqueing. Each one can be calibrated to control the brake like a bike or a car. We have a few torque machines built specifically for us and operators are constantly optimizing each and every brake. This has all been driven by the insight that competitor brakes were fading over time. If they are not sealed and modular, they can absorb grease and moisture, and they become much more difficult and inconsistent to service."
In terms of product development, the business is currently experiencing a lot of momentum around its Dropped Object Prevention product range. "In the last 12 months, we have adapted our Quick-Switch product, and begun introducing this into markets outside of the United States," Jeff says. "This is an amazing, patented innovation that is the only design in the world that allows 100 percent tool connection during use and storage. As anyone with experience will tell you, changing tools at height is a nightmare – long, cumbersome, unsafe and impractical – but this product changes all that, and really changes the game.
"We have also just introduced globally our Dropped Object Prevention kits, which are trade specific kits that conveniently put everything you need in one pack with a nice point of purchase unit. We have one for steelworkers, one for scaffolders, as so forth. We are all about taking the complexity out of working at height, and we have a lot more exciting innovations on the way, a number of which we look forward to showcasing in Las Vegas at the World of Concrete show in January 2022!"
Improved service
Buoyed by the rebranding of the business, Guardian is now also embarking upon ambitious plans to expand its operations globally and into new sectors. "In the United States, our core source of revenue remains the construction market," Jeff details. "We are also now pursuing opportunities to expand more into general industry – working with companies in manufacturing, distribution, etc. Meanwhile, from our UK base, we are keen to expand into Europe and the Middle East. We are improving our language capabilities and product offering, and have just started appointing some new distribution partners in these regions. In the last few months, for example, we have cemented partnerships in the GCC, Spain, Holland, Sweden, and beyond, and we have also established new training partnerships in Europe."
In spite of numerous challenges faced by Guardian over the last 12 months – from the ongoing Covid-19 pandemic to unprecedented supply chain difficulties created by long lead times, and rising material and freight
costs – it has refused to lie down. "We have worked incredibly hard to mitigate a lot of these challenges for our customers, and this has resulted in us actually improving upon our service levels verses 2020," Jeff declares. "This has been noticed within our net promoter score measures, and I could not be any prouder of the resilience that we have displayed."
Looking to build upon this further, Jeff has a clear vision of what the short and medium-term future holds for Guardian. "From January 2022, our clients and peers can expect to see a brand that is anchored in user insight and leverages its digital channels to inform and enable our partners, that makes a sustained investment in specialist roles in order to cultivate even deeper expertise, and that is powered by operational excellence and ongoing improvements.
"Further ahead – in three-to-five years' time – I expect Guardian's unrivalled brand awareness levels to have further strengthened in our home market of the United States, and for it to have extended further across the world. We have continually launched unique products and services that make it simpler for our partners to operate at height, and we continue to collect customer and industry awards for solving some of height safety's thorniest problems. We have likely doubled in annual revenues, but we have achieved this through complete dedication and a focus on height safety, and not by getting distracted with anything else."
Guardian
www.guardianfall.com
Products: Fall protection and prevention solutions