Drive for grwoth
The textile solution of choice for leading OEMs, Guilford Europe's long and reputable history and modern capabilities have it reaping the benefits of the booming automotive market
Originally a fabric knitter and supplier for lingerie, NC Guilford began operations in 1946 and continued for almost two decades before the company decided to diversify its services and open its first finishing plant in 1963. Under the leadership of renowned textile executive Charles (Chuck) Hayes, Guilford experienced significant growth as a vertically integrated textile company.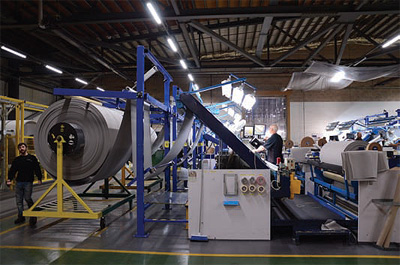 An industry giant by the 1980s, Guilford created products for diverse markets such as automotive, home fashions and apparel and became the world's largest warp knitter. In 2012, as part of a strategic acquisition, Guilford joined the automotive seating business segment of Lear Corporation.
Today with a global manufacturing footprint that includes world-class facilities in North America, Europe and Asia, the company supplies leading OEMs in some of the most demanding applications. "Over the years we have gone from strength to strength, a trend that continued with Guilford Europe becoming part of Lear. We are a vast corporation that has more than $18 billion in sales last year and 140,000 global employees; it is also the world leader of premium and luxury automotive seating and our E-Systems business segment provides automotive electrical distribution systems and connectivity solutions and much more," says Chris Biddulph, Operations Director at Guilford Europe.
He continues: "In our Derbyshire plant we manufacture polyester textiles that are used in the overhead systems, seating and indoor fabric panels for the automotive industry. We produce all fabrics, excluding carpet, that are used in an automotive vehicle. The technology we use to produce this is called warp and weaving and we are by far the biggest headliner manufacturer in Europe. In this plant we produce approximately 400,000 metres a week of fabric, used on the vehicles of our customers such as Jaguar Land Rover, Ford, BMW, Volkswagen, Renault and Nissan."
Proud to offer a complete solution of knit and woven fabrics, laminates and composites, Guilford uses technologies such as warp, weft insertion and circular knit, as well as woven constructions to create limitless styles of fabric. These fabrics range from rigid to flexible, heavy to lightweight and tricot to double needle bar spacer fabrics; Guilford is also one of the global leaders in the production of textile composites with flame, adhesive and flatbed lamination capabilities. Discussing Derbyshire plant operations, Chris notes: "This is the only textile manufacturing plant in Europe where you can see all of the processes in one factory, so we start our process of warping, and then we knit, dye, finish, laminate and cut the fabric and dispatch. We are also the UK's last surviving high volume automotive fabric manufacturer, which is quite interesting as a plant based in a Derbyshire town that services the automotive sector like we do."
Guilford Europe has also developed a significant presence in a number of market sectors, including water filtration, performance apparel, medical and other applications. Guilford's Speciality Products Division customers include GE Water and Process Technologies, Hunter Douglas, Nike and Under Armour. "Out of our Derbyshire plant, operations are purely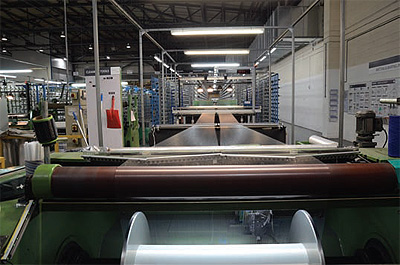 automotive but if you look at Guilford globally we have a huge factory in Pennsylvania for reverse osmosis, water filtration systems and sportswear. Guilford also produces high performance technical fabrics for Under Armour that will draw sweat out of the body."
Thinking about Guilford Europe's success, Chris comments: "From our perspective we have 65 years of experience in the industry and are able to design and develop a fabric that will service the needs of our customers and be homogenised into a vehicle, such as sun visors, headliners and pillars. We can also take a concept, design it and put it into manufacture. Within the headliner industry we tend to be innovators and we seek to serve the customer entirely rather than one niche segment."
He adds: "However, it is ultimately the knowledge, experience and commitment of the whole team in driving the business forward. Our people are at the heart of the business, with some employees here for more than 40 years. Our wealth of knowledge and experience enables us to operate within the industry and beyond the UK. In fact, we export 94 per cent of our products."
With enviable in-house expertise, Lear's financial strength and a solid market reputation, Guilford Europe anticipates continued growth in all segments despite potential issues surrounding Brexit. "The market is growing, which means we can grow our market share, and because we are now part of this huge automotive association we can leverage the advantages of being one of the world's main automotive suppliers. Over the next five years we will improve efficiencies even more, grow the business and aim to be seen as the go-to supplier of choice," concludes Chris.
Guilford Europe
Products: Manufacturers of fabrics and composites for leading OEMs