Moving with the times
With a foundation of 50 years of experience, Guttridge is a flourishing company, globally respected for delivering well-engineered, reliable materials handling solutions that continue to anticipate dramatically changing industrial needs
Guttridge manufactures an array of products, including conveying and elevating equipment for a diverse range of materials from foods and fine chemicals to biomass, aggregates and waste. Its four operating divisions are focused on delivering solutions for specific market and customer requirements, and Guttridge supplies everything from single machines to fully integrated handling solutions. The company manufactures in both stainless steel and mild steel, producing durable equipment for every material and eliminating the risk of contamination, where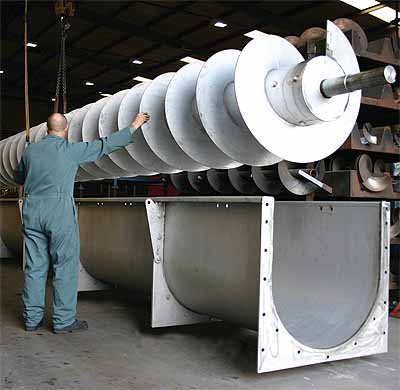 necessary. However, Guttridge isn't simply an off-the-shelf supplier. What sets it apart is the ability to design and build truly bespoke solutions for a customers' specific application.
The company's comprehensive range of bulk materials handling equipment includes bucket elevators, screw conveyors and dischargers, chain conveyors and dischargers, belt conveyors, load and discharge hoppers, vertical blenders and live bins, ancilliary equipment such as spoutings and fittings, plus slide valves and diverters. The starting point for any bulk materials handling project is an understanding of the flow properties of the product. Here, there is no substitute for experience and the business relies heavily on the wealth of knowledge it has developed from dealing with a truly diverse spectrum of materials over very many years.
However, Guttridge also recently developed partnerships with major universities to undertake powder testing and has employed a specialist engineer who has developed the technical capability to advise on this, in order to further strengthen its understanding in this key area. This detailed material testing allows it to predict material behaviour and flow properties more reliably thus vastly improving the ability to provide 'right first time' equipment specification. It has also maintained a modernised manufacturing site, and in 2015 it invested in a new laser cutter, and is planning on purchasing another in the near future. Guttridge's design and manufacturing practice similarly focuses on delivery to the customer and it will continue to invest in the technology needed to achieve excellence.
The company enjoys the benefits of a modern facility, and a market leading product quality that utilises a decade of experience, but it also does much more. Guttridge works closely with its customers to create the best possible tailor-made solutions. Two key parts of the service Guttridge provides are its bespoke element, as well as the way the company has open dialogue with its customers throughout the process, which sales and marketing manager Doug Anderson discussed: "We tailor our machines to fit their space and any other requirements, this means that we are able to help increase their efficiencies and make them more cost effective. This is increasingly important as it is getting rarer to work with a greenfield site, and more often it is working within an existing location, which means creating a very customised product. It also means that when the machines are installed the design has been developed to have a minimum impact on the production lines that are already active at the site."
Guttridge has established itself on the national and international stage, and it is looking at expanding its growth elsewhere, and in regards to the markets that Guttridge is active, Doug said: "Guttridge supplies the industrial sector, and we have taken our first orders for recycling systems, and we have one really notable order, which amounts to a total of 28 bucket elevators, and a number of screw conveyors being installed this year. We also continue to be successful in winning contracts to provide elements for biomass power stations, and we have also won a number of export contracts to supply systems for new grain handling and feed mill sites recently.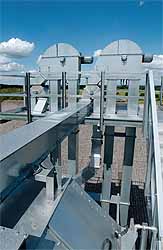 "The grain industry, ranging from food processing to brewing and distillery industries, remains our core focus representing over 50 per cent of our turnover. Guttridge remains the market leader in this sector and has won five major projects to supply new production facilities in the UK this year alone."
There are a number of defining features of the company – however another one that sets it apart is its commitment to bringing through new talent for the industry. This strength was explored by Doug: "We promote STEM subjects in primary and secondary schools, with the ambition to enthuse young people about the industry, and bring through the next generation. We also work very closely with several universities in the UK, such as Loughborough and Middlesex, in order to engage with students, and it means that we maintain a fresh and innovative approach." The company has further plans to invest very heavily in training and looking to launch an apprenticeship scheme.
Guttridge knows its strengths, and in the coming years it will utilise its experience and expertise to focus on what it specialises in, which will help it become an increasingly internationally renowned business. It already is serving the grain industries in the Middle East and North Africa, to countries like Egypt that is the largest grain importer in the world. Therefore, as Guttridge expands here there is a realistic expectation that due to this new business the company will grow by 60 per cent over the next three years. All of which the company intends to do whilst working with customers, and this will help Guttridge develop its position in the industry – it uses brilliant people, to make brilliant products, which results in brilliant service.
Guttridge Ltd
Products: Bulk materials handling equipment