Handling solutions with ease
A company that continues to flourish, Guttridge is a globally respected firm with more than 50 years of experience in the delivery of well-engineered, reliable materials handling solutions
Celebrating 50 years in operation in 2012, Guttridge today focuses on engineering manufacture and has become one of the UK's leading suppliers of bulk materials handling equipment, while also gaining a strong reputation as an exporter. Supplying everything from single machines to fully integrated handling solutions, the company manufactures in both stainless steel and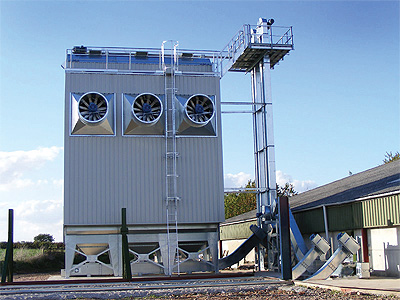 mild steel as it produces durable equipment for every material. Not only an off-the-shelf supplier, Guttridge also designs and develops bespoke solutions for its specific application. Its wide range of bulk materials handling equipment includes bucket elevators, chain conveyors and dischargers, belt conveyors, load and discharge hoppers, screw conveyors and dischargers, vertical blenders and live bins, and ancillary equipment such as spoutings and fittings, slide valves and diverters.
A trusted partner for every bulk materials handling project, Guttridge faces the challenges that come with the constant evolution of customer requirements with enthusiasm and the drive, skills and application expertise to provide clients with cost-effective systems that really work. Looking back on recent projects that were particularly challenging, Sales and Marketing Manager Doug Anderson comments: "We offer a dust suppression hopper that reduces the volume of dust produced when filling lorries, silos or ships. We installed this system into a UK dock where dust was resulting in the failure of other equipment working in the expected manner. Since the installation of our dust suppression hoppers the performance has significantly improved.
"We have also won major contracts within the maltings market where we had to demonstrate that we could move grain without damaging the material in the process. We set up a test process to prove that our systems would result in less damage whilst maintaining the desired throughput."
Alongside working on complex projects that prove its capabilities when it comes to flexibility and innovation, Guttridge has also remained a strong competitor in a challenging market since it was previously featured in Manufacturing Today Europe in October 2016. "The market has been competitive with a number of European manufacturers trying to establish themselves in the UK market, however we have managed to protect our market share in core markets and have grown opportunities in associated markets. This was possible thanks to our ability to not only offer standard bulk handling equipment but also bespoke systems that are tailored to meet the exact operating conditions of our customers; we also provide solutions that add value to our clients' manufacturing processes," says Doug.
He adds: "Because market conditions have been difficult we have learned a lot and developed closer relationships with our key customers and suppliers with the goal of creating a better understanding of what they need. This means we can respond quicker and provide a more comprehensive solution to their bulk handling needs."
Despite these challenges, the company has won several export orders and continues to capitalise on successful projects that grow sales while also developing new partnerships with customers where its expertise adds value to operations. "We are seeing strong demands from a number of industries both in the UK and geographically, with food, animal feed and grain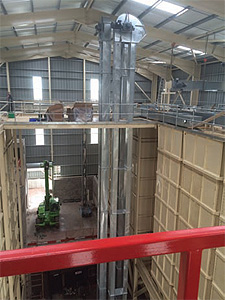 markets continuing to grow and several projects secured in the UK and Ireland," notes Doug.
"This reflects their needs to improve throughput and therefore many customers are looking to replace existing equipment with higher volume machines, while also maintaining the operating space already located. Additionally, geographically several export markets are looking to protect their food markets and are moving away from growing crops to importing; this trend is having a major positive business impact as they upgrade their material handling facilities. Furthermore, continuous batch manufacturing is providing opportunities where major food manufacturers want to produce 'specials' based on their established products and are looking to add automated systems to facilitate their desire."
The reasons customers choose Guttridge over its competitors is clear. The company has long-term expertise in trading and strives to develop a full understanding of each customer's application. From there, the company proposes the best solution for the application and refuses to cut corners to win projects, instead ensuring clients receive high quality bulk handling solutions that are fully capable of meeting their operational demands. "We take quality very seriously, having recently been awarded ISO 9000:2015 quality certification; this is a major step forward from the old ISO 9000:2008 we operated to as it demands better processes and system control," comments Doug.
In line with achieving this certification, the company has also re-organised its manufacturing site to improve productivity and efficiencies as it looks to create controlled flexibility during operations. It has also invested approximately £500,000 in a new laser cutting machine, which will not only improve productivity and efficiencies but will also reduce waste through better nesting of parts.
With improvements continuing to take place throughout the business, Guttridge has confidently put plans in place to achieve 12 per cent year-on-year growth until 2020. To make this possible, the company will continue to invest in new technologies that will serve specific market needs. "We have also identified a number of geographic locations such as Saudi Arabia – where we already enjoy long-term business relationships with a number of customers – that will help us achieve this 25 per cent growth in sales through the delivery of the best solution at cost effective prices," Doug concludes.
Guttridge
Products: Provides high quality bulk material handling solutions