Finishing first
Eight decades of manufacturing experience in surface finishing allows Guyson International Ltd to lead its customers to the most appropriate surface finishing solution
Established in 1938 from its first factory in Leeds, West Yorkshire, Guyson has grown to become a world leader and authority in blast finishing and peening equipment, as well as spray wash and ultrasonic cleaning systems. A privately-owned family company, Guyson began supplying garage equipment throughout the north of England but rapidly developed a range of blast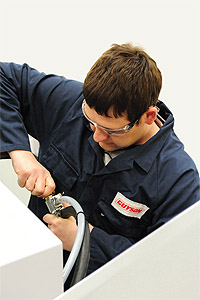 cabinets as a pioneer in shot blast technology. The company moved to Otley in 1950 and then on to its current location in Skipton, North Yorkshire, during the early 1980's. Guyson International's Blast and Wash division now employs over 100 staff in the UK across its manufacturing, engineering and customer service teams.
"The success of our own blast machines helped in transforming us into an international company in the 1970s, when we established a manufacturing base in New York, primarily making large blast equipment," begins Jimmy Thomson, Business Development Manager, and fourth generation of the Guyson-founding Thomson family.
Throughout Guyson's history an open dialogue with its customers has been key to its evolution and survival. Guyson's current product offering, which includes spray wash and ultrasonic cleaning equipment, is a direct result of an ability to translate an application through intelligent design and manufacturing to a class leading range of industrial finishing systems.
"The purchase of Leeds based Marr Engineering in 1994 pushed our diversification into wash equipment, and was further bolstered by the acquisition of Kerry Ultrasonics around ten years later. Now we have a subsidiary in France and service support centres around the Far East, supporting our local distributors, as well as our manufacturing base in the USA. That's not to say we've forgotten those early roots. We've been a distributor of quick-release couplings since the 1950's, growing the product offering and complementing it with the purchase of Kaptech Hoses to create our Hose and Couplings division with its own site in Guiseley, West Yorkshire."
With such broad and yet specialised product offering, Guyson delivers solutions across almost every market sector and at all levels, from sole traders all the way to global Aerospace, Automotive and Medial Implant manufacturers.
"Our highly diverse product offering allows us to service the needs of customers of all shapes and sizes. It is this flexibility that allows us to adapt and respond to particular market downturns and also times of increased demand," Jimmy continues.
Most recently Guyson has witnessed the growing pace of the additive manufacturing (AM) or 3D printing, as a production method. In the early days Guyson blast cabinets and occasionally ultrasonic cleaning systems have been used to finish polymer printed components, predominantly in support of companies using AM for rapid prototyping. This has developed to include the finishing of metal printed parts.
"We have been making systems that have been used for finishing 3D printed prototypes for the last ten years or more. This has developed with the technology and now operation ready components can be printed in ever increasing production volumes," Jimmy explains. "What we noticed from working in this field, however, is that there was a gap in the downstream processes for 3D printing in production. For example the process of recovering the excess metal powders left over after printing. What we have come up with in response is develop a system that uses robotic blasting methodology to reveal components, and reclaim the valuable and re-useable powder."
The Guyson Powder Recovery System or PRS was unveiled to the public recently during an industry show at the NEC in Birmingham. The system aims to optimise the downstream process by automating the powder handling aspects of metal AM printing, helping the industry move towards production solutions. This is a big issue for the industry, where the specialist metal powders can cost in the region of £300 per kilo, reducing waste is crucial.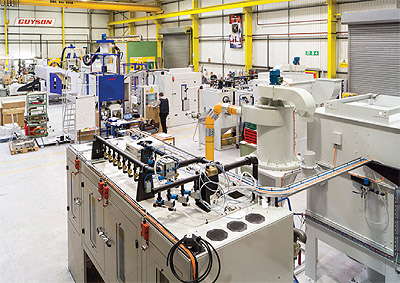 "Our system is designed to take a build tank, containing up to 250kg of parts and powder when full, straight from the printer. Removing the human element eliminates any possible manual handling issues and leaves less room for the potential contamination of the powder itself. While current manual processes can take up to eight hours, the Guyson PRS can blast a full 250 kilo tank in approximately two hours."
This interesting new product development comes at an exciting time for the company's blast and wash division. The appointment of a new Managing Director and a re-structured management team, at the Skipton site, has seen the company embark on an ambitious growth strategy that will see turnover increase by 50 per cent by 2021.
"We build machines that are the absolute pinnacle of technology," Jimmy enthuses, "we just haven't been shouting about it as much as we should."
Evoking the companies racing heritage by putting the racing stripes back on the cabinet is the first step in re-invigorating the company's image as it charges towards its 80th birthday, on May 20th next year.
"British manufacturers have always been adaptable and our future relies on diversification. Growth in the AM industry complements our core, established areas of expertise and we are relishing the challenge of applying eight decades of Guyson manufacturing expertise to this evolving market which is changing the face of production across the globe," Jimmy concludes.
Guyson International Limited
Products: Blast Finishing, Ultrasonic Cleaning and Industrial Spray Wash Machines