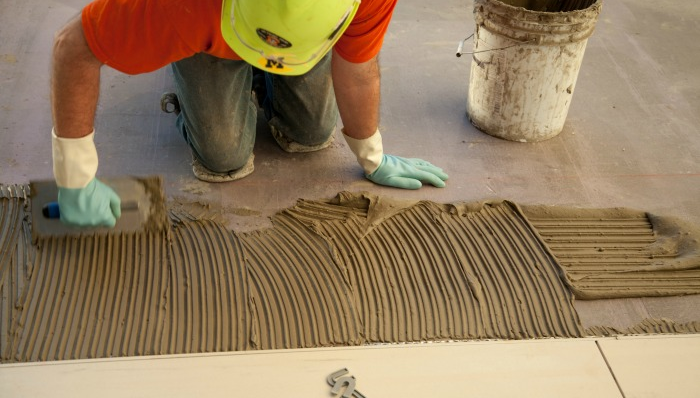 H.B. Fuller Construction Products
H.B. Fuller Construction Products Inc. is a large company by almost every standard. The Aurora, Ill.-based manufacturer operates plants across the United States that make adhesives and other products that are top sellers in their product segments.
The company's parent organization, H.B. Fuller, is a leading global manufacturer of industrial adhesives and sealants as well as coatings and specialty products. With annual revenue exceeding $2 billion, the company employs roughly 3,700 people in 31 countries and serves customers in more than 100 geographic markets.
However, when it comes to knowing the needs of the people who ultimately use its products, H.B. Fuller Construction Products is as accessible and knowledgeable as companies a fraction of its size.
"We may sell directly to distributors, wholesalers and retail channels, but we know that the people actually using our products include large and small contractors, builders, handymen or do-it-yourselfers," Senior Vice President of Global Construction Products Traci Jensen says. "We understand those people and what they are looking for better than anyone else – they want products that save them time, are easy to apply and reduce labor.
"We make sure we spend a lot of time with contractors and end-users of products, so we understand what innovations would be valuable to them and bring that knowledge to the channels we actually sell into," she adds.
H.B. Fuller Construction Products' sales team can commonly be found on job sites and meeting with contractors individually, as well as offering training sessions through its work with trade organizations. The company can also be found talking to customers in the aisles of the retail stores such as Menards and Lowe's® that carry its products.
Product Development
Communicating on a personal level with its customers not only gives H.B. Fuller Construction Products feedback and ideas for new products, it also puts the company at the forefront of its end-users' minds. "Some of the distributors who work with us carry other manufacturers' products, but contractors are specifically asking for ours," Jensen says. "Because we understand our end-users' needs, we are able to develop products based on those needs."
The company's newest products include TEC® WoodPerfect™, an adhesive for wood flooring the company says is easier to apply and clean up than premium competitive products; and TEC® LiquiDam EZ®, a water-based moisture mitigation product used beneath flooring that is easier to apply and more cost-effective than similar epoxy-based products. [1] Other recent products such as a "sparkly" tile grout called TEC® Design FX® that matches the finish of metallic tiles, has gained a following with designers. "Our research and development team works very closely with our manufacturing team," Jensen says. "This has really allowed us to optimize our formulations and make the best and most innovative products for our end-users."
H.B. Fuller Construction Products in recent years also introduced Grout Boost®, an additive that can take the place of water when mixing grout to make grout stain proof; and TEC® Power Grout®, a high-performance grout that is stain and crack resistant and has strength that allows the grout to be used in heavy commercial environments, like car showrooms. The company's focus on innovation has helped it gain marketshare in recent years, particularly in the retail sector. "Through innovation, we've gained new customers that helped us manage through changes in the economy," Jensen adds. "Being part of a bigger organization with a diverse portfolio also allowed us to hire and grow."
The company has grown from $110 million in sales in 2009 to $270 million today, which Jensen attributes in part to its increased retail presence. The company started working with Lowe's in 2007, increasing its presence there in 2014. H.B. Fuller Construction Products that year also began offering products at Menard's stores. "We're proud that our innovations have driven our growth," she notes.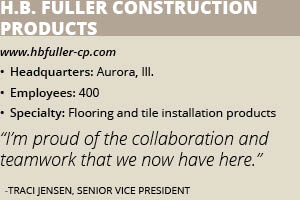 A Quality Process
H.B. Fuller Construction Products serves three business segments. The company's industrial group produces coatings, sealants and adhesives for the thermal insulation, indoor air quality, asbestos abatement and HVAC markets. This segment, which includes the Childers® and Foster® product brands, enjoys a dominant global marketshare, Jensen says.
The company's second business segment is tile installation products such as mortars and grouts, flooring adhesives, and surface preparation products used by commercial and residential contractors. Premixed grouts and other flooring and tile installation products are also targeted to do-it-yourselfers at retail home improvement stores.
Concrete repair and restoration products, which are used in environments like concrete roads and bridges, make up H.B. Fuller Construction Products' third business segment. H.B. Fuller Construction Products operates manufacturing plants in California, Texas, Illinois, Florida, Georgia, Pennsylvania and New Jersey. The Dalton, Ga.-plant produces water-based adhesives used to apply carpets and other soft flooring, while a plant in Houston makes water and solvent-based products for the company's industrial group.
The company's other six plants manufacture powder-based goods, which make up the majority of its product offerings. Powder-based products consist of cement, sand and various other ingredients.
Each manufacturing facility includes mixing and blending lines as well as packaging lines. The powder goods manufacturing plants include high-speed mixers that can complete a product batch in less than 10 minutes, Jensen notes.
Manufacturing staff tests product consistency at the beginning, middle and end of a product batch. Products are also tested for color consistency.
All of H.B. Fuller Construction Products' manufacturing employees go through extensive training before working on the company's formulation lines. Employees initially work on the packaging line to gain experience before moving over to formulation, where they work with a seasoned employee for several months.
Employees also receive training in lean manufacturing principles including 5S and root cause analysis, Jensen says.
Building Teams
The company's dedication to continuous improvement, as reflected in its lean manufacturing program, led it to recently make a major investment in its facilities.
H.B. Fuller Construction Products this fall is expanding its manufacturing facility at its corporate headquarters in Aurora. The expanded plant replaces a facility in Palatine, Ill., located roughly 40 miles away. The facility will include state-of-the-art mixing equipment and packaging lines.
The facility will allow closer collaboration between manufacturing operations and the company's corporate staff, which includes quality control, R&D and safety functions. The R&D team, in particular, will be working directly with machine operators.
"I'm proud of the collaboration and teamwork that we now have here," Jensen says. "Having our R&D and manufacturing teams working together has really allowed us to optimize our formulations and make the best products possible for our end-users."