Lighting your way
With 100 years in the industry, H.E. Williams, Inc. is proud of the work it has spent the last century perfecting. As a result of its efforts, the business has grown to become one of the most trusted names in LED lighting
In 1921, Harold E. Williams founded the H.E. Williams Products Company in Carthage, Missouri. An engineering graduate, H.E. Williams began producing accessories for the home, automotive and electrical sectors. Inspired by the fluorescent lamp at the World's Fair in 1939, H.E. quickly saw the potential of the new light source and shifted his focus towards the lighting business. Three generations and over 100 years later, the Williams legacy continues. Today, H.E. Williams, Inc. (Williams) designs and manufactures a broad portfolio of commercial LED lighting products for educational, corporate, industrial, and healthcare spaces.
"Putting customer needs first and staying true to our core values is what has continued to separate us from our competition," begins Jenny Brust, the Senior Vice President of Sales & Marketing for Williams. For Jenny, people, quality, reliability, and service form the foundation of the company's success, with the steadfast leadership and vision of the Williams family driving the team forward. "We strive to be thoughtful and methodical in our decision making and align with business partners who understand the value of what we do," she shares.
According to Jenny, this is only one of a variety of factors that make Williams one of the industry's leading names. With its manufacturing operation based in the American Midwest, another unique trait is the fact that its production happens under one roof, allowing the company to deliver its product more efficiently. "We manage quality control for every luminaire produced. Our factory produces over 15,000 discrete product variations over a broad offering of more than 250 families. We manufacture all the major product types needed to complete a newly constructed building or renovation project, including traditional recessed lay-in troffers, strips, and high bays, as well as architectural linear, downlighting, and outdoor," Jenny expresses. She adds that the business is equipped with its own fleet of over-the-road delivery trucks to ship finished goods, resulting in shorter lead times.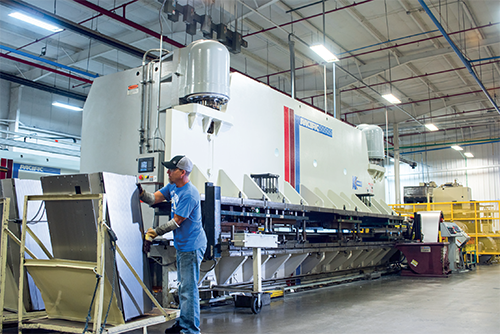 When it comes to cutting-edge technologies, Williams is continually launching industry-leading lighting solutions that have an impact. "For the past few decades, we have seen an increasing emphasis in sustainable architectural design, and LEED certification, Title 24, and the WELL Building Standard are examples of published criteria to which lighting specifiers refer during the design phase. It is important that we provide products that achieve a healthy and energy-efficient built environment, which is exactly what we accomplish by installing innovative technologies and advanced control devices in our fixtures during the production process." Jenny explains.
To maintain this high level of energy-efficient innovation, the company continually invests in its factory – a mission that has recently involved the purchase of several new significant pieces of equipment. "Factors that drive our manufacturing investment decisions are efficiency gains, quality improvements, and production flexibility, while keeping an eye on safety practices. Our recent investments in manufacturing equipment include a new cutting and milling machining center, which has taken a three-operation process to a single automated load and unload operation. This asset has increased throughput and accommodates the demand for product variations and modifications.
"We recently added a highly automated SMT line to produce LED modules, which has improved our control over the pipeline of raw materials. We also have the LED changeover capability in-house, which has significantly increased flexibility," Jenny elaborates.
Taking these investments one step further, the business has incorporated upgrades for CNC sheet metal press brakes to enable offline programming advantages that improve part consistency, accuracy, and safety between machines and operators. Finally, for added quality control of paint finish and thickness, Williams commissioned a new controls program for its state-of-the-art powder coat paint system.
We then asked Jenny about what drives product innovation for Williams. In response, she highlights that the company prioritizes ongoing market research. "Collectively, we all keep a pulse on existing trends. We also involve ourselves with industry organizations where we poll customers within the sales channel, and vet out new product ideas with our sales reps. These strategies help us innovate solutions that solve known problems in the marketplace.
"For instance, our product design engineers developed TrimLock, which is a positive retention reflector system that is used to ensure our downlight trims remain flush with the ceiling plane. This feature differentiates our product by addressing a common downlight issue. We also consider our core manufacturing strengths and supply chain management before we devote engineering and design resources to a new product development project," says Jenny.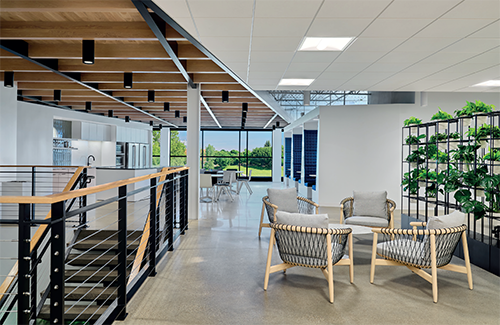 Our conversation then shifts towards recent jobs, and Jenny shares that the company is participating in a range of projects, from the renovation of a medical hospital and an international airport to the new construction of an expansive corporate campus. "We worked on a recent healthcare renovation project in Virginia, where we helped convert existing clinical office space into a medical and surgical unit. The project architect took a human-centric lighting design approach throughout the space, and specified innovative product types from Williams to not only enhance the architectural elements but also accommodate patient comfort and healthcare personnel needs," Jenny highlights.
Then, by working closely with the specification team during the concept phase of an international airport's new terminal, the company was able to customize a lighting solution to illuminate the one million-square-foot space that complements its light and airy design. The ability to scale production to meet the project delivery requirements was a substantial consideration for the design team when selecting a manufacturing partner.
As the leading fixture supplier for a global corporation's new HQ campus, Williams is providing all interior luminaire types on the specification including the modification to an existing product to satisfy the specifier's design intent. The project consists of office spaces, parking garages, an auditorium, a fitness centre, and a food hall. The company's flexibility allows it to support the construction and installation schedule of this 27-building complex.
When it comes to projects of this scale, Williams is proud of the fact that businesses choose to partner with it. Jenny then shares more on the relationships that Williams fortifies with its suppliers to ensure a well-connected supply chain. The business's go-to-market strategy utilizes a network of independent sales reps defined by geographical boundaries. It has representative agreements with over 50 agencies and 80 office locations in North America. "Like with all of our business partnerships, many of the connections are decades old, while some are relatively new, but it is the strength of our sales relationships that lead to increased market share. From a procurement perspective, we source what raw materials we can domestically, like steel. As a made-to-order American manufacturer, fostering trustworthy supplier relationships with dependable, responsive stateside vendors is essential," says Jenny.
Furthermore, the company adheres to a 'made right here' mantra that is fundamental to the its operation. "We build quality products locally that we are proud to put our name on. We provide over 350 American jobs to Carthage and the surrounding community, and because of our ability to quickly respond, we add exceptional value to our customers and sales partners to make doing business with us easier and friendlier," she says.
Now, as the company looks toward the future, Jenny shares that Williams has every intention of maintaining its locally made values. Over the next six months, the business will concentrate on fulfilling orders for several high-profile, large-scale projects, as well as countless day-to-day discretionary business. It expects to launch new products within the downlight collection, as well as expand on human-centric integrated technologies and a controls offering across its interior line.
"Market conditions change rapidly in the lighting industry, but what you will see from Williams is our continued commitment to excellence in lighting. We will introduce new lighting products to the market that are made right here. We will also invest in manufacturing and process improvements, seek out opportunities to vertically integrate, and we will strengthen strategic partnerships that will enable us to best meet customer needs. Most importantly, we will continue to build on our 100-year heritage and reputation," she highlights.
To conclude, it is evident that Williams understands what it means to be in the manufacturing business, and what it takes to be a dependable supplier to the commercial lighting industry. From what Manufacturing Today has seen, the company takes its responsibility very seriously, and will continue to make the investments needed to best serve its customers.
H.E. Williams, Inc.
https://hew.com/
Services: LED lighting manufacturer