H&H Tube has recognized its customers' need for quality, on-time delivery and exemplary service ever since it first opened its doors in 1930. This recognition has enabled the company to remain a preferred and trusted supplier of tubular products to many of its customers for several decades.
"The fact that we've been in business for 87 years says quite a bit about us," says Cindy Forman, sales manager for the Vanderbilt, Mich.-based company.
Many of H&H Tube's customers have worked with the company for 40 years or longer, which Forman attributes to the company's dedication to three things. "Our on-time delivery, quality and customer service set us apart," she says. "Our customers are very important to us, and we bend over backwards for them. If they have a special request or need a part early, we will do everything we can to make that happen."
All of the company's projects are manufactured to the specifications of its customers. "Our customers will come to us and tell us what they want, and we will help them engineer it and let them know what we can do to help them," Forman says, noting the company has in the past worked from a variety of customer designs and drawings, including pictures drawn on napkins. The company is considered to be the expert in the tubular industry; customers turn to H&H to solve their tubular needs.
H&H Tube supplies straight-length tubing as well as fabricated tubing to customers in a variety of industries including plumbing electrical and musical instruments. Examples of its work include crimp rings and stub-out elbows used in PEX radiant heating systems as well as with hot and cold water supply lines in plumbing and decorative bathroom and kitchen faucets.
H&H Tube offers some of the shortest lead times in the industry "We offer short lead times, but some of our customers will request that we expedite products, in which case we do everything we can to get product out as fast as possible," she adds. "We listen to everything our customers have to say and will work closely with them. That's why we're still here."
The company also stocks items for several customers in its five-building manufacturing complex in Vanderbilt. "If our customers need to pull certain items from us on a regular basis, we can manufacture those and keep them on hand," Forman says.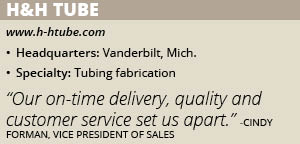 Manufacturing Capabilities
H&H Tube operates two manufacturing mills on their 23-acre campus. One facility is dedicated to straight-length tubing, and the other to fabricated products. Having these two facilities makes H&H unique; especially when it comes to challenging fabricated tubular products. Both facilities have the capacity to manufacture both small and large orders. "If someone needs just 100 pounds of tubing, or if they need thousands of pounds, we can do that," Forman says. "Our manufacturing lines constantly change, all based on what our customers want."
The company's manufacturing capabilities include redraw milling, hydroforming, bending, cutting, forming and coiling. "Anything using brass and copper tubing we can do," Forman says.
All products manufactured by H&H Tube are manufactured to the highest quality possible. The company is ISO 9001 certified. "Quality is very important to us – it doesn't do us any good for our customer to receive a product and not be happy with it."
Quality staff conduct 100 percent dimensional analysis, as well as other testing to determine composition and physical properties of a product in the company's on-site laboratory. H&H Tube's quality staff members average 25 years of professional experience, the company notes.
On the rare occasions where problems do arise, the company's quality and production departments meet promptly with customers to discuss the issue and corrective actions. "Our customers give us a lot of compliments about how quickly we react to fix problems," Forman says.
H&H Tube is continuously improving its manufacturing capabilities by investing in automated and robotic equipment as well as new machinery. "We're constantly changing to keep up with the manufacturing industry as well as the needs of our customers; if we didn't, we wouldn't be here," Forman adds.
More than 87 years ago, H&H was built on the philosophy of always recognizing the needs of its customers and understanding that quality, on-time delivery and customer service are paramount to success.
Today, H&H still conducts its business with the same philosophy.