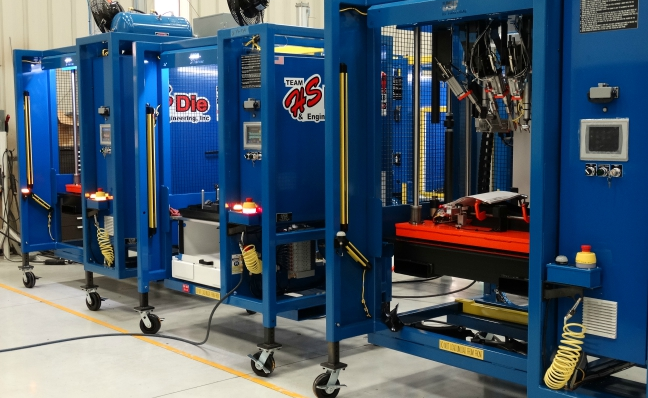 Since its inception, H.S. Die & Engineering has prided itself on helping to advance the manufacturing industry with its expertise in injection mold design and production, as well as custom-designed and -built automation equipment.
The Grand Rapids, Mich.-based company has made major investments in machine tool and machining practice technology, and has actively researched and developed new techniques and tooling. H.S. Die's commitment to new technology and manufacturing practices began in 1978 with a major investment in computerized design and machining capabilities. It was one of the first companies in the industry to utilize CAD/CAM technology, and has since been at the forefront of development and deployment of design and programming software.
What began as a garage shop and a vision has grown into a multi-facility company and leader in the mold-making industry. Husband-and-wife Harold and Marcia Steele founded the company in 1969, and today Marcia Steele remains the sole owner and CEO of the company.
Seeing Growth
H.S. Die has historically been a designer and manufacturer of plastic injection mold tools for a variety of industries. "We specialize in tools used to make large automotive parts, such as door panels, fascia's, instrument panels, center consoles and more," CFO Dave Zuspann notes.
H.S. Die is expanding into other disciplines related to the plastic injection molding industry and is having a good degree of success. According to Zuspann, automation equipment is a product line that has recently contributed greatly to the company's success. He adds that the company has aggressive growth targets for this line of business.
"Our automation equipment sales grew 300 percent in 2017 and now accounts for about 25 percent of H.S. Die's business," Zuspann explains. "We have high expectations that it will continue to grow at twenty percent or more annually. We have good relationships from the tooling side of our business and have just begun to scratch the surface when it comes to serving our long time tooling customers."
H.S. Die offers a wide array of automation equipment including robotics integration, stand alone systems and turnkey assembly lines. Zuspann also attributes H.S. Die's significant automation growth to its ability to attract and hire highly skilled talent, including controls engineers. In addition, "the company produces plastic parts as a small part of its business," Zuspann notes.  "Our parts production is only five percent of our business and we are looking for opportunities to grow it to a more substantial percentage of our business."
H.S. Die has 220,000 square feet of production area in Grand Rapids, Mich., including a 24,000 square foot try-out facility with 50,000 square feet dedicated to its growing automation business line. The try-out facility has 10 injection mold presses ranging from 500 to 3,200 pounds and is completely equipped with end-of-arm tooling to simulate its customer's press operations.
Of its 275 employees globally, about 250 employees are based in its Grand Rapids headquarters. H.S. Die also has a sales office in Detroit and an engineering design office in Hyderabad, India.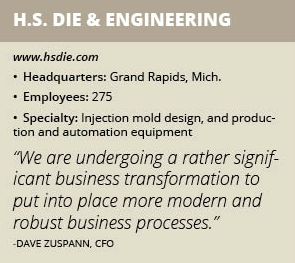 Continuous Improvement
H.S. Die will celebrate its 49th year in business in 2018. In an effort to modernize its business, the company hired a new management team to help guide the transformation. The first hire in the fall of 2016 was President John Way. "It's been John's vision and passion that continues to motivate and lead us on this journey," Zuspann says. "We started this transition a little over a year ago and are pleased with our success to date.
"We have much more to accomplish and have a strong management team committed to its ultimate success," he continues. "The company is still family owned and operated, and is undergoing a rather significant business transformation to put into place modern and robust processes. This includes implementing lean manufacturing processes throughout our operations."
The company's vendors – or "partners," as H.S. Die calls them – also play a key role in its operations. "The quality and timing of the delivery of our products is very crucial, so we work closely with our vendors to ensure they deliver us quality materials in a timely fashion – at a competitive price," Zuspann explains.
H.S. Die partners with vendors worldwide to source high-quality materials and components. The company's customers even work directly with its vendors at times to source what they need, notes Zuspann. "They can negotiate with our field supplier for what it is they are exactly looking for," he says.
Another initiative includes sourcing more materials and components from lower-cost countries, such as China. "We began doing this in 2017 to play a much more active role in sourcing our materials and components from overseas," Zuspann explains. "We're receiving a lot of pressure on our tooling pricing and aim to strike a balance between domestic and foreign suppliers to remain competitive. While certain components can be sourced oversees at a lower cost, there are also still components that need to come from the U.S."
Zuspann adds that H.S. Die is committed to being a full-service mold manufacturing organization for its customers, from part feasibility to on-site support of tooling start-up at customer locations. Zuspann joined H.S. Die last year to help guide the company as part of the new management team. "We have a strong management team with full support from our ownership to re-establish H.S. Die as the No. 1 tooling and automation equipment supplier in North America," he concludes.