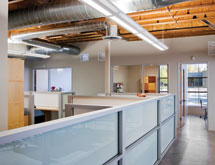 Hackman Capital has acquired more than $800 million of real estate on behalf of its affiliates, and currently manages a national portfolio of more than 50 industrial and commercial facilities – exceeding 14 million square feet – as well as 950 acres of developable land. What makes the company stand out among other real estate investment firms, however, is that it also focuses on the purchase and sale of industrial equipment. Working on four continents, Hackman Capital says it has conducted hundreds of equipment acquisitions, dispositions and liquidations since its inception in 1986. A "highly disciplined investment approach and large and longstanding relationship network," are what Hackman Capital rely on to maintain its successful track record.
"The company leverages its distinctive dual-asset platform to source key opportunities in both real estate and equipment marketplaces," the firm says. "The company is known for its ability to navigate through complex transactions and financial restructurings and to close transactions quickly."
Based in Los Angeles, Hackman Capital acquires, manages, redevelops and sells property on behalf of itself, various investment funds and institutional clients. Throughout its more than 25-year history, the company has managed properties throughout the West Coast, Midwest and East Coast, in addition to its business of buying and selling equipment.
In early 2012, Hackman Capital expanded its equipment platform, which, the firm believes, will increase its ability to purchase industrial real estate and equipment, either separately or together.
"Historically, equipment dealers and auctioneers don't purchase real estate, and real estate investors don't purchase equipment," CEO Michael Hackman said in a statement. "However, the two are often tied together. We want the market place to see us as a single-source solution, able to quickly convert surplus or distressed assets to cash, whether liquidating real estate and equipment, separately or combined."
He explained Hackman Capital is able to source opportunities through its extensive network in the real estate and equipment markets. Working with a variety of industries, the company sources equipment from corporate distress, bankruptcy, insolvency, turnarounds and financial restructurings. From there, Hackman Capital works with equipment dealers and auctioneers to finalize the transactions.
"We offer a successful, 26-year track record in both the real estate and equipment arenas," Hackman said.
'Absolute Prototype'
No project better exemplifies the benefits of Hackman Capital's dual-business platform than Midlink Business Park, located in Kalamazoo, Mich.
Kalamazoo is on I-94 about halfway between Chicago and Detroit, and Midlink sits on approximately 340 acres. Midlink has 1.6 million square feet of state-of-the-art industrial space in a tax-free Renaissance Zone, as well as space for development – 88 acres of industrial land, a 41-acre retail area and 38-acre office campus. Hackman Capital explains the industrial space features robust infrastructure, heavy power, high-capacity cranes, abundant loading with extra-wide entrances and clearance around docks, as well as clear heights from 20- to 42-feet, on-site rail service with indoor access and heavy floor-load capacity.
Originally, the Midlink site was a 2.2-million-square-foot General Motors stamping plant, but Hackman Capital purchased the property, building and equipment from GM in 1999. Hackman Capital ended up removing 156 stamping presses, four escalators, thousands of tons of scrap steel, 300 truckloads of wood block and 200 tons of dust and debris, as well as thousands of pieces of other equipment, office furniture and other items accumulated over the plant's 35 years of operation. The company notes this was one of the "most challenging and largest redevelopment efforts ever undertaken in the five-state area," but after Hackman sold and removed the facility's capital assets, scrubbed, renovated and repurposed the space, it transformed the functionally obsolete property into the mixed-use Midlink Business Park.
Hackman Capital stresses it couldn't have revamped the Midlink property without the support of state and community stakeholders. Regional economic development agency Southwest Michigan First, Comstock Township, Kalamazoo County and Michigan Economic Development Corp. (MEDC) were some of the entities that worked with Hackman Capital to bring Midlink to life, in addition to several other public and private partners. Together, Hackman Capital, the state, township and county, along with the tenants and land buyers have invested more than $225 million to make Midlink a success.
"Midlink is a remarkable space," Vice President of Operations Rob Britigan said in a statement. "Its flexibility can accommodate tenants as large as Kaiser Aluminum, which leases nearly 465,000 square feet, to Columbia Logistics Services, which initially leased 2,500 square feet. Another example is Seneca Medical that leased 64,000 square feet while constructing an 85,000-square-foot building on 10.61 acres of land that they purchased at Midlink Business Park. Midlink allows companies to grow, yet remain in the same place."
Hackman has leased or renewed nearly 4 million square feet in Midlink since 2005. "For a market that historically had no positive leasing absorption, Midlink has become a real catalyst and cornerstone for helping reinvent Kalamazoo – it's an example of something positive happening in southwest Michigan," Hackman Capital says. "Former Governor Jennifer Granholm said repeatedly that Midlink is not only another example that Kalamazoo knows how to position itself for the future, but she also commented that Midlink represented certainly one of the largest but also one of the best examples of an auto plant development that the Midwest has ever seen."
The MEDC referred to Midlink as the "absolute prototype project for the Renaissance Zone program," which abates most state and local taxes for businesses located in the zone. "The program was intended to incentivize investment for the reuse and rehabilitation of existing buildings and infrastructure," according to the company. Hackman Capital says the taxes that have been waived until 2017 include:
Michigan Corporate Tax
Michigan State Education Tax
Local Personal Property Tax
Local Real Property Tax
Utility Users Tax
"Midlink is a vibrant, growing location and we're glad to be a part of it," Kalamazoo County representative David Artley said in a statement. "We recognized that we needed to do something to bring jobs back. We needed to create 300 permanent, full-time jobs, and as part of the grand requirements, offer half of those jobs to low- to moderate-income workers. I'm proud to say Midlink exceeded that requirement."
In fact, according to Hackman Capital, approximately 1,500 jobs have been created by the Midlink project.
Value-Added Operations
Many companies are attracted to Hackman Capital's properties, not just because of the quality of the properties and their amenities, but also due to the comprehensive nature of its services. Hackman Capital understands a successful portfolio requires much more than the initial property acquisition, and as a result, it offers a long list of services:
Asset and property management – The company explains that its asset and property management team is dedicated to optimizing the value of each property. Its services include strategic planning, tenant renegotiations, lender reporting, tax appeal processes, contractor selection and coordination, government relations, preventive and predictive maintenance, budget preparation and tenant relations.
Construction and development – In addition to helping tenants find the right contractor and coordinating the projects, Hackman Capital provides management of ground-up, leasehold and capital improvements, as well as risk management. The company notes it also can take care of tenant improvements, planning and costing, and budget analysis.
Leasing and marketing – Hackman Capital says it uses proactive strategies to procure new tenants. The company's in-house marketing department provides tailored services based on each asset's needs, and these range from enhancing broker-marketing activities to designing and implementing cross-property national campaigns. Its leasing services include lease negotiation and administration, broker relations, competitive market studies and market analysis.
Investor relations and accounting – To ensure it maintains its track record of generating superior returns "with a patient and disciplined investment approach," Hackman Capital says its seasoned accounting staff continuously monitors portfolio performance and provides ongoing analysis and financial reports to investors.
Hackman Capital cites WorkScapes at Newport Beach in California as an example of its dedication to value-added properties. In June 2007, the company acquired the Newport Trade Center, a six-building, 84,831-square-foot office park. Hackman Capital believed traditional office parks were a commodity dominating the market, so instead it transformed its acquisition into an "uber-modern, ultra-creative work environment geared to creative businesses" and named it WorkScapes.
The original architecture at the site had a "light industrial feel," Hackman Capital says, so it leveraged that to create loft-like, contemporary spaces with exposed ceilings, polished concrete floors, open floor plans, large windows with expansive golf course views, gallery kitchens and new mechanical systems. To ensure the spaces reflect the personalities of the tenant businesses, Hackman Capital offers spaces that are move-in ready or that can be built to suit.
When the company completed the WorkScapes renovation the market had softened, but Hackman Capital still was able to lease spaces to media companies, audio and video production studios, architects, graphic designers and event planners.
"No longer do architectural firms, marketing firms and design firms want to be in a traditional, high-rise office environment," said Steve Hall, executive vice president and head of Hackman Capital's asset management group. "They want to be in an open, modern space that lends to a more collaborative working environment. Open space breeds collaboration and allows creative minds to keep the juices flowing. By allowing tenants to collaborate with us in terms of their design, we have been successful at bringing in really creative thinkers."
One of WorkScapes' early tenants was LoopNet, the largest online commercial real estate listing service. Jerry Rodgers, vice president at LoopNet, noted he was attracted to the interior design and leafy campus.
"We have been impressed with the unique space at WorkScapes," Rodgers said. "I can honestly say this property is unlike any other in the Newport Beach area. The open floor plan and loft-like layout are naturally conducive to a creative atmosphere. The offices at WorkScapes inspire creativity, a flow of communication between members, and visual appeal, all of which are factors that allow us to more easily attract top talent in the Orange County area."
The property's proximity to upscale beachside dining destinations also makes it an ideal spot for top-of-the-line tenants, according to Michael Hackman. He said WorkScapes is a good example of the look of future office environments, and the company has continued its success with WorkScapes in the development of a number of sites in Culver City and other areas of Southern California.
"We are focused on adding to our portfolio even more spaces like the creative lofts at WorkScapes," Hackman said. "The more innovative and adventurous we become in our lease offerings, the more able we are to meet the needs of tomorrow's business leaders."