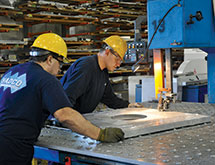 Manufacturers frequently depend on metal to be rigid and inflexible, but those are two words that could never be used to describe Hadco Metal Trading Co. CEO Gilad Fishman says the company stands apart from its competitors by being agile and responsive   to its customers' requests, and this is a major part of the reason why Hadco stands out as a leading provider of metal products to customers in North America and around the world.
Hadco has been servicing the aluminum industry since the 1980s, but the company as it is known today truly took shape in 2006, when it was purchased by the Scope Metals Group. Fishman says that under the new owners' direction, Hadco evolved from a company specializing in aluminum extrusions on the East Coast to what it is today.
What Hadco is today is a global provider of metal products including aluminum, stainless steel, magnesium, engineering plastics and other related alloys. The company offers these metals in sheets, plates, bars, tubes, pipes and extruded shapes, and although it has a strong focus on the aerospace market, it services many other industries such as defense, architectural and construction, semiconductors, energy and more. The company is positioned to service customers almost anywhere in North America and around the world from its locations in New England, New York, Pennsylvania, Florida, California and South Korea, and with the support of its global partners within the Scope Metals Group.
Even though the company has a large footprint, Fishman says, Hadco is always available to its customers. Combined with the company's extensive capabilities as a service center, Hadco has what it takes to remain successful for a long time, and the company's recent growth has been proof of that.
Proven Partner
Although Hadco operates all over the world, it's still relatively small compared to some of its larger competitors. However, Fishman says that's far from a negative for the company and its customers. "We're not one of the industry's giants," Fishman says. "I think that makes us work harder for our customers, be very agile and very quick. We give full and professional answers followed by delivering on what we promised to our customers. It requires us to have an exceptional team of people that takes responsibility, and pride in their job, as every single person at Hadco makes an impact on the business and the customers."
Fishman says the organizational structure within Hadco is very flat, making it possible for the company to determine pricing, terms and operational solutions for customers without having to pass through numerous levels of management. This has proven to be important in empowering the sales teams to be successful, being sensitive to customers' special requirements and needs, and making decisions on the go. It allows quick feedback from the customers, prioritization, and operational support with quality product and on time delivery.
"Hadco is a one-stop shop, holding tens of thousands of SKUs in stock from a wide range of metals and alloys produced by leading manufacturers such as Alcoa, Kaiser, Aleris, SAPA, NAS, Valbruna, Universal Stainless, ATI and many more," the company says. "Our long-term commitment with producers ensures availability of stock, reliability, continuity and quality."
The company adds that its ability to supply these materials on a just-in-time basis makes Hadco a valued partner to its customers. "We offer total inventory management, releasing our customers of the need to hold stock and thereby increasing their efficiency.
Growth Ahead
Hadco plans to continue its growth in the coming years. In fact, Fishman says, the company's success has presented it with a new set of challenges. "I think the greatest challenge for us is keeping up with our growth. Hadco has a culture of what we call "constant change," striving to improve and better every aspect and process in the company all the time while growing rapidly. We believe that if you do not grow, you die. The energy and commitment to deal with these challenges makes Hadco a better and more efficient company all the time" he says.
Hadco has experienced double-digit growth every year since its acquisition by Scope Metals Group, and Fishman says the company is hard at work making sure it has the capacity it needs to service new customers without losing focus on the strengths that made it successful in the first place. "As we grow quickly, we are investing constantly in order to continue that type of growth while still give the same high level of service to our customers," Fishman says.
Among the initiatives Hadco has taken on to keep up with its growth are increased hiring, training and automation at its facilities. The company also is moving its headquarters in Philadelphia from a 160,000-square-foot facility to one that measures more than double that at 380,000 square feet.
Hadco's logo is "Our Service – Your Success," and this approach seems to be working well for the company. Fishman says Hadco is excited about the opportunities it sees on the horizon over the next few years. "We see this growth continuing, as long as we keep our customers successful we will do just fine," Fishman says.