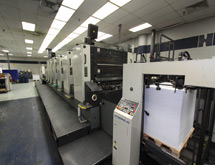 Hagadone Printing Co. in Hawaii does just what its name suggests. The Hawaii-based manufacturer provides services for digital, commercial and publication printing as well as for special markets such as printing for local conventions and product packaging. However, in recent years, the company has branched out into many related services that make it so much more than just a printing company.
"We are primarily a full-service commercial, digital and publication printer, but we have expanded on that," says Sean McCully, vice president of finance and operations. McCully explains that some of its long-run printing jobs have taken their publications off the shelves and put them exclusively online or gone offshore. "The publication printing industry has been getting beat up, especially as the economy went south. We had to look for ways to diversify."
July marked the anniversary of the launch of Hagadone's H1 division, which is a network of local companies that Hagadone put together to form a single-source marketing solution for clients. Hagadone realizes that when it comes to a company's marketing eff­orts, printing products are often just one piece to the larger picture. Many so­phisticated marketing programs in­clude a range of tactics including websites, social media accounts, market research and analysis, web-based app­lications, graphic design and public re­lations. Hagadone employs three full-time graphic designers and has the capability to provide all of a company's printing needs, but many of the other services do not fall under its expertise. However, it does have a Rolodex filled with credible companies that can provide those other needs.
"Through this network we are able to use local businesses as partners and we can send them work and they will send us work, so we can offer our clients anything," McCully says. "We can merge the electronic services with the print and can offer the best of both worlds. In some cases, electronic is the way to go, and sometimes direct mail can be much more successful, or it can be a combination of both. It can all tie in together."
Key Investments
On its own, Hagadone is a value-added printer, and it has made significant investments to improve its quality. In 2005, it replaced a 30-year-old web press with a Goss M-600 fully automated web press that can do long- and short-run jobs as opposed to only long runs typically required for magazines and newspapers. It also possesses in-line folding configurations, which cuts down on post-press finishing.
More recently, the company ac­quired an HP Indigo 5500, which Hag­adone says "has the highest quality output of any digital press on the market today." The company also added a color calibration system to its operation that checks the color accuracy. "We used to print out the proof and check the color against a few prints from one job," McCully explains. "But now every time we print, it's calculated and the color is calibrated, so we just took a variable out of the process."
Hagadone also is the largest direct mail supplier in Hawaii. The company provides printing, list management and mailing. It has a comprehensive database of deliverable add­ress­es and can tailor a mailing list ac­cord­ing to the client's dem­ographic target.
With so many options, developing a marketing plan can be a daunting task, especially for small operations. To help take out the guesswork, Hag­a­done off­ers package deals through eTarget­pro that combine things such as custom designed postcards and QR codes. "A lot of small businesses can't afford to have a graphic designer in house and find time to find their own printing and material," McCully says.
Many of its clients are large companies such as department stores, however, and Hagadone still prints for many of Hawaii's major publications. For all these clients, large and small, McCully says quality starts well before the orders come in.
Hagadone looks for suppliers like itself – companies who provide added value. "When it comes to suppliers we look for a combination of quality and price," McCully explains. "We have to get the best deal, but at the same time, we can't skimp on quality because that will end up costing us more in the end."