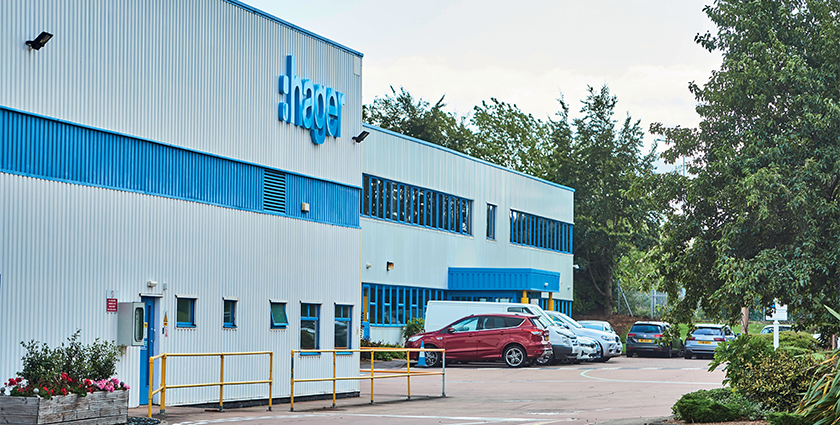 Switching it up
Celebrating 30 years at its Telford factory, Hager UK is proud to demonstrate how and why it continues to do things differently
Established in 1992, the UK division of its Germany-based parent company, Hager Group, is an industry leader in its own right. Hager UK is a frontrunner in the provision of solutions and services for electrical installations across residential, commercial, and industrial settings. Though its primary end customer remains electrical contractors, Hager UK is also seeing success in the project business, working in tandem with developers of commercial buildings, hotels, and residential properties.
From its inception, Hager UK has been a keen team player, constructing robust partnerships with more than 1300 electrical wholesalers, selling to all the major players in the market. Built on the site of a former concrete works, Hager UK's Telford manufacturing base was quickly established: market demand for the group's unrivalled installation solutions had rapidly soared beyond measure ever since.
"Today, we have around 200 people in our manufacturing and operations teams," begins Martin Edwards, Director of Operations at Hager UK. "We both manufacture and distribute Hager products from our Telford site. In any given month, we can pick and pack up as many as 70,000 order lines. The manufacturing facility is truly a manufacturing marvel: CNC punching, press breaking, powder coating, and a full team of assembly operators; manufacturing and distribution all under one roof!"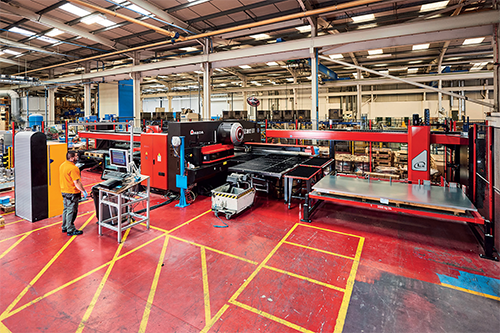 From its Shropshire-based factory, Hager UK currently distributes four main product ranges: energy distribution, including its Consumer Units and Invicta Distribution Board; wiring accessories, such as its safe and installer-friendly junction boxes, sockets, and switches; lighting controls and other modular devices like dimmers and switches; and building automation equipment, giving workers in large commercial buildings, for instance, the ability to accurately control air-conditioning and safety systems.
"I think the popularity of our products is a testament to their manufacturing," admits Martin. "Part of it is certainly because we still manufacture many products within the UK, whereas so many products are of factored Far East origin. Obviously, we also have a very strong sales and marketing team, and we remain very close to the wholesaler market. But also, we're developing new interfaces through our project service center, bringing us closer to project business and the actual electrical contractors who utilize our products on site."
That's just the start, though. The company also offers myriad installation-related services. From its reliable and fully integrated electrical planning software, dubbed Hagercad, to its 3D model-based BIM system, which provides professionals with intelligent tools for designing and managing projects, Hager UK is changing the way companies interact with the market.
New initiatives
The company also runs fully accredited training programs from its 600-square-foot Hager Academy, offering the latest learning technology to individuals who need to keep abreast of the latest electrical regulations. Despite being situated within a wide network of Hager Group divisions and wholesalers, the Telford-based company has always relied upon its close-knit team. As Martin discusses in more detail:
"First and foremost, we're a family-owned German business," he says. "As the UK subsidiary of that parent group, we do still experience that founding family feel, which is, you could say, different to a traditional stock-listed company. For example, we're planning on hosting an open day at our factory in July, where we will welcome workers, as well as their family and friends, to a summer barbecue – something like that goes a long way. Our workers are our experts; their hands are on our products every day, so we have a lot of faith in them."
Other new initiatives, like a recent overhaul in health and safety standards, proves that Hager UK is going above and beyond when it comes to the wellbeing of its employees. "Our priorities are thus: safety, quality, delivery, and then cost," asserts Martin. "That's the mantra we work by. Over the last few years, health and safety has been at the top of our agenda. There's even friendly competition between the Hager Group's various sites. For instance, Hager UK was awarded the prize for health and safety standards because we had more than five suggestions per employee for improvements. Being recognized as the best in the group was really humbling, and it worked to develop the factory, too; it made people really feel they were working for a business that truly values their input and their safety."
In the last few years, by instruction of its parent group, Hager UK has been developing more and more standardized processes across the board. "Standardization really helps us share best practice, and health and safety improvements definitely fall under that banner," explains Martin. "If you were to go back 15 years, you would find that Hager Group's subsidiaries were pretty much independently operating, and there are 23 factories around the world. That's a lot of variability.
"As a result, we have been recently joined together in sub-groups," he adds. "We are, for example, part of the enclosures group, because we mainly assemble those here in Telford. To achieve consistency across multiple sub-groups, we have a system of processes being developed called the Hager Production System, which will aid us in our Lean manufacturing journey. By having things like management routines, production planning, and health and safety audited against this system, the company's Lean future is at once made abundantly clear."
Business changes
Within the last two years, moreover, Hager Group has appointed a new Head of Manufacturing and a new Head of Supply Chain. When Martin joined in 1996, the group was operating at a turnover of around €400 million. Now, that figure has bloomed to well over €2 billion.
"Our success demonstrates that, by having a global approach, Hager will be able to make that next big step forward," states Martin. "Hager Group's CEO makes it clear that, when you have 12,000 employees, you can't work the way you did when you had 1000. You need different processes and ways of structuring the business. You need to adapt. This standardization drive all stems from that theory of adaptation."
As part of its modus operandi for Lean manufacturing, Hager UK intends on further streamlining its production process by way of strategic investment. "To employ modern Lean techniques, we promote process flow directly linked to customer demand," says Martin. "Luckily, we've been able to invest, replacing most our main machines and fabrication equipment in the last three-to-five years. As such, the Telford facility now owns two new AMADA CNC punch and Laser machines, a significant investment. We've also invested significantly to update our powder coating facilities, to improve productivity and quality.
"This all means less batch building and more Lean production. Indeed, when we say Lean, we mean the whole team coming together to measure its overall effectiveness in terms of scheduling and how this affects shipping demands. Added to this, we host regular management reviews to identify how we can continually adapt to issues as they surface," he continues.
One example of how Hager UK has adapted to new gaps in the market is found in engineer-to-order solutions. What started as a solo effort has quickly transformed into a fully-fledged team of eight. In the custom orders team, workers create bespoke products for clients, meeting their needs in terms of the type of device, electrical enclosure, and internal wiring required. By steering away from the simple product-in-a-box manufacturing model, the company has shown that adaptation is a sure way to exponential commercial growth.
Indeed, while other businesses were still lagging behind because of the pandemic, last year Hager UK saw a double-digit percent increase in growth. Ever one to stay ahead of the curve, the electrical installations innovator is also serious about the issue of sustainability. Recently, for instance, Hager UK switched to a renewable energy supplier and installed electric vehicle charging points at its Telford facility.
"The Hager group always runs with a company project," says Martin. "Currently, we're running our Project 2030, which includes our Blue Planet sustainability initiative. So, as part of that initiative, our car fleet is increasingly made up of hybrid vehicles. We have also installed eight chargers on site to accommodate this. However, the overarching ambition of Project 2030 is to cut CO2 emissions by 50 percent against a benchmark date of 2021. To be honest, until now, we have chiefly focused on deploying the standardized Hager Production System, but our next challenge is driving forward with sustainability. We know that our powder coating operation is the main carbon emitter, and we have a project team now engaged in identifying ways we can make it greener."
Though it is clearly at the start of its sustainability journey, it has become abundantly clear in our conversation that Hager UK does not do things by halves – it intends to finish what it has started.
Hager UK
www.hager.com/uk
Products: Electrical switch gear