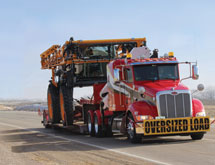 Alan Hagie, president and CEO of Hagie Manufacturing Co., is growing the company his grandfather envisioned more than 65 years ago through an untraditional commitment to putting employees first, with the firm conviction that without satisfied employees, the company could never fully satisfy its customers.
"Employees are our best asset," Hagie states. "They are a key contributor to the future growth and success of the organization." Hagie Manu­facturing is committed to taking care of employees, not just by offering a paycheck, but by providing an invigorating environment. "I want them to wake up to a purpose, not an alarm clock," Hagie adds.
Since Ray Hagie's invention of the world's first self-propelled sprayer in 1947, innovation has been a core root of Hagie Manufacturing. "Innovation isn't something that 'happens behind closed doors' – innovation is in everyone," Hagie states. "Whether it is a product or process innovation, all Hagie team members have the capability to innovate and are expected to do so. It is now about giving people the tools and getting out of the way.
"This internal environment encourages all employees to have a sense of purpose bigger than themselves," Hagie says. "Through providing employees with an atmosphere where their lives can be improved by their work experience, we have an opportunity to take this company to an even greater potential."
Innovation Since 1947
The family owned manufacturer has a robust heritage in providing innovative crop protection solutions that optimize customer growth. Since 1947, the company has maintained a factory-direct business model, selling machines directly to the end-user. "Through staying closely connected to our customers, we have an opportunity to deliver superior customer service and play an integral role in all aspects of the customer experience," Hagie states.
Hagie raises corn and soybeans on the same soil that his grandfather and father once farmed, allowing him the opportunity to relate to customers' needs and understand the challenges they are facing in the agricultural sector. "We understand our customers' expectations because we are in the same business," Hagie adds. "Staying connected is an important aspect in sustaining and growing the long-term business.
"We are committed to being the best listeners in the business," Hagie emphasizes. "By staying connected with customer needs, it is our job to put the pieces together, take chances and create innovative solutions for the evolving agricultural industry."
Customer Support
Hagie Manufacturing's sales and service technicians are located remotely to support customers geographically. The service staff purposefully outnumbers the sales team. "The goal is for a machine to never have to leave a customer's farm for service," Hagie adds. Within the past two years, Hagie has added four other remote service centers that are strategically located in the Midwest to provide customer support, parts, repair services and refurbished equipment.
To honor its commitment, the company will not sell a product unless it can be fully supported with the best customer and repair service. "Being upfront in earning the trust and long-term business of customers is vital to the sustainability of the brand," Hagie states.
"For over 65 years, we have strived to deliver to our customers a superior experience," Hagie adds. "Whether it is a Hagie truck driver delivering a machine or an in-field service technician performing machine repair needs, all Hagie team members are empowered to live, breathe and focus on the customer experience every day. While we don't aim to be the biggest, we do aim to be the best."
Reinvesting in the Company
The Clarion, Iowa, manufacturer has grown exponentially over the past 65 years. In 1954, Hagie moved from field to factory with the purchase of a 48-by-80-foot manufacturing building. Through experiencing consistent growth, Hagie has continued to re-invest in the future success of the company. In 2011, Hagie acquired a 210,000-square-foot building west of the existing factory. Today, Hagie Manufacturing's facilities cover more than 385,000 square feet and span two campuses.
In an effort to improve efficiencies, Hagie Manufacturing recently utilized a zero-base approach to evaluating its plant layout with an eye toward improving production flow. "We stepped back and drew out what the production layout would look like if we started over within the same walls," Hagie recalls. "We have been able to implement a new plant layout that matches that concept, which has been a significant change. In addition, we have invested in a lot of equipment – new lasers, lathes, brake presses and tools – all in an effort to increase efficiencies within the process.
"I am proud and humbled by the fact that today, we continue 65 years of service in the agriculture industry," Hagie states. "What began as an experiment on the Hagie family farm has turned into a story of success with an even more promising future, thanks to our extended family of customers, partners and employees. We are looking forward to delivering on our promise – to provide the most innovative application equipment in the crop production industry – for years to come."