A leader in Europe
Halcor Metal Works is a leading European manufacturer of various copper based products, which serve a range of sectors across the world
Halcor Metal Works represents the copper product manufacturing and trading part of Viohalco, and it offers a strong production base that includes a number of plants across Greece, Bulgaria, and Romania. These include the biggest copper tube plant in Europe, Africa, and the Middle East, and this facility has such a large production that it far exceeds the second largest.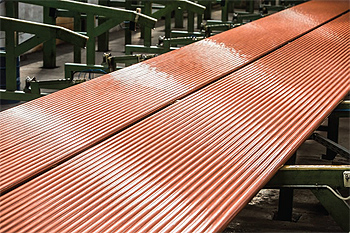 This demonstrates not just the scale of Halcor, but also the commitment it has to being the very best, and offering its customers a leading service. The company produces and distributes copper and copper-alloy rolled and extruded products and cables, and is in fact the sole producer of copper tubes in Greece. The position it has at the forefront of the industry is one it intends to maintain with significant investments made in recent years and continuous efforts to evolve and improve its product portfolio.
The history of the company stretches back 70 years, however it was in 1976 that Halcor was founded. Throughout this time it has honed its skills in the copper processing and trade sector, through innovation and a variety of mergers and acquisitions, as a result the business is an entity that comprises of 18 companies. It also has eight production plants, and a significant commercial presence within European, Asian, American, and African countries. These subsidiaries are all vertical and use copper cathodes, and copper scrap as raw material to manufacture a wide range of products, from copper tubes, sheets and strips to brass circles and bars, as well as from standard copper alloy sheets and strips to special alloy products and cables of high, medium and low voltage. This means the company has great diversity and complete oversight throughout the process, from materials, and manufacture, to delivery.
It encompasses all of this across three key areas, copper tubes, cables, and rollers, which all contain within them many sub groups of products and sectors they serve. Through its own development, as well as a number of subsidiaries, it has expanded its presence in the market and now offers leading expertise in areas such as cables for submarine applications, and for the latest developments in energy production. These were discussed by Commercial Director Panos Lolos: "We are very strong in all of these areas, right across the copper tubes, cables, and copper alloy rolled products, however we are seeing an especially strong climate for our cables, and these will increasingly be called upon to transport energy efficiently in the future. This is needed to create the new generating of products, and a way to avoid the old fashioned ways of producing energy like plants that rely on diesel for example, so we expect this to be a promising sector in the future."
Its dominance within the regions previously mentioned is not something Halcor Group is complacent about either, and it has invested heavily in order to ensure that it remains as a leading figure for many years to come. This approach was something that Panos further elaborated on: "We have improved a lot over the last few years, and this has provided a number of benefits already, though we still plan to improve even more. This is to ensure that our customers continue to get a reliable and competitive service, and to achieve this we will commit an investment on advanced planning and scheduling of half a million euros." This is in addition to the significant funds it has previously put into the business, and Panos gave an insight into this: "From 2000 till 2015 we invested 520 million euros, 59 per cent of this was invested in Greece, 30 per cent in Bulgaria, and 11 per cent went to Romania, for our cable manufacturing there. We will be expecting a return from the major investments that have taken from 2000 to 2015, especially for the products that are significant for us."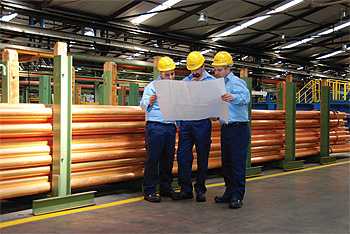 Due to such extensive investments it is able to provide a better service throughout its business, whether from the early stages of design, to the manufacturing, and is able to offer its clients a service that outstrips competitors: "Halcor as a copper manufacturer has a very strong overview of the market, and can appeal to the various dynamics of the different sectors. Our focus going forward remains the same, to apply our attention in response to the market and customer requests in the best ways, and where possible be proactive to meet their needs. We are achieving this in a number of ways, and two of which are strategic planning and technical marketing," Panos said.
In addition to the standard of product, scale of range, and level of investment, Halcor also offers a customer focused approach, which places their needs at the heart of what it does. Panos explained this strength of the business: "We are very strong in manufacturing industrial products, especially industrial copper tubes for very demanding customers. Many of our clients have their own specifications, which means they want to buy their products already customised. In order to satisfy this we are very good at responding to turnkey or tailor made solutions for certain customers, and working with them to provide the expertise and knowledge required to design a product that matches their requirements. In order to excel at this we have made another investment of a thermal transfer lab so that we are able to measure and design special profiles of inner grooved copper tubes together with our customers. Through this approach we create added value for the customer, and it is a service that they cannot enjoy easily with competitors."
Halcor continues to stand out in the manufacturing and distributing of copper based products, and ensures that its capabilities are focused on what its customers require not only at the present moment but also in the future. This approach helps the company solidify its position as a world leader, and the largest in Europe, and will no doubt mean that Halcor is a business that persistently grows. It already has extensive facilities that offer a leading capacity and capability, however it has continued to build upon this and make major investments to strengthen and optimise its activity. Therefore, for all these reasons and many more, Halcor looks set to increase its successful operation, and will be a leader for many years to come.
Halcor Metal Works
Products: Copper products manufacturing