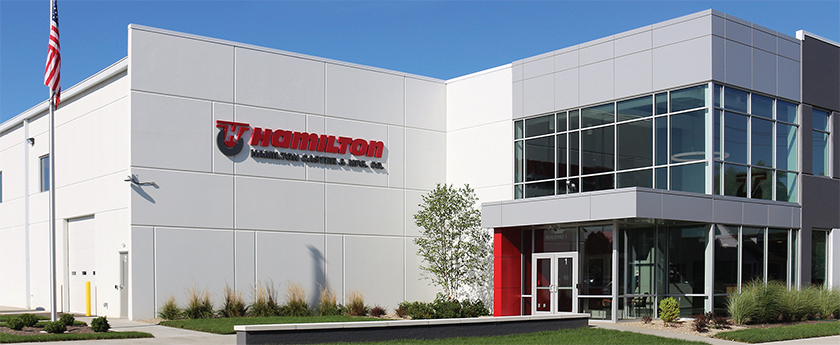 Hamilton Caster is restructuring its supply chain and investing in people and machinery to meet the challenges of the post-Covid era
Hamilton Caster & Mfg. Co., (Hamilton Caster), was founded in 1907 and is headquartered in Hamilton, Ohio, in the northern suburbs of Cincinnati – where it built its first building, back in 1920. It is a family-owned company and always has been.
"The company was founded by my great-grandfather. My grandfather, the founder's son-in-law, bought the business and got us into a good financial situation after the mess of the Great Depression. Three of his four sons – my dad and two uncles – joined the company in their early 20s. Two of my brothers, a cousin and I make up the fourth generation of the family working here and members of the fifth are now coming on board," explains Dave Lippert, President.
As its name suggests, Hamilton Caster's business is primarily the design and manufacture of industrial casters. It boasts a pretty impressive standard range, with capacity ratings all the way from a few hundred to 40,000 lbs. and with diameters from less than three inches up to 25 inches. They are produced for heavy-duty, industrial, shock-absorbing, and stainless-steel applications.
"We also make a lot of specials or custom models. We have built casters that are rated to 100,000 pounds – that's 50 tons. Those particular examples themselves weighed 8000 pounds – four tons – and stood about 54 inches tall. They really were the granddaddies of them all; they are the biggest we have built – so far," says Dave. "A lot of our custom products are made of stainless steel or other metals, and are in non-standard sizes. We have made casters with special bearings and profiles or specifically designed them for unique purposes." The standard offering range has conventional wheels – which Hamilton also makes – or they can be flanged, shock-absorbing, pneumatic, tuned for speed or anything else the customer may require.
Strong team
Despite a wide range and a willingness to customize its offerings, Hamilton has come to rely more heavily on robotics and automation – increasingly so, in the post-Covid business environment.
"We started investing in CNC lathes in the 1980s, so while we weren't the earliest into automation we now have a full complement for machining caster parts and wheels," he explains. "We have had robotic welding for decades now, and recently bought another two machines. They do the major part of the welding of the casters themselves." While automation is essential, there is still a place for skilled manual fabrication.
"The carts and dollies are nearly all custom, in sizes and materials. They can be made of different materials and all sorts of sizes: eight, 10 or 12 feet wide and anything up to 20-to-30 feet long. There is little opportunity to automate so they are built by hand," Dave continues. "A lot of hand welding goes on and we have overhead cranes to move them. Behind all that is a strong team of design and engineering staff."
Family heritage
Hamilton is almost at full employment; it would like to have more but recruitment has been very difficult, post Covid. The business is prepared to incentivize potential and existing employees and is also in touch with the Ohio Department of Rehabilitation and Correction, with a view to recruiting potentially skilled people who want to rebuild their lives. That said, however, there is no problem with staff turnover; people have been with Hamilton Caster for decades. One person is just coming up for retirement after 52 years' service; 25 and 30-odd years' continuous employment is common.
"We have learned how important a positive company culture is. We have broken down the walls between the shop and the office. The family heritage is a big factor and we work hard on getting to know and understand our people," explains Dave.
Important investments
Supply chain connections have been strained since the disruption caused by Covid, and that has had an effect on Hamilton Caster's hard-won culture of Lean manufacturing. Because lead times can be so long, the business has had to increase its inventory and Work in Progress (WIP) at any given time. While it would rather keep operations as tight as possible, delivery to customers is of prime importance. Equally, the organization has had to make some tough decisions about the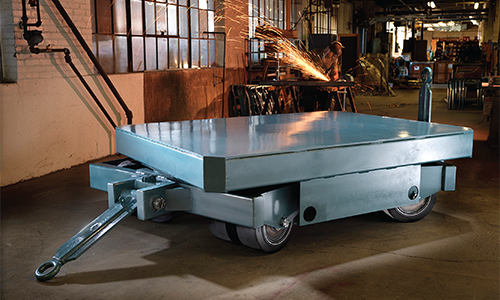 supply chain, too.
"We have long standing relationships with most of our suppliers and are working on making the key relationships closer, with visits both here and to their premises," Dave says. "Things aren't always rosy. We have had some challenges with key suppliers because they have had limitations, like everyone else, with staff shortages and sourcing materials. The closer the relationship, the easier it is to work with them and to overcome or work around those challenges and supply issues. We sometimes have to develop alternative sources but we prefer to have and to develop long-term relationships."
Labor and skills shortages are often the incentive for investment. Hamilton Caster has acquired some adjacent property and bought in a whole new robotically run CNC lathe work cell, with automated loading and unloading. Additionally, the business now manufactures even more of its own wheels, enabling it to ensure reliable and timely product delivery.
"There has never been more investment in capital equipment and infrastructure in my whole 40 years here," Dave concludes.
www.hamiltoncaster.com