A display of quality
UK-based Hanover Displays has been designing and manufacturing passenger information systems for the public transport industry since 1985
As well as the latest innovation in audio-visual passenger information, Hanover also specializes in high-definition LED display technology, automatic vehicle positioning, geo-localization and fleet management. Its products are designed and manufactured at its headquarters and main facility in Lewes, in the UK, as well as at a sister company in Chicago that replicates its UK manufacturing capability. Additionally, the business has subsidiary offices in France, Spain, Germany, Italy and Australia, and further representatives all over the world. As a result, it is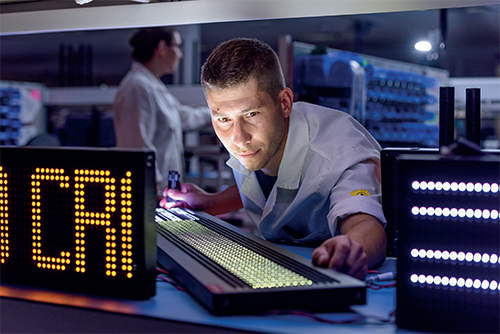 able to provide its services to customers in over 75 countries in total.
One interesting feature of Hanover's operations stems from company founder and CEO Gavin Williams' belief in self-sufficiency. As a result of his underlying strategy, Hanover brought back outsourced PCBs from the Far East to manufacture them in-house, which gave it greater flexibility on production control, as well as enabled it to continue with product development. However, the business needed to invest in production equipment to make the PCBs, and this introduced the requirement to be able to test and inspect the boards in a more efficient way, that didn't involve manual, hands-on labor.
Keen to embrace state-of-the-art solutions when they make sense for the business, Hanover invested in automated PCBA testing, including an advanced collaborative robotics (cobotics) system. Collaborative robots are designed to work alongside teams, interacting with humans in a shared space. They differ from traditional robots, which are designed to operate without human interaction and contact. Hanover's cobot not only addressed the health and safety risks of manually processing 240,000 PCBAs per year, but also guaranteed cycle times and introduced unmanned running.
Having introduced its first cobot in September 2018, Hanover quickly realized the benefits of the technology, and wanted to extend the use of the cobots into different areas and utilize additional features such as vision systems. This lead to the addition of six more cobots to the facility, and the redeployment and upskilling of staff in the process.
Modern solutions
The cobots have been especially beneficial when it comes to testing, quality and inspections, as they now undertake all the high volume testing of its boards. With the cobots working to 50 microns repeatability and producing a report giving Hanover full traceability, the business is able to detail when the product was tested and its test results.
The cobotics project represents how Hanover always wants to invest in the future, look at technology and how it has moved forward and how it can be applied to the business. This willingness to embrace modern solutions on the factory floor is also reflected it the company's own product research and development activities, where it has a dedicated team responsible for innovation, as well as a small group of people that report directly to Gavin Williams, and who Operations Director Sean Winter describes as its 'blue sky thinking team.'
"They create concepts of what we should be doing and build product prototypes, which the R&D team then look at and assess from a design and manufacturing perspective," he added. "Focusing on design and ease of manufacture, as well as considering how the product will be maintained in the field by our technical support team, are all priorities for us. We also always bear in mind how user-friendly the products are, as well as how they are installed, because if we make it simple for our customers then we are more likely to get repeat orders."
To gain an even deeper insight into why Hanover has accrued a global reputation for innovation, we can reference a recent new product, launched in October 2020. Described as 'a game-changing signage system', this range utilizes the latest in LED technology, to offer unparalleled levels of clarity, and exceptional user convenience.
Featuring an increase of up to 30 times the total number of LEDs used in a standard destination display, the end result means text is displayed as a continuous, print quality flow, rather than a dot matrix. The high-resolution system launch follows the completion of a successful 24-month trial, undertaken with various transport operators.
Commenting on this landmark project, Phil Sturgeon, Hanover's Research Manager, said it really steps beyond the standard in the industry. "It enables greater freedom in the use of fonts and also the opportunity to build in better visual imagery, to deliver next generation opportunities in branding and communications," he stated. "Even in adverse weather conditions, the display retains its print quality appearance. Programming has also been designed to be a simple, seamless process, based on a spreadsheet entry system and render box software, making it quick and convenient to create compelling, creative messages across an operator's fleet."
New product launch
A further new product range launched as recently as mid-October 2021 also demonstrates the level of innovation that the Hanover name represents. Its new Smart TFT products look to offer passengers the best on-board experience possible. Used in conjunction with Hanover's passenger information system software, the new displays can use templates to split display areas up for different content types – such as passenger information, next stop and transfer updates and stop accessibility details – in both static and video format.
They can also show real time information, such as rail, airport, weather and Twitter feeds, and include different content on different displays simultaneously to deliver a complete range of information from various sources.
Developed to operate under a seamless process, the templates and media content can be updated wirelessly and are capable of integrating IP-based displays through on-board architecture.
For operating companies, the new Smart TFTs maximize opportunities to communicate with passengers in a highly engaging format. Slimmer and lighter than previous TFTs, and able to be specified in different sizes, aspect ratios and mounting options, they also make the most of available space. The use of LED backlighting makes for clearer messaging, and they can be operated through a choice of interfaces including Ethernet based, VGA, DVI, HDMI and Display Port. With features including multiple displays, mixed display sizes and resolutions, the new TFTs offer greater flexibility, attractive aesthetics and the reassurance of extended warranty as standard.
Hanover's extended warranty is part of the organization's total focus on customer service, which encompasses not just product quality but peripheral facets as well, such as reliable logistics. In order to maintain its agility, and also deliver to short lead times, the business keeps a close eye on what is happening in the market, and thanks to its financial independence it is able to invest in stock as a buffer against challenges in the supply chain.
Growth trajectory
Forming close relationships with both customers and suppliers and working in partnership with them is another high priority for Hanover. Communication between parties is key, and its suppliers are reassured by the company's more than 35 years of industry experience and strong position, and therefore often go the extra mile in their support and assistance with Hanover's projects. In the words of Sean Winter: "Understandably, multiple checks take place before we start working with any supplier, including an in-depth audit, ISO 9001 compliance, quality tests, and an assessment of their financial position. These are all fairly standard checks, but they have helped us team up with some great suppliers. When you have a strong relationship, you know you can rely on those suppliers and that they won't let you down."
Though Covid-19 and Brexit are still causing some supply chain issues across the world, thanks to its hard-working and dedicated team Hanover is in a good position and is able to look to the future with some optimism. As we come closer to the end of 2021, the company is already studying a variety of potential next steps for the road ahead, with the vision for its American operation including a larger manufacturing site, and its ambitions for the UK including earning a larger segment of European market share.
Given the company's performance over the past three decades, history would dictate that the organization will continue on a trajectory of growth and new product development. Investment will remain at the top of the agenda; in staff, equipment and facilities. Ultimately, the business has ambitions to be number one in the world, and is confident that it has the skills, facilities, experience and backing to achieve this aim. Continuous improvement will remain critical, but with this approach already part of Hanover's DNA, the company looks set to continue to deliver its innovative, sophisticated and pioneering products well into the future.
Hanover Displays
www.hanoverdisplays.com
Products: Passenger display systems