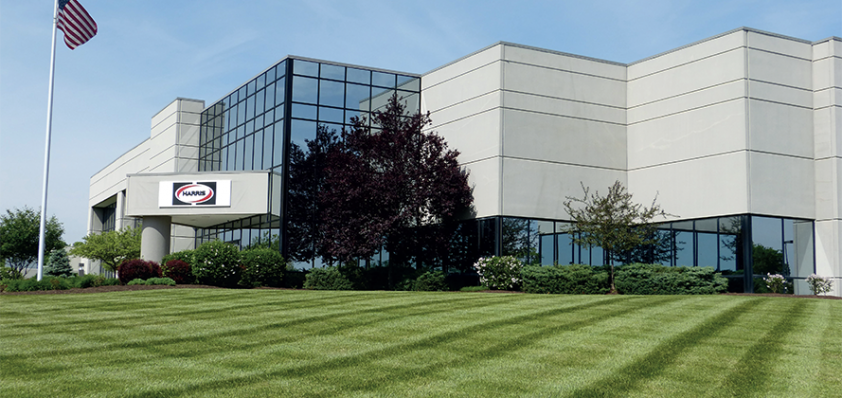 Mastery, made from metal
As a world-leading metalwork manufacturer, the Harris Products Group continues to innovate and excel in the shipping, infrastructure and automotive markets
The Harris Products Group (Harris Products/ Harris) is an international leader in the brazing, soldering, welding, cutting and gas distribution industries. Serving a vast array of customers, from large-scale manufacturers of HVAC equipment to metal fabrication companies, has allowed Harris Products to build a global reputation for quality, consistency and innovation.
"At the Harris Products Group, we focus on manufacturing the tools and solutions our customers need, in order to keep the world around us running. We are the world leader in joining & fuel cutting products," introduces Gregory Doria, President at Harris Products.
"Harris is a wholly-owned subsidiary of The Lincoln Electric Company (Lincoln)," Gregory explains. "The core of the Harris Products Group consists of the acquisition and integration of two independent companies: Harris Calorific Inc., acquired in 1990 with a focus on gas cutting and gas regulation equipment, and J.W. Harris, which was acquired in 2005, as a specialist in brazing and soldering products. In 2006, we merged these two companies to form The Harris Products Group. This integration supported the combining of consumables and equipment for our customer base. Since then, we have added to the Harris Family of businesses with acquisitions in the solder manufacturing sector, international markets in Europe and Brazil, and the fabricated parts arena for the OEM HVAC and refrigeration industry," he elaborates.
The company is known for its diverse network of customers, and the strong relationships it maintains, as Gregory highlights: "As a global company, our key customers in Europe, Asia and South America are users of our core offering: brazing, solder, industrial cutting equipment and gas regulation. In North America, our largest market, there are really five key markets that we serve: industrial markets, OEMs in the residential and commercial HVAC markets, plumbing and refrigeration contractors, OEMs who provide instrumentation equipment to universities and research institutions, and mass retailers in the home improvement, automotive and fleet markets."
New innovations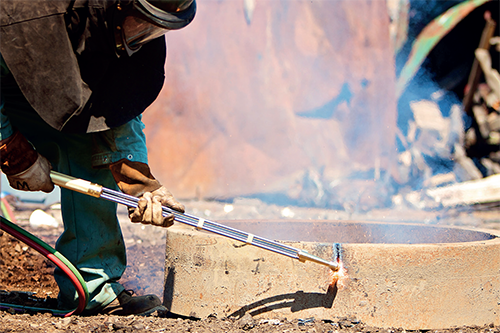 Building and maintaining a diverse product portfolio has allowed Harris to effectively enter and serve new markets throughout its history. High quality and product innovation are key sources of the value Harris provides to its broad array of customers, as Gregory discusses: "At Harris Products, we manufacture a wide range of products to suit a variety of applications. Our brazing alloys are some of our most popular items; Harris manufactures a complete line of phos copper, high silver and flux cored aluminum brazing alloy. Our precision production procedure ensures consistency in product quality, composition, chemistry, dimension and performance.
"We also manufacture a wide range of soldering alloys for both HVAC/R and plumbing applications. Each solder product meets the highest standard for consistency and performance. Similarly, our tubular fabrications are industry-leading; with years of experience we can offer a wide range of tubing sizes and materials, including copper, aluminum and brass."
The company's impressive range of products doesn't end there, either, as Harris is now gearing up to release two exciting new innovations, designed and manufactured by the company's team of experts. "For customers involved with production brazing, we have developed the Perfect Flame™. This is truly an industry first. Poorly brazed pipe joints are often the source of HVAC system leaks. Before the Perfect Flame, it was very difficult to produce consistent brazed joint quality, because production staff could independently adjust the flame setting on their brazing torch.
"Now, with the Perfect Flame, customers can reproduce the ideal flame settings across their entire operation. The internal software controls flame chemistry and flow rates to deliver the exact BTU value, as determined by the customer's engineering departments. These attributes are saved into the Perfect Flame system and can be replicated over and over again, which reduces the risk of brazed joint failures.
Patent pending tech
"We have also expanded our manifold line to include patent pending technology in our new DataSMART™ fully automatic switchover manifold. Launching in March 2022, DataSMART™ allows total control of the gas system through data collection, analysis, monitoring, measuring, remote pressure adjustment, firmware updates and telemetry. It is available with a mass flow meter to measure the volume of gas accurately, which allows for greater insights that lead to more efficient gas usage. Anywhere a customer has an uninterrupted gas source, DataSMART can help them operate more intelligently," details Gregory.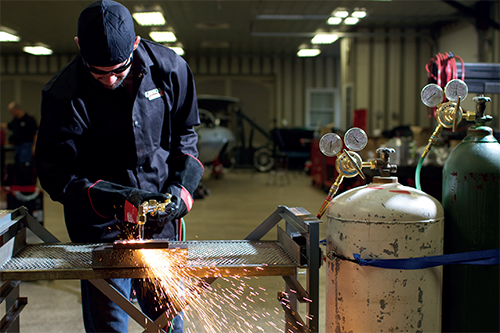 Staff development
Harris has always been able to locate and act on areas for improvement in the market. This is something the company culture promotes, through a client-centric way of thinking, as Gregory reveals: "For Harris, it starts with our customers. Having a deep understanding of how our customers use our products, and what their challenges are in their specific applications, is critical to understanding where we need to focus our development efforts. Our team aligns around analyzing and understanding our customer's key problems, and then incubating research ideas that may or may not result in a market-ready product. For us, it is important to be willing to take that risk on an idea, as it allows our engineering and development teams to have the freedom to be creative."
In order to promote this ingenuity, Harris maintains a positive company culture, which encourages employees to remain the best of the best. "Our people are very important to our customers. When we engage employee-partners, who take meaning from their work and understand that everything that they do affects our customers, we are more successful as a company. At the plant level, we continue to work to give our direct labor employees a clear career path, and opportunities to improve their experience and compensation. We are highly engaged in the development of professional employees, and continue to offer online learning."
Higher standard strategy
Harris Products has an undeniable focus on people, and nothing makes this clearer than its philanthropic work; as Gregory enthuses: "Harris is actively involved in charities in the local communities where we operate. Our customers are the peak of our focus, but being a good partner to our communities and industry partners is part of being an ethical and responsible business. We partner with and support local organizations that nurture children in need, such as Abilities First in Ohio and SISU in Georgia, where we have two of our largest footprints.
"We also support Angel's House of Georgia in Gainesville, which is a program that empowers women to move from active alcohol and drug addiction to a life in recovery as productive members of society. We provide employment opportunities to women who are actively recovering in Angel's House and provide them with an opportunity to contribute to our mission, and find passion in the work that we do. We currently have several women who are graduates of the program, or are currently engaged in the program, who have become important team members and strong individual contributors to our business."
As it continues to support its surrounding communities, Harris Products embraces an exciting future of its own; "We are now in our second year of our 2025 Higher Standard strategy, which focuses on four core areas: customer-focus, driving solutions and value, developing our employees and embodying operational excellence at every stage of our business.
"We expect to continue to focus on delivering value to our customers with our products, services, and support. With that focus, our expectation is that we will continue to automate our factories, advance our global workforce, drive innovation in our space and continue to grow our footprint," Gregory concludes.
Harris Products Group
www.harrisproductsgroup.com
Services: Metal working products