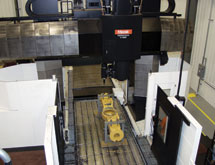 Harrison Steel can now say it's the total package in manufacturing steel castings. The company completed construction in January on a 29,000-square-foot building that includes two new, on-site finish machines that culminates the casting process.
For more than 100 years, Harrison Steel has been in the business of manufacturing steel castings for clients in the gas and oil, mining, energy, construction, military and agriculture industries. The business started with Vice President Geoffrey Curtis' great-grandfather, J.W. Harrison.
The company's plant – which originated and continues to be located in Attica, Ind. – encompasses 650,568 square feet under one roof and is capable of producing castings ranging from 350 to 12,500 pounds net weight.
Still an industry leader in steel castings, Harrison Steel is taking its manufacturing capabilities further by offering one-stop shopping for its clients. "Finish machining is a critical piece of the pie," Curtis says. "In our niche, our steel casting environment, we are trying to set ourselves apart."
The Mazak V100 finish machine tool was the first machine to go live in the shop in March, Director of Quality Bill Fricke says. A second machine, Mazk E1850, is expected to start running in September. These types of machines are very versatile and can machine at tighter tolerances and more difficult geometries. "Our customers castings can be very complex and we needed to be able to have complex machining capabilities," Fricke adds.
Finishing Touches
Investing $11 million in the new shop gave Harrison Steel an edge, as many foundries send castings to an outside company for finishing, Curtis says. "We think with our knowledge of casting and that added finish operation will be very critical," Curtis says.
"Customers are very excited about the machining process we put in place," he continues. "We see a lot of new work and activity out there." Client interest has been piqued by the new finish machine shop's capabilities because it is less complex and more cost-effective to work with a single supplier.
Being vertically integrated, Harrison Steel has the ability to control the quality of the parts from beginning to end and if a problem were to arise, the company can handle it more efficiently. "We have an enormous group of talented people here with machining knowledge, and this is the next step for what our customers are demanding," Fricke says.
The machine shop will continue to be a major focus for years to come at Harrison Steel. The shop can be expanded to include additional finish machines, Curtis says. "If castings leave here that we don't machine – it's a missed opportunity," Curtis says.
Quality Guaranteed
Harrison Steel uses a two-step process to guarantee quality. The first is the quotation process where quality – and trust – begins. Fricke says the quotation process might take longer but "cost creep" won't occur. "Cost creep is when suppliers quote a dollar to make something and go through the process but then say they've missed something in specification or print and charge an extra 50 cents," Fricke explains. "We quote quality concepts so cost creep won't occur."
The second quality assurance step is achieved through Advanced Product Quality Planning. Team members are responsible for launching production once a purchase order is received. Fricke says the production process is then ready with specifications, engineering standards and design records.
Director of Human Resources Jana Grimes says each employee is given job instructions to outline what is expected for that position. Lengthy employee, department, safety and quality orientations are also given so employees follow all procedures.
To encourage employee development and continuous learning, a new performance management system was created last year for hourly employees. "As employees gain additional skills and knowledge, they are recognized and rewarded [financially] for that," Grimes says. "That structure was put in place to encourage continuous improvement and learning and to better communicate what an employee can do to progress at Harrison Steel."
Communication between upper management and plant employees is encouraged to maintain high production and quality levels. "We try to use the knowledge of our employees," Curtis says. "We go to production people on the front lines, because they know the work the best."
Brighter Future
Harrison Steel has not been exempt from the poor global economy. Fortunately, the total package concept is taking hold and bringing in new opportunities. More than 60 percent of the V100 Capacity is spoken for after just seven months of start-up. Harrison's pattern shop also is running two shifts. "Companies are recognizing our value proposition and quote activity is high," Curtis says. "In addition, we are engaged in looking at different markets, looking at production capabilities and looking to expand our material capabilities. I think a key driver is going to be the [finish] machining piece. That will give us a lot of opportunity."
Despite this year's slump, Harrison Steel predicts 2014 will be a better year. "There will be a lot of activity in the marketplace," Curtis says. "Customers are very excited about the machining process we put in place. That looks good."