Back of the net
Following major investment in an innovation centre and diversification into the horticulture market, Harrod UK has ensured continued growth and success
Established in 1954 by founder Ron Harrod, who set up the business with a £300 investment, Lowestoft based Harrod UK acquired fishing nets, repaired and sold them on as garden netting. With the first year in operation ending with a successful £5000 turnover, the company progressed into the manufacture of its first football net for a school following a request from a teacher. This catalyst in the company's history has led to Harrod UK's name becoming synonymous with high quality goals, posts and nets and the firm becoming the UK's leading manufacturer in this arena.


As innovators within the industry, Harrod UK has continued to grow and develop while remaining proud of its strong heritage, values and passion for all things sport. These values, as well as its ability to deliver ground-breaking products, have resulted in the company supplying some of the major sporting events and venues across the globe. "We supply the Olympics, premiership clubs and are specified for high profile events around the world. In fact, we supplied products to the last two Olympics, last four Commonwealth games, last two Rugby World Cups and have also sent products out to Japan for the upcoming 2019 Rugby World Cup. In the sport segment of the business we are involved in newbuild venues, where we not only make the product but also install it too; this has led to good growth for us in 2016," says David Bowling, Manufacturing Director at Harrod UK.
He continues: "Although the sports market has been positive for us, the growth we want isn't there, which is why we have diversifiedoperations by expanding into the horticulture segment. We chose this sector as it requires the same skill, materials, machinery and overheads that we have in sports; we began with fruit cages, metal work with nets around them, and now have a vast range, continually introducing new and bespoke products to our range."
Known for embracing, driving and delivering a policy of continual improvement, not only for the products supplies but the services offered, Harrod UK places innovation at the heart of its operations. As such, ongoing investment is placed in customer focused research, internal process improvements and research and design departments. "We have been building year-on-year on our land, and, with the last bit of land we had we made the strategic decision to open a centre of innovation; this development is in line with our plans for the company's future, to diversify further and develop many new products. It is here that our team of 11 designers will operate in a larger design office with CAD and other design technology as well as a workshop to put things into practice. We previously had designers in different locations, however, they can now all brainstorm together and share best practice; sport and horticulture are now also together in this state-of-the-art building, so the future is looking rosy thanks to our cutting edge facilities and fantastic team of employees.
"To remain at the forefront of our sectors, we have to keep thinking outside the box because you can't invent a new sport but you can find ways to make a product friendlier for the customer; this could be through making it stronger without making it more expensive, as well as easier to handle and easier to store. Making a product better for the customer is what we are number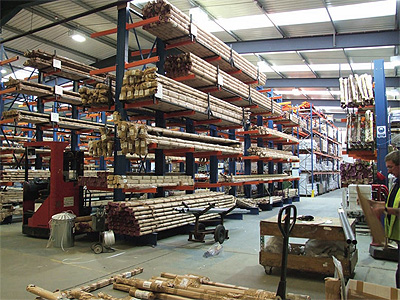 one in the market for, which is why we want these designers to streamline products and enhance them. We may not be the cheapest in the market, but we deliver a quality product and a fantastic allround service; if a customer calls us today saying they want a core product tomorrow, we will get it to them tomorrow," says David.
While innovation, quality and reliability are strengths that are key to the company's success, so too is safety, which the company has been an advocate of since its establishment. "We definitely lead the way for safety," confirms David. "In fact, Ron Harrod was on That's Life with Esther Rantzen calling for standards for goals to be introduced as sadly children were getting injured and even killed by sub-standard goals; he was a huge advocate of British standards on football goals and there are now standards for these. Today his son Chris is on the BSI committee, so yes, we remain very safety conscious, even if a feature won't add value to a product, we add it for safety."
With 15 per cent of the company's turnover coming from specified and bespoke products, particularly from the horticulture side of the business, Harrod UK looks set to enjoy continued growth over the coming years as it seeks to continues to invest in training, technology and product development: "Investment in products and people is key; our training plan is top heavy, but remains an integral part of the business as we start with appraisals and lead up to the development of new machining and technology, which then needs to be handled. We also have three brand new pieces of kit coming to our facility in the first quarter of 2017, which will enable us to further diversify our manufacturing capability," says David.
"While Brexit has led to uncertainty, we also see a lot of opportunities for growth; we have a business plan in place for the next five years, which includes new products, new technology and progression into new markets," he concludes.
Harrod UK
Products: Manufacture football goal posts, hockey goals, tennis posts, sport equipment and horticulture products