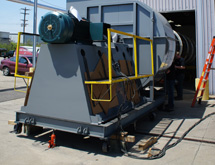 Hartzell Air Movement's 87 years in the industrial fan business are a testament to its quality and continuous innovation. After all, the company may have been the first to engineer industrial propeller fans, but the fans of 1927 do not spin in 2013. The company has developed industrial and general ventilation fans using metal, fiberglass and other materials to serve the needs of its customers in five key markets: heavy industry, water and wastewater, high technology/semi-conductor, marine and power generation.
Although it has eight decades of success under its belt serving these markets, Hartzell Air Movement continues to grow and expand rather than rest on its laurels. Last year, the company put a plan into motion to double its business in five years.
"I came here last February of 2012 and took on the task of doubling the business," says President Sean Steimle. "It's a significant challenge, especially considering the economy, but we've made some investments on the sales side, and we've developed three different strategies to grow the business."
Going International
The first strategy is international business. In October 2011, Hartzell opened a new manufacturing and sales office in Singapore to support international customers. It was the company's first foray into establishing an international presence and Steimle says the decision was spurred by Hartzell's customers, many of whom also are players on the international front.
"Customers have been asking for our product around the world and now we have an opportunity to provide that for them," Steimle says. "If they have a facility in the United States and a facility overseas, they often want the same equipment, including the same fans. Now, we're able to provide that to customers in places like Indonesia, Malaysia, Singapore, Korea, Vietnam, India and the Middle East."
Steimle also says that Southeast Asia's offshore oil market was a big draw for the company to launch a new operation. About 10 to 15 years ago, oil companies began leaving the Gulf of Mexico and migrating to Southeast Asia.
As the company uses Singapore as a gateway to the rest of the world, Hartzell is expanding its manufacturing capability to develop new product lines – one of those being large industrial fans. It recently invested $4 million to expand its 300,000-square-foot facility in Piqua, Ohio, and fit it out with new equipment to handle large fans reaching up to 23 feet. The high bay facility has a clearance of 30 feet.
"We needed this facility to support the heavy equipment that goes into steel mills and pulp and paper facilities," Steimle says. "Those fans can get up to 23 to 30 feet in height. They're very large and move a lot of pressure so we had to have the space and equipment to support that. We brought in a brand new press brake and state-of-the-art roll former. We also put in four 10-ton cranes and we have nine one-ton jib cranes as well as a new powder paint system."
Serving a New Market
The third business line Hartzell is developing – which is the third piece of its strategy to double  revenue – is manufacturing for OEM products. At its Portland, Ind., facility, the company can accommodate up to 60-inch products – the primary products being fiberglass centrifugal and duct fans, heating and ventilation products. It recently reorganized the facility into cells to handle OEM products while retaining its custom manufacturing division.
"The OEM business would be manufacturers that take our fans and put them into their products to sell," Steimle explains. "An example would be a locomotive or scrubber system that uses our fan. You have to get vendor-approved by the company, but once you have that business it becomes repeatable."
Because of its repeatability, Hartzell is able to streamline this aspect of the business. It created a separate space for cellular manufacturing of OEM products, which meshes with the company's culture of lean manufacturing and continuous improvement. Every two weeks, Hartzell hosts Kaizen events where all employees from customer service to engineering to production come together to resolve bottlenecks and other issues at the company.
The company's lean culture is part of a robust infrastructure focused on innovation and quality. Hartzell strives to not only be the first at it what it does, but also the best. It is ISO 9001:2008-certified and its Piqua facility is ABS-certified. It also operates an AMCA lab and all testing is performed to AMCA requirements. On top of those stamps of approvals, Hartzell contracts a company to do third-party audits once a year.
"We have very strong reputation on quality and reliability," Steimle says. "Some of our fans will be out there working for 30 to 40 years and still operating strong. And when it's time to replace that fan, our customers will come back to Hartzell having the confidence that it will work properly and meet their needs and quality standards for a very long time."