After establishing itself as a leader, Harvey is enhancing its operations with lean.
After nearly 60 years, Harvey Building Products is known for its high-quality windows and doors. "It has a reputation as a premium brand," President and COO Nick Longman says. "If you talk to some general contractors in the Northeast, they [will] say, 'Give me some Harveys.'"
Waltham, Mass.-based Harvey manufactures and distributes replacement windows, doors and other building materials products. The company's founders, Longman notes, started the company in 1961 after selling aluminum siding.
The two moved into windows and eventually began offering wood and vinyl products. Today, Harvey employs a staff of nearly 1,500 and sets itself apart in the market by operating as the manufacturer and distributor of its products, which also include roofing, siding and millwork.
Harvey's products also are built to last. For example, when the company introduced its vinyl windows during the 1980s, "They were able to withstand the New England winters and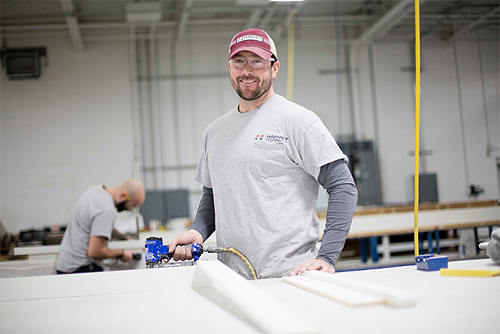 summers," Longman says, noting that the company's products have a reputation similar to Timex watches. "They just keep going and going."
The firm ensures this quality through its product testing lab that performs trials daily. These include tests that look at how many times the window can be moved up and down without getting stuck. "That's a very important part of our value proposition," Longman notes.
"Folks want to know when they buy that window, they don't have to think about it," he says. "It's something they can purchase and have great piece of mind for 20 years."
A Lean Journey
Over the last six months, Harvey has focused on self-improvement. "We've tried to find a way to take a manufacturing business that has good equipment and good people, and apply lean operation systems," Longman says.
The ultimate goal is to reduce Harvey's lead times and improve productivity to leverage a better experience for the customer. Senior Vice President of Operations Bryan Hitz notes that the company has focused on model cells and value streams as well as major layout changes.
Harvey also has engaged in line reconfigurations to balance the level of work. This has been helpful in the construction of the windows, which are always built custom. "It's a unique window that's going through that line every time," Longman says.
While many share the same components, "[They] vary when it comes to the measurement," he says, noting that Harvey's associates need to make sure they have right information for the order, as well as the right materials prepared.
But the company's team has successfully adapted to manufacturing these windows while using lean, Longman reports. "They can make that customized window just as fast as if it was a standardized window," he says.
Lean has brought other benefits to Harvey as well. "We've seen productivity improvements north of 25 percent in the first three months," Hitz says, adding that the company plans to drive labor productivity improvements of more than 5 percent every year.
Top Technology
Harvey's recent initiatives also have included investing $10 million to acquire and develop network optimization software.
"This will improve manufacturing and our branch network," Hitz says, adding that it also will allow the company to optimize the routes and fuel usage for its 200-truck fleet.
But the company's technology efforts will not end there. Longman says Harvey also is focused on providing a greater experience for its customers as they search for products on its web site. When the company is finished, customers will be able to configure window selections and determine costs on the site.
IT also will provide end users with a list of trusted general contractors that Harvey has verified. "All of the information comes from useful and insightful data," he says.
Harvey is implementing a customer relationships management system, as well. "That's going to help us keep in contact and have better management of our customer service," he adds.
Partners in Service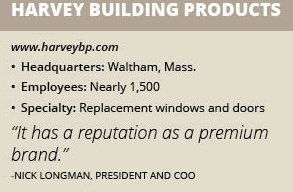 Harvey values its relationships with its vendors, which it views as partners in the process taking care of its customers, Longman says. These suppliers, he explains, can be part of its problem-solving team when it comes to matters such as materials management and manufacturing flow.
"We're always looking for our suppliers to give us better ideas," Longman says. "We almost demand it. They're our sounding boards and sources of advice."
The company also has developed a strategic plan for its top four commodity suppliers, Hitz adds. "We're looking at developing long-term partnerships that will involve win-wins, in terms of cost reduction and efficiency," he says.
One of those top suppliers is Cardinal Glass Industries Inc., which provides residential glass for windows and doors. The company, Longman adds, has looked for areas where it can help Harvey solve problems.
"They understand that the cost of glass is one part of the inputs that we're looking at," he says, noting that Cardinal Glass has committed to delivering its products on-time to the company.
"If the glass doesn't arrive, you can't make a window," Longman says. "Cardinal has been a very good partner and said, 'We're going to make sure we give you the right resources to be on track.'"
The Next Inning
Longman joined Harvey this March. "My background was primarily in running businesses in $250 million to half a billion dollars in size," he recalls, noting that he held numerous roles in operation deployment and management.
After joining the company, Longman brought Hitz aboard, who he had previously worked with at Colfax Corp. "It's exciting to get into a very different new industry with a lot of opportunities for improvement, especially in the lean side and the talent side," Hitz says.
He is proud of his operational team at Harvey, which includes lean veterans. "[They] are now working at the next level to improve their secondary staff," he says.
Longman sees more ahead for Harvey as it moves on its lean journey. "We're probably in the third inning of the baseball game in terms of lean," he says. "We're nowhere near finished in that regard."
Harvey also wants to develop more talent internally and look at acquisitions. "We've built a real strong model of where we can deploy our operational systems and we feel we can develop this with more companies down the road," he says.
Sidebar — Adding Value
Harvey Building Products recently expanded its capabilities with the acquisition of Thermo-Tech Windows and Doors LLC, based in Sauk Rapids, Minn. "[That is a] company that has done a very good job for several decades serving residential and commercial customers," President and COO Nick Longman says.
Harvey also recently purchased Streetsboro, Ohio-based Soft-Lite Windows. The company "services dealers who work with homeowners throughout the United States to provide a private label window," he adds.