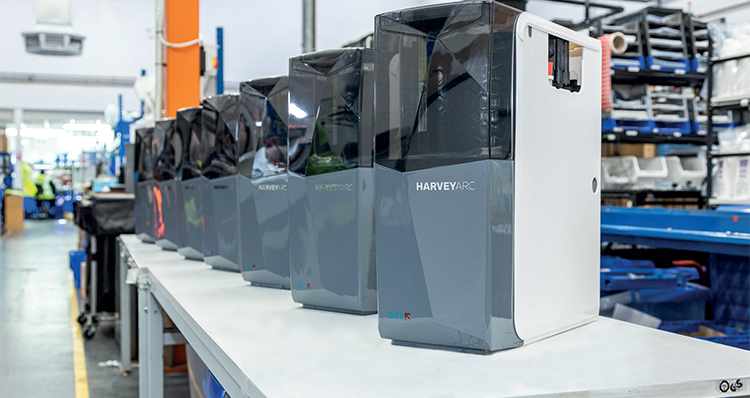 Sustainable softening solutions
Now the largest domestic water softener manufacturer in Europe, Harvey Water Softeners looks forward to further international expansion, and brand-new innovations in sustainable drinking water technology
Since 1978, Harvey Water Softeners (Harvey) has pioneered the most cutting-edge water softening technology from its manufacturing base in Woking, Surrey. Founded by plumber Harvey Bowden, the company has revolutionized water softening since its genesis; known originally for compact under-the-counter designs, the company continues to innovate, with its patented twin cylinder technology, and brand-new Wi-Fi enabled units.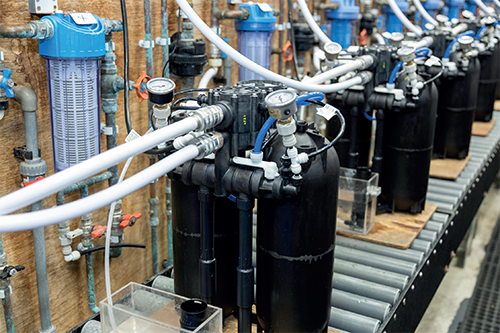 Having softer water in your home has a plethora of benefits; softened water is kinder to skin, easier to lather, less damaging to appliances and more cost-effective. Harvey's selection of domestic water softeners are specifically engineered to enhance all of these benefits, as Gavin Bridger, Head of Operations, summarizes: "Harvey Water Softeners is the UK's no.1 water softener manufacturer for small commercial and residential applications.
"With a twin cylinder design, which is at the forefront of innovation, the Harvey Water Softener features technology that provides the home with softened water 24/7, and works at optimum efficiency."
Harvey water softening systems can be tailored to the water needs of each individual customer. "We provide three types of water softener dependent on varying types of water usage – the most popular unit is the Smart HarveyArc, which is the smallest twin cylinder on the market. We also have larger softener variants, such as The HVX and The Big Blue," Gavin informs.
With full on-site manufacturing at its 30,000-square-foot factory in Old Woking,
Harvey Water Softeners is able to monitor the safety and efficiency of each product whilst tailoring its designs to the UK's domestic market. "Our manufacturing facility here in the UK allows us to develop water softeners specifically suited to British homes," highlights Gavin.
"Our clientele are the 13 million homes and businesses in the UK living or operating in hard to very hard water areas; the worst areas being the South and East of England. We have a UK wide fleet of engineers for installations and maintenance of water softeners, supported by a UK-based customer contact centre," he continues.
Harvey Water Softeners prides itself on efficiency, hygiene and quality of service. As Gavin points out: "It is important to us that we provide the most efficient and reliable water softener available today.
"Through research and development, we are continually looking for new ways to improve the product, whilst offering what we believe to be the best quality customer service. All of our installation and maintenance services are tailored to individual customer needs through our UK support team network, and our installers are trained to the highest standards, with experience in fitting water softeners in almost any situation."
In order to deliver this level of quality, both in terms of product and service, Harvey Water Softeners has employed some of the latest innovations in manufacturing technology. "We have a manufacturing footprint of around 500 meters-squared, and we take pride in continually developing and improving operations internally.
"We make good use of several key technologies, such as infrared welding, ultrasonic welding, spin welding, bespoke testing equipment, and automation technology," details Gavin.
For over 40 years, the company has been making life a little softer by continuously learning, and adapting to the evolving needs of its customers. This adaptability became even more important in 2020, as lockdowns made face-to-face interactions increasingly difficult. "Harvey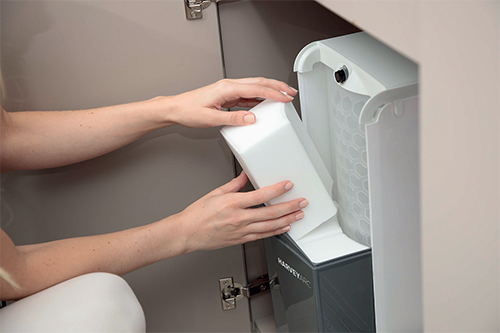 has always provided a flexible service, however as the restrictions of the pandemic have evolved, teams have looked at increasing flexibility to stay connected with customers," Gavin states.
"We were able to deliver virtual demonstrations, via Facetime or WhatsApp, to those who were isolating to keep staff and customers safe. The pandemic also prompted an upsurge in our digital interactions via webchat, online enquiries, and the use of our website," he adds.
Having emerged successfully from the conditions of a pandemic, Harvey Water Softeners continues to flourish under its new parent company, the Culligan Group. Culligan International (Culligan) is a company that manufactures water treatment products on an international scale, as Gavin explains: "The company produces water purification equipment such as water softener systems, filters, bottle-less coolers, and municipal water conditioners.
"Culligan has over 35 brands around the world, which means that it is capable of offering an unrivalled distribution and service network for drinking water and treatment solutions. It currently serves around 50 million customers every year, in order to bring better water to consumers anywhere they need it: be that in the home, at work or on the go."
Culligan has benefitted from an understanding of best practices and market trends, as well as the ability to leverage products, services and resources across the group. All of these assets have aided in the production of Harvey's newest water softening system, the Smart HarveyArc – Europe's first non-electric Wi-Fi enabled softener.
"Designed and manufactured here in the UK, our latest smart water softener is the most reliable, compact and environmentally friendly softener available on the market," discusses Gavin.
This latest water softening innovation makes use of customer interface technology, with its associated app, myHarvey. "The simple dashboard and notifications in the myHarvey app let customers know when salt needs topping up, so they never have to manually check salt levels again. Customers can also easily access support and order salt directly from the app," Gavin enthuses.
"The use of technology inside the Smart HarveyArc is just as impressive; it combines market-leading softening technology, and the smallest twin cylinder softer on the market, with a Wi-Fi enabled i-Lid that can integrate with the myHarvey app for automatic monitoring of salt levels," he adds.
The HarveyArc is also engineered to be as sustainable as possible, as Gavin affirms: "The Smart HarveyArc is a smaller unit than other water softeners on the market, meaning we use far less materials in the manufacturing process.
"It is made from 60 percent recycled plastic, and uses compact salt blocks, to make production and operation as streamlined as possible. The product also offers a space-saving solution to customers, which is something Harvey designs have become known for."
Harvey water softening systems are sustainable in more ways than one, as the new system can also help reduce plastic consumption. "We are the first softener company to make use of recycled plastics in our products, and we have also removed plastic from our softener packaging.
"We strongly believe that we can help our customers become even more sustainable. Our products reduce the need for household cleaning products, extend the lifetime of appliances that use water, and, with our drinking water solutions, allow our customers to make bottle-quality water straight from the tap; through this we hope to reduce the need for single-use plastic bottles," says Gavin.
With such industry-leading technology, it comes as no surprise that Harvey Water Softeners will soon be expanding its horizons, and moving into new territories
"We have very ambitious plans to export the successful UK Harvey story to the rest of the world," asserts Gavin. "We are already providing softened water in certain areas of Europe, but we intend to expand that footprint significantly, and enter the North American market.
"Thanks to our parent company Culligan, we are able to start confidently moving into these new territories. Culligan is present in 90 countries, with over 35 different brands all focused on providing cleaner, safer and great tasting water. That global footprint, and those channels to market, will accelerate our international growth," he elaborates.
International expansion is only one aspect of Harvey Water Softener's future, as Gavin concludes: "Innovation is core to Harvey's success, and we have a very exciting and challenging innovation roadmap that the R&D team are already working to deliver.
"This includes expanding our smart range of IoT connected softeners, creating and marketing brand new softeners that have been designed for the international markets, as well as an exciting focus on drinking water. Sustainability is our other major focus, and it will be a big part of all our projects going forward."
Harvey Water Softeners
www.harveywatersofteners.co.uk
Products: Water softeners and accessories