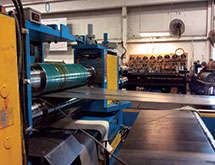 Although there has been a shift in defined leadership at Hascall Steel, Vice President Dave Greichunos maintains that from the customer's perspective everything has remained the same. The shift in leadership was carefully planned and is right on track.
Hascall Steel, founded by Wayne Hascall and his two sons Karl and Dag Hascall, has been in the steel service center business since 1971. The company started with one facility in Grand Rapids, Mich., and has expanded to five facilities: Grandville and Ecorse, Mich., Detroit; Nashville; and Benton Ark. Each boasts the same capabilities in producing flat-rolled-steel coil and flat-rolled-steel sheets and blanks of differing sizes and grades using a variety of specialty processes. Although Dag Hascall remains the company's CEO, Greichunos explains he has taken a step back to pursue another business venture in the hospitality realm, namely Crocs Casino Resort in Jaco, Costa Rica. In the meantime, Greichunos and the company's president, Chris VanWingerden, remain at the helm to run the day-to-day operations. The leadership team is focused on a number of initiatives, including right-sizing the company.
Process Improvements
"We are going through each facility to right-size the inventory and we are probably 70 percent through that process now," Greichunos says. "This is about making sure we have the right amount of raw materials in the appropriate facilities. We are continuing to seek greater alignment of our inventory to the changing requirements of our customers."
The company's right-sizing initiative falls in line with another one of its projects. Hascall Steel is implementing 5S processes into each facility. 5S is a workplace organization methodology derived from Japan that focuses on five major components. First there is sorting, which involves removing unnecessary items and eliminating obstacles. The second S is to straighten or streamline, which involves creating a smooth and easy workflow. Next comes shine, which refers to keeping a clean and organized workplace. The fourth S is setting standards and the fifth S is sustaining those standards.
"With our 5S, we implemented the program at our headquarters in Grandville Mich., first and we are about 40 percent of the way through that process within the entire organization," Greichunos says. "It's really about visibility, aesthetics and having the right equipment where it needs to be at the right time. It also has a lot to do with process and safety improvements to be more efficient."
Greichunos says these improvements will help the ISO 9001-certified company meet the shortened lead times requested by its customers. They also will continue to provide a noticeably brighter and pleasant work environment for the production staff.
Cutting Times Down
"The trend we are seeing is the just-in-time delivery system being used by our customers," Greichunos explains. "It appears that customers are ordering in smaller quantities with shorter lead times. We have been able to keep up pretty well. With our five locations and the equipment we have along with our diverse inventory, we are able to react same day, next day or at very short lead times for our customers' needs. We also operate a fleet of trucks for delivery. In addition, our proprietary ERP software continues to evolve along with our customers' needs. We continue to make improvements in our logistical modules and our contact management databases. All of this allows us to be what the customer needs us to be for them."
Greichunos says the company is seeing this across the majority of its customer base, which happens to be a very diverse one. Hascall Steel serves clients in the automotive manufacturing, building materials, furniture and other markets. He notes that the automotive market has been consistent and the heavy trucking industry is growing. The farming equipment and steel building product sectors also are steadily growing.
"Part of our growth strategy is to have a diverse customer base," Greichunos says. "We are not reliant upon one market segment within our industry."
Rather than remaining beholden to one industry over another, Hascall Steel's success has been its ability to form relationships with many industries.
"We adapt to what our customers' needs are and that has improved our relationships with customers tremendously," Greichunos says. "It has also led us to be referred by our current customers to additional prospects and that has helped us grow the business."