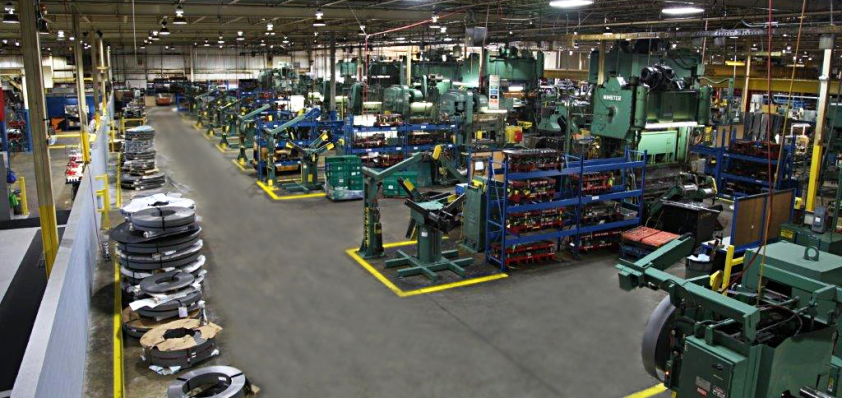 A leading manufacturer of highly engineered metal stampings and assemblies for the automotive industry, Hatch Stamping Company is known as an innovative and technology-driven company. Producing parts for the automotive marketplace has long been the bread and butter for Hatch Stamping, founded more than 60 years ago in 1952.
Hatch Stamping has more than 900 employees in 13 manufacturing and technology center locations. The company has expanded its square footage to more than 785,000 square feet. It boasts 51 stamping presses, 44 weld cells, 56 robots and three e-coat lines. Additionally, the company has added wire-forming equipment such as four slide machines, and straighten and cut machines, as well as tube forming equipment such as Horn CNC benders, Kiens CNC benders and UTE CNC benders.
"Over the last year we have made no changes in our market focus," President Dan Craig says. "However, we have strengthened our manufacturing by expanding in the wire and tube arena."
Fine Tuning
Always looking to explore and add new technologies, Hatch Stamping continues to make significant investments in new capabilities.  Recently, the investments have centered on robotic laser weld cells as well as advanced engineering.
"Additionally, we have expanded our press capabilities up to 1,600 ton, increasing press bed size to 210 inches," Craig says. "This is enabling us to increase capacity and produce larger parts, which is being led by customer demand."
Beyond adding to its internal assets, Hatch Stamping continues to understand that it must have a footprint that accommodates its customers. Over the last few years, the vast majority of expansion in the automotive industry has been in three primary areas:  the Southeast, China and Mexico. Hatch Stamping has expanded its footprint to match this trend.
At the same time, Hatch Stamping has always provided strong engineering support to its customers. As such, another trend it has responded to is the need to have advanced manufacturing engineering available. Hatch Stamping has expanded its engineering services and will continue to partner with its customers to offer services that enable them to take advantage of the company's extensive experience and depth of knowledge within the industry.
The company also recognizes that there is a significant effort to increase the number of skilled workers within the automotive industry. Hatch Stamping is committed to providing support and knowledge in several different ways. These include assisting area robotics teams, working with chambers of commerce and local educational institutions, and expanding its internships and apprenticeship programs.
"Strong leaders are a critical part of our success," Craig says. "That is why investing in them is a priority for us. We continue to focus on recruiting and retaining talent.  We have held our own job fairs as well as participated in job fairs in the areas that feed into our locations.  Additionally, we continue to focus on social media, our website and the like. Supporting local robotics teams, expanding apprenticeship programs, opening our plants to tours for local universities and working with other organizations all help to increase the talent pool."
Hatch focuses on retaining its employees, and it claims its retention record is far above the industry average. The company focuses on expanding its knowledge and skills while providing opportunities for team members to interact via non-work activities, events such as company picnics and employee appreciation days, all the while celebrating the team.
"Collaboration and communication are key in sustaining a growing, thriving organization," Craig says. "We have increased our communication to the internal team using video and the web to ensure we are providing up-to-date key information and collaboration."
One final point of emphasis is Hatch Stamping's recognition of the fact that more organizations are seeing a trend toward the need for collaborative, cross-functional teams, information and data. This is central to Hatch Stamping's strategic planning. "We continue to focus on state-of-the art operational systems, enabling us to manage data and information so we can drive decisions across the entire organization," Craig says.
Steps for Success
As the company has expanded its footprint in recent years, it has been heavily involved with the integration of its Portland, Tenn., facilities into its operations, as well as moving forward with expansion into China. The company feels the integration has gone very well in Tennessee, and it has even added a wire and tube location in Chattanooga. "This allows us to strengthen our ability to offer integrated services within the many facets of the automotive sector," Craig says.
As for its China location, it is now in operation and the company has made significant progress since launching the first part of its operations in early 2016. The company is now in the process of working with customers to obtain final certifications and is doing audits in anticipation of production to start within the next few months.
When Hatch Stamping looks to the future, it knows that expansion of its square footage, investments into skilled workers, continued capital investments to meet customer demands, expansion of engineering services, and growth both organically and through acquisition, will all remain critical for success. That is why the company has continued its focus on ensuring that it has state-of-the-art operational systems to support the entire organization globally.
The company knows it must continue to support customers in ways that lead to their success. It encourages interaction and partnership with customers not only from sales, engineering or operational perspectives, but also via plant visits, lunch and learns, industry events and working with them on philanthropic endeavors.
At its core, Hatch Stamping has been able to maintain a focused, customer-driven strategy. Its priorities going forward will continue to be centered on its employees and customers. "We will always prioritize leadership, knowledge, training, advanced engineering, expanded innovation, growing our footprint, strong customer relations, quality and safety," Craig says.