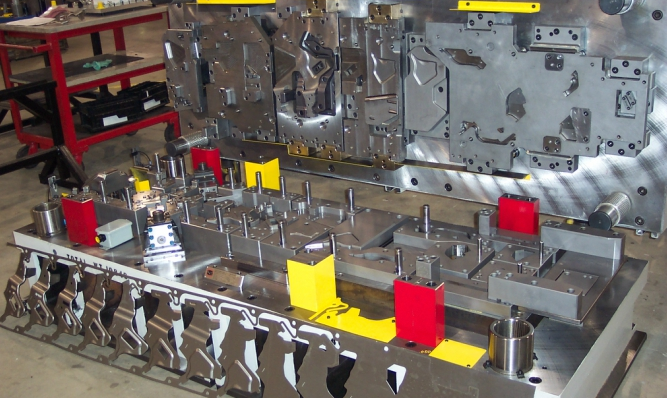 When it comes to longevity, businesses with staying power have three traits in common: customer focus, a willingness to enter uncharted territory and a relationship with the communities in which they operate. Hatch Stamping Company has operated under this philosophy for more than six decades.
A manufacturer of highly engineered metal stampings and assemblies for the automotive industry, Hatch Stamping is celebrating its 65th anniversary this year.
"We're very proud of our longevity," President and COO Dan Craig says. "We attribute our success to understanding and focusing on customer needs, along with vertical integration and investment in technology to support those needs. Ultimately, though, I believe it's our commitment to integrity and the communities in which we work that forms our strong foundation. We've achieved growth without sacrificing the values our company was founded on."
The company indicates that 95 percent of all vehicles manufactured in North America today contain a part from Hatch Stamping. Though its bread and butter are metal stampings and assemblies, Hatch Stamping also offers a variety of manufacturing services that include e-coating, tool design, prototyping, progressive die manufacture and automated assembly and robotic weld cells. The company focuses primarily on metallic parts that are complex, highly engineered and require extensive value-added services.
Evolving Through Time
Hatch Stamping attributes some of its success to its ability to evolve. "Our goal is to be a solution provider, from design to production," Craig says. "We are providing advanced engineering support for all of our customers' stamped metallic requirements, eliminating the need to source services from multiple providers. The idea is to add more value to the customer than simply being a contract manufacturer."
Hatch provides solutions for customers in need of roofing, fuel systems, chassis systems, interior structures, braking systems, seating and a number of other segments. To continue evolving its technology, the company has developed
Centers of Excellence – specific facilities dedicated to innovation and improvement of processes and products.
"This is a feature that's unique in the industry, and one that contributes to our reputation of industry excellence," Craig says. The company uses the facilities to build its own assembly equipment and transfer systems and progressive dies. That includes engineering, designing, building, integrating, programming and troubleshooting various projects. By evaluating and implementing new technologies like 3-D printing, laser scanning, linear transfer and laser welding, Hatch Stamping can shorten time-to-production and produce higher quality results.
The company also differentiates itself from its competitors by pursuing growth organically. "This has allowed us to develop operating and manufacturing systems that are standardized and consistent," Craig adds. Using a web-based ERP systems also allows it to centralize and monitor key performance metrics.
Growth and Investments
As the automotive industry becomes more global, customers expect suppliers to better serve plants and operations regionally, Craig says. In addition to its headquarters in Chelsea, Mich., Hatch Stamping also has presences in Tennessee, Mexico and China.
"Our Tier 1 and OEM customers are operating around the world," Craig says. "Therefore, we've expanded our footprint to match this trend. By serving plants and operations regionally, we can reduce inventory levels, in-transit inventory and long lead times for our customers."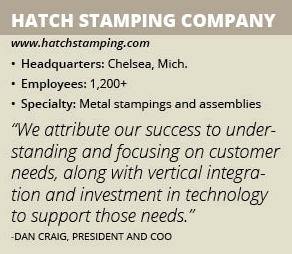 Customers also expect vendors to invest in technology and provide state-of-the-art operational systems to support their own advancements, he adds. In response, Hatch Stamping has made several major investments during the past two years. These include increasing the overall square footage of its facilities, investing in skilled workers, expanding engineering services and making a variety of capital improvements.
"In a quest for quality, we are seeing a trend toward the need to have collaborative, cross-functional teams, information and data," Craig says. "This is at the center of what we do. Hatch Stamping continues to focus on state-of-the-art operational systems enabling us to manage data, information and drive decisions across the entire organization."
In recent years, the company has expanded its capabilities via in-house coating, robotic laser welding, higher tonnage presses and robotically transferred press lines. It plans to continue making investments led by customer demand, technology shifts and globalization.
With more than 1,200 employees and 13 manufacturing facilities and technology centers, the company has expanded its square footage to more than 1 million square feet. It increased productivity by expanding its press capabilities up to 1,600 tons and bed sizes to 210 inches, enabling for the production of larger parts.
In addition, Hatch Stamping has placed a lot of investment into robotic weld cells, higher tonnage presses and e-coat lines. It has also strengthened its manufacturing by expanding in the wire and tube arenas.
The company's product line typically changes every three to five years. By investing in flexible manufacturing cells and equipment, Hatch Stamping is able to reallocate assets to new products and processes and react efficiently to changes.
Measuring Quality
Hatch Stamping considers its parts-per-million (PPM) level to be world class, consistently meeting or exceeding industry requirements. Its production process is overseen from advanced quality planning during the pre-production stage to plant support throughout product life. The company utilizes cutting-edge technology, such as a web-based computerized operating system and fully integrated quality systems. Its management system is process-oriented and systematically controls the company's entire workflow.
Throughout the development process, the application of modern quality tools – such as advanced product quality planning and failure mode and effects analysis – drives Hatch Stamping's goal of zero-defect production and leverages quality processes and production technologies. In addition, the company uses CAD-based programmable coordinate-measuring machines to maintain specific dimensions.
Modest Beginnings
Founded in 1952, Hatch Stamping started with stamping model train parts. When brothers Raymond, Walter and Joseph Hatch purchased and rebuilt a ten-ton Ames press in an Ann Arbor garage, they had no idea that their company would one day become a leading manufacturer of highly engineered metal stampings and assemblies for the automotive industry.
Their train parts business soon grew to include providing resistor parts for Vokar and Dexter Automatic Products of Dexter Michigan and timer parts for a company in Ann Arbor. Soon afterward, the company started providing high-volume parts to the United States Army, which used them to produce parts for M-1 rifles.
Today, Hatch Stamping is a leading manufacturer for the automotive industry with more than six decades under its belt. In 2017, Crain's named the company among its 50 fastest-growing companies in the Detroit area and Hatch Stamping received the Plex Systems Innovation & Technology Award from the Precision Metalforming Association. In 2015, it received a Supply Chain Excellence Award from Plastic Omnium. The year prior, the Inalfa Roof Systems Group presented Hatch Stamping with a Quality Award in recognition of its continuing performance as "best in class."
Community Ties
Hatch Stamping believes in supporting the communities it serves. In Michigan, it often works with local colleges and high schools by participating in regional, statewide and national initiatives such as job fairs, training and intern programs. The company also supports robotics teams and expanded apprenticeship programs.
It is known for opening the doors of its plants to industry leaders, as well as high school and university students. Its efforts help recruit talent and contribute to the education and development of the students. Hatch Stamping supports a number of charities and organizations including several chambers of commerce, robotics teams, North Star Reach and Elle's Place, Gleaner's Food Bank, Toys for Tots and Moon Ranch Adventures.