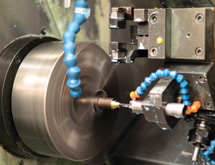 An aircraft's landing gear is often taken for granted by travelers. While the plane's engine and other instruments are more essential to the in-air experience, a faulty landing gear component will prevent it from even getting off the ground. Landing gear also is one of the few non-redundant components on an aircraft.
Since 1980, Hawker Pacific Aero­space has ensured that aircraft passengers have a safe takeoff and a soft landing. The company provides landing gear overhaul and repair services to commercial airlines, air cargo op­erators, government agencies and aircraft leasing companies.
As a 100 percent-owned subsidiary of international aerospace maintenance provider Lufthansa Technik since 2002, Hawker is part of an international landing gear service network. "We offer landing gear services to worldwide customers," CEO Michael Kirstein says. "Lufthansa Technik is proud of having a global presence that gives us the ability to deliver to customers worldwide and offer local support to international customers. The Lufthansa Technik landing gear service network has an extensive pool of exchange landing gear assets that can be utilized by customers worldwide to reduce aircraft downtime during the landing gear refurbishment process and also reduce total cost of ownership to the aircraft operator."
Hawker Pacific's services include test, repair and the overhaul of hydraulic, pneumatic, mechanical and helicopter components. The company works with a number of aircraft types including most of the models produced by Boeing, Airbus, Embraer and Bombardier. In addition to providing overhaul and repair services, Hawker also supports its customers with an extensive spare parts inventory where parts can be purchased or exchanged on an as-needed basis.
The company has repair certifications through the Federal Aviation Administration and similar oversight bodies in Europe, China and Brazil. Hawker is also ISO9001, AS9100 and AS9110 certified.
Repair Processes
Hawker Pacific repairs landing gear shipped from off-site landing gear removal facilities, where aircraft is docked during maintenance.  Repairs are performed in the company's facility in Sun Valley, Calif.
The landing gear repair process begins with tearing down each piece of equipment and stripping off paint. Parts are then inspected, re-plated, and given fresh bushings and standard hardware and all scrapped parts are replaced before being re-painted. A final inspection is then performed before and after re-assembly and shipping, Kirstein says.
The entire overhaul process can take 30 days for small, regional aircraft, 40 to 45 days for larger, narrow-body aircraft, and 50 to 55 days for wide body planes. Crew members are assigned to particular stations, but cross-trained in every part of the process, giving them greater speed and flexibility in the event of an urgent repair, he adds. Hawker Pacific has been using lean manufacturing principles throughout its operation to reduce queue times, increase throughput and increase our productivity levels. The company's goal is to reduce turnaround time by 20 percent over the next 12 months.
A Lean Operation
Hawker Pacific's emphasis on cross-training is part of a company-wide embrace of lean manufacturing principles. "Lean has made us more efficient and practical in every department," Kirstein says. "It has helped us work smarter and empower our work force so they understand the need to reduce waste in every single process step to improve turnaround time."
Lean methods have helped the company overcome economic challenges posed by its activity within the aircraft industry. Many of its customers are choosing to hold off on repairs until absolutely necessary, which affects Hawker Pacific's bottom line.
Hawker uses a number of technology tools to improve productivity and maintain process sustainability and quality, including Lufthansa Technik's Web-based IQ MOVE integrated management system. IQ MOVE provides employees process information online including needed documents. The company also uses ASPEN, a software which displays in the shop the priority of every workorder and measures daily performance to drive productivity, Kirstein adds.
Landing gear is required by law to be replaced approximately every 10 years; until recent years, many operators would have it replaced sooner in conjunction with other maintenance items in order to avoid grounding the plane more than once. "Airlines are looking to save every penny and have work done at the lowest possible cost," Kirstein says. "Our answer to this is to be leaner, work flexible, push ourselves to salvage more parts and continuously introduce new repair processes."
Hawker Pacific also has long-term contracts with many of its vendors, giving it the ability to forecast prices and demands. "It's crucial for us to have reliable and strong partners," he adds.
The company this year expects to see a growth in business from smaller, regional aircraft types introduced 10 years ago that are starting to need service. In 2012, business is expected from ERJ145, CRJ700-900 and E-Jet model aircraft operators. "Our main target right now is to be a more competitive provider on the regional aircraft side and prepare ourselves for the next repair cycle," he adds.