Hawker Siddeley Switchgear
Ahead of the current
Serving thousands of customers across the globe, Hawker Siddeley Switchgear is at the forefront of switchgear system design and a leader in the delivery of both AC and DC switchgear solutions
Delivering solutions to electrical distribution utilities as well as individual public and private sector end user organisations, Hawker Siddeley Switchgear's portfolio includes widely acclaimed
innovations such as the magnetic actuator and electromagnetic spring. Benefiting from long-term expertise in the electrical engineering market, the company today has been involved in major projects such as The Hinckley Point Nuclear Power Plant, the Channel Tunnel and some of the world's busiest Metro lines.
Looking back on the company's history and progression into a leading provider of AC and DC switchgear solutions is Mark Bennett, Commercial Manager at Hawker Siddeley Switchgear: "We are immensely proud of our heritage, which can be traced back more than 125 years to when Charles Francis Brush first established the Brush Electrical Engineering Company at Falcon Works in Loughborough in 1888. Since then, incorporating world-renowned switchgear brands such as South Wales Switchgear, Brush Switchgear, and Whipp & Bourne, Hawker Siddeley Switchgear Ltd has evolved into the global switchgear company that it is today." He continues: "The success of our background and the original companies cannot be ignored – rooted in their ability to pioneer ground-breaking technologies and introduce state-of-the-art developments – and it is this tradition and integrity that we continue to build on well into the 21st Century."
The company has a head office in Blackwood, South Wales, where Hawker Siddeley Switchgear has been based since 1941, and also incorporates its Technology Centre at Falcon Works, Loughborough. Within these premises, the company develops products that are independently recognised by the Royal Academy of Engineering and the Queen's Awards Committee; these are then used in installations across the world in some of the most challenging of environments. "Our facility in Loughborough has highly skilled and experienced design engineers, who have expert knowledge of our Heritage and current range. Alongside product development, we have a dedicated aftermarket division, which provides services for all products within our portfolio; services include installation, commissioning, spares, health checks, inspection and on-site repairs. We are totally committed to providing the best possible service to all of our customers, offering a complete aftersales service, which is reinforced by quality assurance and a willing service team," explains Steven Davidge, Marketing Assistant at Hawker Siddeley Switchgear.
Created with a focus on delivering safe and reliable protection to electricity supplies, these products are put into segmented categories. These are comprised of overhead line equipment, outdoor switchgear, indoorprimary distribution, containerised substations, DC switchgear, protection relays, panel kits and parts, Heritage products and retrofits.
The overhead line equipment range is made up of the GVR Recloser and the GVS Sectionaliser, which bring the reliability of modern materials and technology to overhead distribution networks. The company also offers a range of outdoor distribution switchgear solutions, with products including the Horizon circuit breaker, which responds to the market need for outdoor, groundmounted circuit breakers; the company also offers a fault thrower version of this circuit breaker. Developed in response to the increasing pressure that is put on today's global power suppliers to reduce operational costs and pass on savings to clients, the company's containerised substations are purpose built, housing erected, tested and commissioned in one complete package. Compact in size, the containerised substations offer more cost savings in comparison to conventionally built substations as well as time advantages thanks to the product arriving preinstalled and fully tested.
Although its core products utilise its award-winning magnetic actuator technology, the company continues to offer a variety of Heritage products and a broad range of spare parts. In the future, support of its Heritage range will be provided by Hawker Siddeley Switchgear itself or via an approved third party, with both providing spares and service.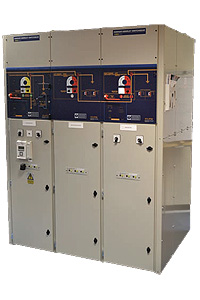 Hawker Siddeley Switchgear's Eclipse is a market-leading 11kV switchgear that is designed to provide a lifetime of unrivalled service. This innovative product brings together one of the most advanced operating mechanisms on the market today, the magnetic actuator, with vacuum interruption and the simplicity of air insulation in a compact, fixed pattern design, and available as pre-engineered solutions up to ratings of 25kA, 2000A.
Steven provides an overview of other notable product developments: "We are currently developing the next generation of indoor AC medium voltage switchgear. The Quantum, which expands and develops on the success of the Eclipse, will be launched in early 2018. We currently have a new retrofit project undergoing type approval – this is our Brush Retrofit Circuit Breaker (BSR) and will complement our retrofit por tfolio that already includes a retrofit circuit breaker (SWR) for our South Wales Switchgear heritage range. On top of this, we have our new SafeBond, which adds to our DC Switchgear range; this product integrates the feeder circuit breaker function and remote bonding function into one standard panel footprint – a big advantage in floor space saving, civil engineering, cabling and operational safety.
"We are globally renowned for the innovative quality of our products, our technical know-how and our flexible service. We focus on working with our clients to provide bespoke solutions that are tailored to meet their exact requirements, having led the market place with our ground-breaking fit-and-forget magnetic actuator technology," he adds. "Our products can be found in some of the most arduous environments in the world. These include nuclear establishments and in extreme weather conditions in locations such as the Middle East, the Australian Outback and British Columbia in Canada."
While it boasts a global customer base, the company has a strong relationship with a number of UK Distribution Network Operators (DNO), as well as a significant presence in the building, rail, oil, steel and petrochemical sectors. "We have seen an increase in demand throughout the rail sector with HSSL being involved in a number of prestigious rail infrastructure projects. Examples of this include London Underground, Dubai Metro, New York Metro and the Japanese Bullet Train. In terms of where we see opportunities down the line, demand and presence continues to grow in the emerging markets of the Indian sub-continent, Japan, China, Singapore and Indonesia," highlights Mark.
Focused on the launch of its new product range over the next 12 months, Hawker Siddeley Switchgear is prepared for a busy period of growth over the coming years as it seeks to not only expand its por tfolio but also its presence on a global scale. "We are keen to develop our international presence and strengthen our growth in locations such as the US, the Asian Pacific Rim and Australia. We also want to expand into emerging markets while planning to grow our aftermarket por tfolio by offering additional services to our valued existing customer base," Steven concludes.
Hawker Siddeley Switchgear
Products: Design and manufacture AC and DC switchgear solutions