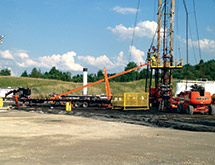 When oil boomed in North Dakota, Mike Jeseritz and his four partners sought a way to take advantage of the sudden economic prosperity. "We were looking for a way in," says Jeseritz, co-owner of Hawker Well Works.
The group eventually penetrated the burgeoning oil marketplace via man camps, prefabricated homes that serve as workforce lodging facilities for transient oilfield workers. "There was a big need for them in North Dakota," Jeseritz recalls. "Companies were looking for temporary housing for their employees."
Jeseritz and his partners came from varied business backgrounds, which was ideal for manufacturing and selling prefab housing. Jeseritz previously owned an auto repair station and was accustomed to interacting with customers. His partners brought sales, fabrication and finance experience to the mix. "Everyone had a specialty," he says.
Their time spent working in the oil industry led Jeseritz and his partners to found Hawker Well Works and develop a product designed to increase safety, speed and efficiency on the jobsite while improving production times and reducing costs. "We had everything we needed," Jeseritz says. "We saw a need for another product."
That product is the Hawker Pipe Handler/Hydraulic Catwalk, which Hawker Well Works launched by developing a prototype and giving it to an oil well service company to use. "They had it for one month," Jeseritz says.
The oil service company provided feedback to Hawker Well Works, which took the product back to its research and development department for adjustments and fine-tuning. "We listened to our customer and finalized the product," Jeseritz says. Nine months later, Hawker Well Works sold the product to that  company.
The primary advantage of the pipe handler is the   elimination of manual labor when lifting the pipe to and removing it from the service rig, Jeseritz says. Workers are no longer required to raise and lower pipes. Instead, the pipe handler picks up pipes from the pipe racks. The hydraulic trough raises the pipe to the sub-floor of the workover rig and the skate pushes the pipe to the rig hands, Jeseritz says.
The operator has the option of using the controls located on the machine, or workers can use the wireless remote control. The Hawker Pipe Handler can reach sub-floor heights of up to 31 feet. Additionally, the Hawker is easy to move from site to site and can be assembled and disassembled within a few minutes, Jeseritz says.
Continued Success
Hawker Well Works has closely followed the sales model on which it relied during its early days for continued success. "You need to get the product in front of the people," Jeseritz says. He continues to give demonstrations at oil fields and company yards rather than rely on advertising or marketing campaigns. "I'm still able to get in front of people," he says. "I don't just sit back at the office."
His diligence had paid off. Hawker Well Works has sold 75 Hawker Pipe Handler/Hydraulic Catwalks over the past three years, including 40 in 2014, Jeseritz says. The pipe handler costs $235,000 and can be delivered to a customer about 30 days after the order is placed. "We're making a pretty good footprint in the industry," he says.
The company recently expanded into international markets, shipping its first pipe handler overseas to Colombia. Jeseritz also is in negotiations with potential customers in Canada, Australia and the Middle East. "We're taking it slow," he says of international expansion.
Hawker Well Works has a presence in North Dakota, Wyoming, Colorado, Texas, Florida, Mississippi, Pennsylvania, Ohio, Utah, West Virginia and California. "We really rely on word of mouth," Jeseritz says. Prompt customer service is another cornerstone of the company's success. "When you call us, we pick up the phone," he says. Additionally, customers are trained to use the equipment following purchase, he says.
The company is working with a finance firm to help companies purchase equipment via monthly payments. "How do you make it easy to own?" Jeseritz says.