Supplementing your diet
Getting ready to double its production capabilities by opening a new manufacturing plant in 2019, Health Innovations is moving steadily towards realising its goal of being one of the leading international contract manufacturer of food supplements
Only six years after opening its first UK manufacturing site in Skipton, North Yorkshire, Health Innovations has already established itself as a reliable supplier of quality food supplements.
Since 2012, the company has been producing solid dose vitamins and mineral food supplements with the aim of exceeding client expectations, both in terms of product quality and customer service. "We are now manufacturing bulk and finished products for a wide range of UK and international customers, including the Major Multiples, various sports brands, pharmacy chains, and discounters. Our current production capacity is over one billion tablets per year across multiple formats, such as film-coated tablets, chewable tablets, two-piece capsules, and more recently, fast-melt tablets," begins Health Innovations' Managing Director, Clare Campbell.
The acquisition of Vitrition in 2015 proved critical in the business' attempts to expand its market proposition, as the contract manufacturer specialises in the production of a range of innovative items in different compositions, including liquids, emulsions, gels, creams, sprays, drops, and powders. "Vitrition can also deliver a variety of packaging solutions, such as sachet packs, stick packs, pouches, and, of course, a range of containers and bottles," Clare goes on to explain the benefits Health Innovations has experienced from acquiring Vitrition. "Thanks to its on-site R&D expertise, the business can also provide full formulation service, scaling up customers' product ideas from concept to a finished product. It has developed such a versatility that it can offer from small volumes of a niche product up to higher volumes to larger customers."
It is Health Innovations' rich portfolio of food supplements, tablets and hard gel capsules, as well as the company's ability to provide an end-to-end service – from product concept, through to formulation, validation, regulatory compliance, manufacturing, and packing – that are seen as its biggest strengths. Clare adds: "Together with our product development expertise and complete service offering, we have also ensured that all of our manufacturing sites are accredited to the highest level of the BRC Global Food Standard. In addition, we have been granted the status of an Approved Manufacturer to multiple retailers and pharmacy chains. On the HR side, we are also an Investor in People-accredited company, and we are proud of having established a committed and motivated team across all areas of the business."
Developing its manufacturing capabilities has allowed Health Innovations to create numerous complex and technically challenging branded products, some of which have also been nominated for several quality awards. "One recent example of a successful collaboration with a customer was our work with a start-up, who came to us only with an initial idea of what they wanted to do. Within six months, we were able to formulate, manufacture, test, pack, and launch their products, which are now listed in leading High Street pharmacies and the Major Multiples," discusses Clare.
Health Innovations and Vitrition are also proud of their close links with local Academia including Bradford University and Leeds Beckett University, where a number of R&D projects and Knowledge Transfer Partnerships are underway. Health Innovations have completed two Knowledge Transfer Partnerships and Vitrition is currently conducting a Knowledge Transfer with Bradford University. These relationships are adding new dimensions to their respective R&D capabilities and are resulting in increased product innovation.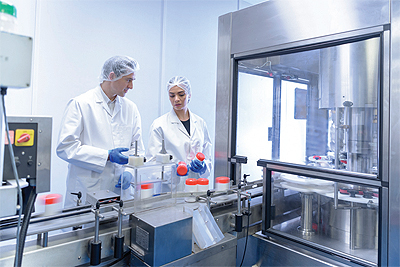 "This year, we also completed the construction of a new manufacturing unit, which spans 30,000 square feet and will officially began production in 2019. The new site is adjacent to our original manufacturing plant that will continue operating after the new facility opens," she outlines the latest infrastructure developments undergone by Health Innovations. "We are planning to install state-of-the-art equipment at the new premises to support our growth plans in the VMS and Licenced manufacturing categories. This will include machinery for blending, granulation, tablet pressing, coating, and packing, as well as a range of analytical equipment for our dedicated R&D laboratory, which will allow us to offer more technical services to our customer base, whilst carrying out more advanced tests internally.
"The facility was designed to meet both the MHRA and BRC standards and it will also be GMP-accredited, thus providing an opportunity for Health Innovations to enter Licenced manufacturing and further develop the export side of our business," Clare continues. "We expect that the new technologies we are going to install, will help us add new product categories to our portfolio and broaden our offering. Last but not least, the opening of the facility will also result in local job generation."
Having noticed an increase in requests for the development of new delivery formats such as sprays, shots, gels, and fast-melt tablets, Vitrition has invested in expanding its liquid filling capacity by installing and commissioning a new gel-filling machine. "We have been investing in new equipment and the new facility, because we have a clear set of goals we are aiming to achieve in the next three years," Clare notes. "We would like to see a considerable growth in sales both in the UK and the key international market we are targeting, as we want to be seen as a leading international contract manufacturer in our area. Furthermore, we want to acquire and develop product licences, implement new manufacturing processes at Vitrition, and regularly launch innovative products within the VMS and pharmaceutical sectors, while increasing the development of intellectual property for our processes and products," she concludes.
As a company that takes pride in understanding customer requirements and always finding the right solution, Health Innovations seems well-positioned to make further advances in its targeted areas. With the opening of its new manufacturing facility, the business will be able to significantly extend its production capabilities, which will enable it to manufacture products in the formats desired by its clients. Simultaneously, it will continue to push its R&D department and apply its creativity in the development of innovative supplements to boost people's health and wellbeing in both the UK and abroad.
Health Innovations
Products: Nutritional supplements