Environmentally minded packaging
A family-owned business known for its flexibility, responsiveness and innovation, Heathpak is perfectly poised to address the important challenges of today, primarily the move away from plastic and polystyrene packaging
For Heathpak Ltd. (Heathpak), the story of how it began life as a stockist of solidboard boxes when it was established by Alan Heath in 1999, before going on to spend the last two-plus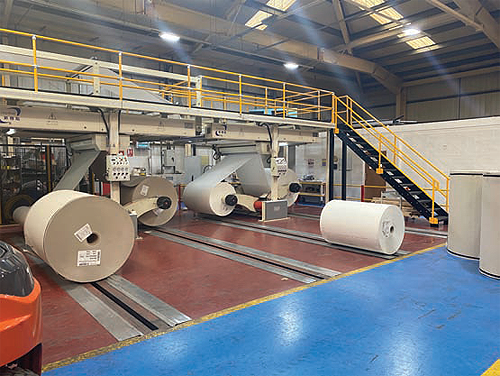 decades evolving into a leading manufacturer of solidboard and corrugated packaging is by all accounts an inspiring one. It is one that was not only covered by Manufacturing Today Europe back in 2018, but one that has continued to write important new chapters in the two years since.
"The last few years have really been defined by solid, positive growth, which everyone associated with the company is incredibly excited about," begins Heathpak's Sales Manager, Geraint Heath "When I first joined the business – around 11 years ago now – it was achieving an annual turnover of around £3 million, whereas now, that figure has grown to approximately £16 million. In that time, we have made the transition from being a wholesaler to a converter, and now into a fully integrated manufacturer that has gone from having a staff of four working in a 150-square foot office, to having almost 40 employees operating in a 65,000-square foot factory near Newport, South Wales."
The core of Heathpak's business and expertise revolves around servicing large multi-site red meat and fish processors, however it does also provide packaging solutions to a number of other sectors including the poultry, horticulture, industrial, drinks and food service industries. "Where we are scoring heavily with the many different companies that we work with these days is the fact that being a fully integrated manufacturer gives us a huge amount of control and flexibility when it comes to how we operate," Geraint continues.
"It has also contributed to incredibly compressed lead times compared to those of conventional solidboard producers, especially those who purchase materials from Europe," he adds. "What this means is that from the point of receiving an order, we can turnaround a printed box with three-to-four weeks, when previously this would have taken eight-to-ten weeks. The nature of the products that our customers deal in – fresh meat and fish – means that they greatly benefit from this level of responsiveness and speed of service."
Heathpak's growth into a fully integrated manufacturer has understandably seen it invest considerably in new processes, machinery and technology. "In the last two years alone, we have installed two significant pieces of conversion equipment, in the form of a new die cutting machine and a digital printer," Geraint states. "Then, in April 2019, we installed what was the first solidboard laminator in the UK for a significant period of time, making Heathpak the only British Retail Consortium (BRC) certified business to possess such technology anywhere in the UK and Ireland.
"In terms of forthcoming investments, we will be installing and commissioning a new off-set printer for solidboard in the coming months, the only one of its kind in the UK that we are aware of. Our competitors typically use flexographic printing techniques, and this new off-set printer will further assist us in delivering much higher quality print finishes. Once said printer is on-stream, we anticipate a significant increase in activity!"
Turning our conversation to the topic of key growth drivers for the business going forward, Geraint is quick to identify where he sees the biggest opportunities. "The biggest pressing topic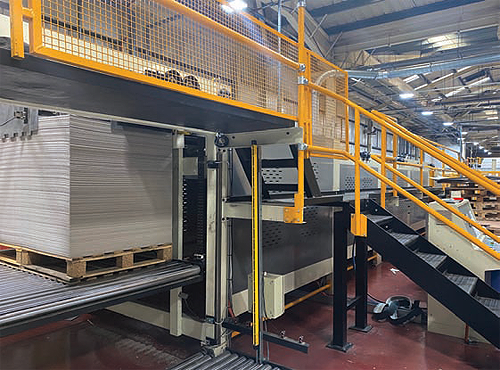 right now for us, and for the wider world, is the 'say no to plastic' agenda," he proclaims. "While we are confident that we will continue to grow conventionally in our existing markets, we are seeing new avenues opening up where businesses are looking to move away from their use of plastics and polystyrene, particularly during transporting of their goods. Another significant area of interest for us is the expansion of the red meat export market to China, with solidboard proving itself to be a perfect supporting material."
Heathpak's solidboard is made from 98 per cent recycled material, and is itself 100 per cent recyclable. Other benefits of its use include significant cost and storage savings. "Using a standard polystyrene box as an example, you may be able to get around 100 onto a pallet in storage. Our stock lines, on the other hand, run from 1000 to over 4000 per pallet space, depending on size and thickness. This alone makes for a huge difference in cost of business savings for our customers," Geraint enthuses.
The future does indeed look incredibly bright for Heathpak. The company is in a near perpetual state of growth, increasing its employee head count as it goes from two shifts to three to support 24-hour-per-day production, yet it retains its values as a family-run business, one where its directors – who themselves worked their way up from the role of machine operators – can still be found engaging with their people on the shop floor on a daily basis.
"Percentage wise, we see our year-on-year growth continuing over the next several years, which, while normal for a younger business, is all the more impressive for one like Heathpak which has been around for over two decades now," Geraint says. "We are very much looking forward to becoming ever-more integrated and self-sufficient, which will open the doors to more work that we know is out there. Heathpak exists in what is a rather niche industry, but we have carved out a reputation for being the 'go-to' company, which people can trust and enjoy working with, and we have every intention of making sure this remains the case!"
Heathpak Ltd.
Products: Solidboard and corrugated packaging