Artful Packaging
Welsh company Heathpak has become the only of its kind to manufacture both solidboard and corrugated packaging under the roof of its new factory, offering a considerable USP to its customers from the food industry
The last four years have been especially dynamic for Heathpak – a solidboard and corrugated packaging manufacturer based in Crumlin, South Wales. During this time, the company has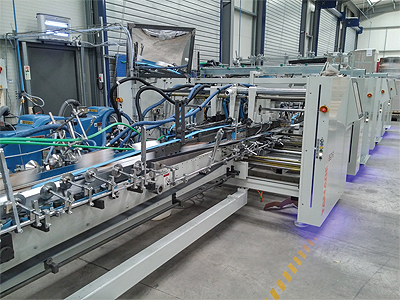 upgraded its machinery, which has led to new business opportunities opening up, and early in 2018, it moved to its new state-of-the-art factory in Pen-y-Fan Industrial Estate.
"We reached a critical mass about four years ago, which justified the purchase of a Tanabe multipoint folder gluer.This operation allowed us to become a converter and opened doors for us. Customers like buying from the place where the products are made, and not through a 'middleman'.The folder gluer has proven a really good recent investment and has helped us double our turnover," Heathpak's Sales Manager, Geraint Heath states.
Founded in 1999, the company had been renting a 12,000 square feet facility up to January this year, when it relocated to its first own property – a 67,000 square feet factory in Crumlin."Historically, we have been specialists in the provision of solidboard packaging for red meat, working with some of the largest suppliers in the UK and Ireland. Recently, however, we have decided to target a new marketplace – corrugated packaging, where we can demonstrate more innovative skills, therefore, we had to move to a larger site," Geraint explains.
"We have added a printing machine and a die cutter to our equipment, so, today, we are the only UK company that is manufacturing solidboard and corrugated packaging on the same site.We see that the market demands more bespoke packaging, people do not want the same thing to be reproduced over and over again.With the innovativeness of our digital printer, we can really shorten lead times, as we just have to print on current stock size boxes," he notes.
Heathpak's expansion has been made possible largely due to the financial backing of HSBC, who supported the manufacturer with a £2.8 million financial package."£1.5 million of the package makes up our commercial mortgage and the rest is working capital, which also helped us hire more staff, in the likes of a designer, a print manager, and several new shop floor workers, as well," Geraint points out."Two or three years ago, there were only 12 of us, and in the next year, we expect to grow to 42 staff. Our activities are giving a tangible boost to local economy.We are not located in the wealthiest part of the world, so if you give someone a job, where they work on a machine for £20,000-25,000 a year, you are essentially securing a family.The local community is really nice here, which was part of the reason why we decided to stay in the area."
One of the important strategic decisions Heathpak has made as of late, was to move towards eliminating plastic and polystyrene packaging. Relying on its innovative capabilities, the business harnesses its onsite testing equipment to try out different concepts and minimise the application of what are widely considered environmentally harmful practices.
Geraint also sheds light on some of the latest market trends he has observed."We are noticing that people are increasingly focusing on the provenance of the food they consume.They want to buy local and high-quality products, and they are inclined to put their disposable income into treating themselves.These people do not want to buy wholesale anonymous items, but instead buy into the story of those who are making the given product. All this means that we have started selling a lot of packaging to artisan producers, especially in the drinks industries. Gin and vodka are very popular at the moment, and so are cider making and microbrewery."
Traditionally, Heathpak has been a trusted packaging supplier to the red meat industry, but it also delivers to a wider spectrum of the food industry, including the seafood, poultry, horticulture, and complementary products markets. Nevertheless, Geraint directs our attention to the central role red meat trade might play in future British export activities."It is an interesting industry, because of globalisation. What I mean, is that countries that used to be considered third world are developing and with this, their diets have started to change. For example, they want to add more protein and as they recognise the high quality of British and Irish meat, it becomes very sought-after in these markets," he reasons."The UK meat industry is currently exporting to a lot of countries like China and we are trying to support that by designing packs that are strong enough to last the long journeys.
"A central aim for the remainder of 2018 will be to develop the corrugated packaging business further," Geraint divulges."We have got our strengths in this area and we want to put them into practice. Besides, as a lot of customers use both solidboard and corrugated packaging and we can provide both, we can help them reduce their number of suppliers and improve synergies. At the same time, we will remain active in the artisan market, because we feel we are in a unique position to offer the kind of service that will enable producers to promote their high-end products."
Finally, Geraint gets to say a few words about the long-term prospects ahead of the company."I believe we have secured our future with the purchase of new machines that have allowed us to enlarge our footprint. UK manufacturing will be much needed in post-Brexit Britain, in order to avoid any pitfalls once we leave the EU. And the more that is being manufactured and sold, the more packaging will be needed, which puts us in a good position. What is more, because of our family business status, we can be versatile and react flexibly to market demands, which is another great advantage."
Heathpak
Services: Solidboard and corrugated packaging for the food industry