Heil Trailer International
Even though Heil Trailer International reduced its work force during the recession, it did not reduce the staff that has direct contact with the customer. By staying focused on serving the customer, the company is prepared to grow during the economic recovery.
"We have more customer emphasis now and have become more engaged in the customer business," President Greg Hewitt explains. "We spent this time (during the recession) finding out what the customers need. In turn, we will be developing new products that have customer emphasis."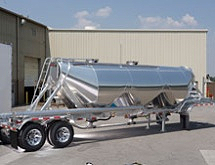 Heil Trailer International's primary focus is manufacturing aluminum cargo tank trailers, yet has a large specialized military business as well as strong heavy haul/low boy business under the Kayln Siebert brand. Hewitt says the company is the largest tanker/trailer manufacturer in the world in terms of volume and is the market share leader in the United States. "We're the only international company in this market segment," he adds.
Approximately 30 percent of the company's business is done outside of the United States with products sold to more than 85 countries. The company also has operation and manufacturing locations in Asia and South America, with sales and service coverage globally.
Serving the Customer
Heil Trailer International prides itself in being a leader of innovation. "We have a history of innovation with more than a century of business experience," Hewitt says.
In 1901, Julius Heil founded the Heil Railjoint Co. in Wisconsin, pioneering the use of electric welding. As the company grew, Heil began building truck bodies, hydraulic hoists and a variety of truck trailers for the then-new automotive industry.
The company's first innovation came in 1902 with the first riveted oil tank for the horse-drawn wagon. In 1929, it developed the first aluminum truck tank. More recent innovations include introducing a lightweight bi-metal frame for Super Jet and developing an evolution tank for ExxonMobil.
While focusing on clients' needs during the recession, Hewitt says many new products are in the works based on this feedback. One new product the company plans to develop is a stationary refueling product for the military that can be left out at a war site or an Army depot and then picked up to be replenished. Another new product for the cement industry will improve unloading capability 20 percent faster than traditional unloading speeds, Hewitt notes. "We drive a lot of our activities toward continued improvement," he adds.
Company Benchmarks
Hewitt explains what differentiates Heil Trailer International from its competitors in the industry are its five key pillars of service:
Quality
Performance
Safety
Customer support
Overall value
In terms of quality, Hewitt says the company offers consistently superior products and high craftsmanship. The products feature safety mechanisms on the trailer. In terms of performance, Hewitt says its products last longer and offer faster loading and unloading capabilities.
For customer support, Heil Trailer International offers the best warranty and the best training on products. In terms of overall value, Hewitt says the resale value of Heil Trailer International products is higher and the operation costs are lower. He adds these five factors are used as a benchmark when comparing the company to its competition.
"Our challenge is that we have to improve faster than the [competition] does," Hewitt says. "We do this by staying close to the customer and their needs, issues and challenges that they have, and we try to meet [those needs]."
Economic Impact
Like many companies, Heil Trailer International found it challenging to navigate through the recent recession. With residential and commercial building down, clients transported fewer materials and, therefore, bought fewer trailers. However, Hewitt notes the company did gain market share in most areas.
"Even when the economy slowed and pure oil usage went down, I think in the U.S. it only went down 10 percent so we didn't see much change," Hewitt says. "Fortunately, a large share of our business is with the military and it's not necessarily affected by the recession."
Points of Interest
In 1938, after founder Julius Heil was elected governor of Wisconsin, his son Joseph F. Heil became CEO of the Heil Company and later became chairman of the board.
Heil Trailer International was purchased in 1993 by Dover – a multibillion-dollar, NYSE-traded corporation of more than 34 independent manufacturers of a variety of proprietary products and components for industrial and commercial use.