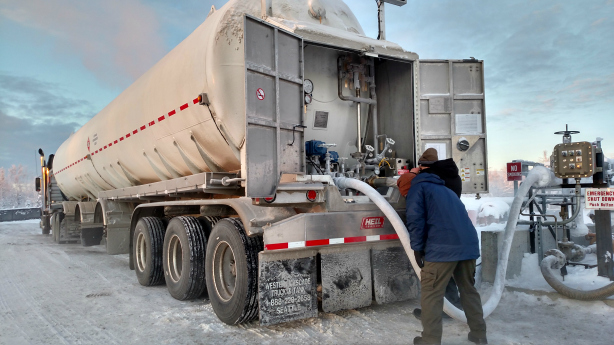 Heil Trailer maintains its position as the largest tanker/trailer manufacturer in the world through innovation, which most recently includes its expansion into a full line of stainless steel products. "Heil Trailer has been the dominant player in aluminum for petroleum and dry bulk-related items with more than 50 percent share in those segments over the last 10 years," Vice President of Sales and Marketing Ryan Rockafellow says. "What we have done over the last two years is expanded that into stainless."
For more than 100 years, Heil Trailer has been creating game-changing solutions and elevating industry standards of quality. The Athens, Tenn.-based company continues to develop products that are designed to meet the most stringent region- and load-specific requirements in the United States, as well as in 85 countries around the world.
Julius Heil set out to change the transportation industry with his innovative ideas in the early 1900s. In 1901, Heil founded the Heil Joint Welding Co. in Milwaukee, pioneering the use of electric welding. As the company grew, Heil began building truck bodies, hydraulic hoists and a variety of trailers for the automotive industry, which was in its infancy at the time.
Product Diversity
Heil Trailer has dominated the industry for years with its aluminum tank trailers. Its aluminum tanker elliptical design offers maximum nominal volume, customization and appearance options, safety and leak resistance safety systems, a driver-friendly design, low tare weights and multiple configurations, as well as in-house custom cabinet construction.
The company's aluminum round/double conical tankers are proven to perform in some of the most severe environments, including the Rocky Mountains, the Canadian oil fields, South America, the Middle East and the Pacific Rim. Its aluminum dry bulk trailers offer vessel integrity, low tare weights, high-efficiency, long wear and easy cleanout with the Heil Trailer craftsmanship customers have come to expect.
"This is very much a customized business," Rockafellow says. "Each customer has nuances they like to see. We have base model trailers, but we work with customers to develop the design and specs that will fit their needs. Some care more about weight and others care more about aerodynamics. With our product breadth, we make sure we don't lose a deal based on availability. There's no trailer we won't build."
Heil Trailer expanded into stainless steel tanker/trailers two years ago to tap into a new customer base that it previously did not have products to offer. "We are bringing the Heil Trailer brand, its technology and service network to a new product line of stainless steel trailers that will drive incremental growth to the company," Rockafellow notes.
With its new stainless steel round/double conical tanker, the company is focused on meeting the stringent demands of chemical, fertilizer, acid and food transport. The tankers offer easy cleanout for cleanliness, quick product changeovers and loading and unloading efficiency. Models are available from 1,000 to 12,000 gallons with one to eight axles and one to six compartments.
Heil Trailer's 2017 stainless steel tankers are the lightest in their history. To date, the company has 250 stainless steel trailers. "It's all about working hard to have a competitive trailer from a weight standpoint, understanding payloads and specific customer needs," Rockafellow says. "There is a lot of work going on behind the scenes."
In addition to its stainless steel line, Heil Trailer recently debuted a cryogenic trailer in Fairbanks, Alaska, for testing in the Fairbanks Natural Gas utility fleet. The 75-foot, five-axle, 13,000-gallon capacity liquefied natural gas trailer is a one-of-a-kind development manufactured by Heil Trailer. The trailer was made specifically for the Alaska market because it offers a greater cryogenic storage container made by GasCon with Heil's five-axle trailer that is designed to hold a heavier load on the roads.
Key Relationships
Heil Trailer's network of 23 dealers across the United States and Canada is one of the ways the company sets itself apart – in addition to its products. "We have the best network in the country," Rockafellow says. "If you asked any one of our competitors if they would switch dealers with us they would ask, 'Where do I sign?' The customer service and technical expertise our dealers have – there's no one better."
Because Heil Trailer dealers offer technical support and provide service to the tanker/trailers in addition to the company's 16-person warranty, inside sales and customer support staff, a good network is vital to the company's operations. "Our staff works around the clock and are the link to everyone in the field," Rockafellow explains. "Customers know to dial the hotline, and know that we understand the problem and will get it fixed or in for service as quickly as we can."
Heil Trailer is built on relationships. That's why the company only offers the highest-quality products and offers unsurpassed sales and technical support straight from the factory. The company backs its products with industry-leading manufacturer warranties and extends itself through its dealer network.
Plant Expansion
To keep up with demand and expansion of the company, Heil Trailer opened a state-of-the-art trailer facility in Juarez, Mexico in 2013. "This is the best tanker/trailer manufacturing facility in regards to the technology and equipment in the whole industry," Rockafellow attests. "Although we have other plants in our footprint that can build one type of product, Juarez can build everything and essentially satisfies all segments."
Built on 20 acres, Heil Trailer's Juarez facility encompasses 368,000 square feet with more than 10 production lines: petro, crude, stainless and dry bulk. The facility includes state-of-the-art equipment such as HD laser cutters and HD laser welders for stainless steel trailers, and HD plasma cutters and seam welders for aluminum trailers.
More than 260 hourly employees and 31 salaried employees operate the Juarez facility and were put through the company's robust training program. "The core of our business is welding, and the quality of the weld and the aesthetics set us apart from the competition," Rockafellow says. "We don't pay our welders based on how long they have been with the company but by what level a welder they are."
Heil Trailer ranks its welders from level one through eight with eight being a master welder. Rockafellow says the company offers classroom and on-the-job training, as well as regular testing to advance to a new level. "Once you become a level eight master welder, there is not a single weld in the whole building you can't do," he adds. "Master welders assist with training, we give them a parking spot with their name on it and they are the highest paid people in the plant. It all gives them a reason to want to get better."
Moving forward, Heil Trailer plans to maintain its leadership position in the industry and continue to focus on achieving greater market share. "We want to continue to grow through innovation and customer service while breaking into the stainless steel market and through advanced technologies, and opening a new plant that has the capabilities of none other in the industry," Rockafellow says.