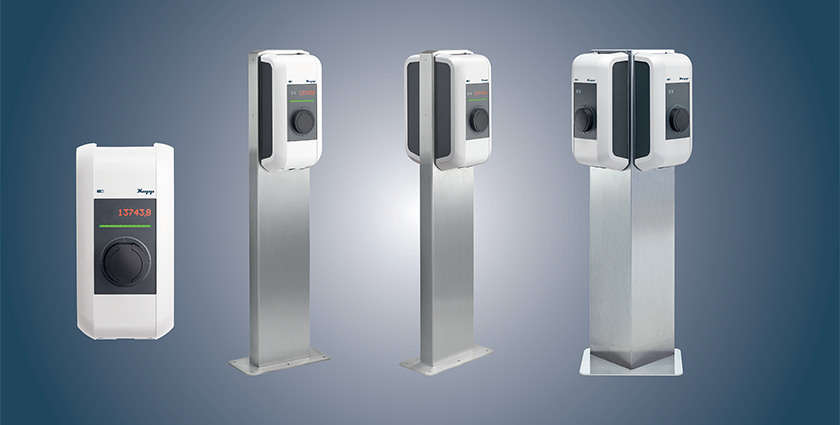 Keeping the spark alive
For 95 years, Heinrich Kopp GmbH has been delivering high-quality electrical installation products to trade and industry professionals – now it's investigating the potential of renewable energy and updating its product portfolio to meet new market requirements
In Kahl am Main, a community in the Aschaffenburg district of Bavaria, Germany, Heinrich Kopp GmbH (Kopp) has been developing, manufacturing, and selling electrical installation equipment for personal and trade use since 1927. The company's product range is vast and comprises of more than 7000 total items, including classic plug and switch programs, dimmers, presence detectors, infrared motion sensors, mobile personal protection devices, smart home technology, and a host of other electrical installation accessories.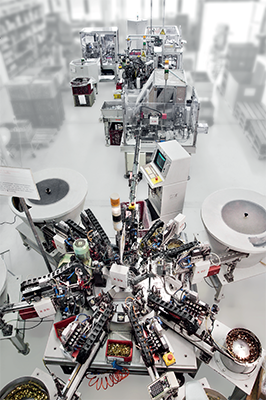 Kopp's broad spectrum of electrical goods are distributed across Europe – Germany, Belgium, the Netherlands, and Scandinavia are key locations – as well as the rest of the world. In addition to its headquarters in Kahl am Main, Kopp also operates out of three international offices to target global markets.
Quality is a top priority for Kopp. In German-speaking countries, the brand is widely recognized as one of the leading companies for electrical engineering products. Indeed, Kopp has been voluntarily complying with DIN ISO 9001 since 1993.
Sustainability is also fundamental to the company's philosophy. Kopp aims to continuously improve its environmental performance by optimizing methods and utilizing the appropriate materials and products in its services. For these efforts, Kopp has received several awards and certifications, with close recognition being paid for its measures to reduce carbon dioxide emissions.
We wanted to learn more about Kopp and its impressive manufacturing credentials, so we sat down with CEO Stephan Dörrschuck. "We serve the professional and retail trade for electrical installation accessories," he begins. "Our customers, on the one hand, are electrical or solar professionals with their own electrical specialists who use Kopp products for commercial orders; on the other hand, our customers are also do-it-yourself individuals purchasing Kopp products in construction and specialist stores for private projects."
Broadly speaking, the Kahl am Main-based manufacturer can be split into three different divisions: electrical installation, smart home, and energy. "In terms of electrical installation, the DNA of Kopp lies in the development, production, and sale of electrical accessories for diverse market segments," explains Stephan. "Regarding our smart home division, we recognize the potential of automation in domestic settings, and have since promoted efficient home energy management. Our products help customers easily control lighting, heating, and roller shutters – to name a few. Kopp's Blue-control smart home system, which is led by Bluetooth 5 Mesh technology, is at the heart of this process and enables the holistic networking of electrical components.
"Finally, our energy division concerns the production of solar modules, inverters, and energy storage systems," he continues. "We support our customers in the planning and installation of decentralized energy generation systems, offering complete solutions and components for, say, photovoltaic units. We also supply a range of products to the international energy industry. 'Think global, act local,' we like to say, and that means tapping into global markets from our local German service base. Though technically our newest division, the efficient and economical use of available energy has always been a core concept of product development at Kopp."
Due to the enormous range of high-quality electrical accessories that Stephan has described, Kopp is recognized by its customers as a true market leader, covering myriad facets of the electricals sector. "That's why electrical professionals choose us," says Stephan. "We focus on the individualization and customization of products, making us a reliable and flexible partner that can meet all demands. Yet, despite our high-quality manufacturing, we operate with a very attractive price-performance ratio. The key to this is, of course, our brilliant employee base. It is very important for us to retain our employees for the long term; their expertise fuels our constant development. But this will only continue if everyone feels comfortable and can grow in a personal way. Therefore, we strongly focus on good working relationships, flat hierarchies, and always ensure that there is ample room for professional development."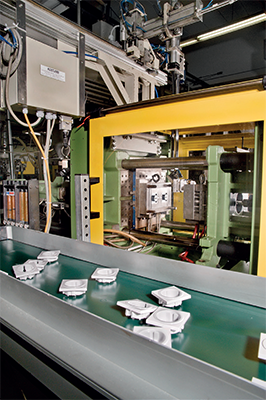 Tunisian facility
In terms of its facilities, Kopp operates out of two production sites – one in Germany; one in Tunisia – and employs around 550 personnel in total. "Our three core processes for electrical installation are metal processing, stamping, and bending. However, we now have the capacity to carry out plastic injection molding, toolmaking, and automated manufacturing," says Stephan. "That ensures we will be able to satisfy both current and future needs of the industry. Our Tunisia facility is strategically located and can be supplied with raw materials and components very quickly. Moreover, deliveries from the Mediterranean region, which largely take place via sea, require much less time than from Asia, a place where many competitors have turned to for manufacturing. As a result, we can produce goods more quickly and at shorter notice, offering greater flexibility when it comes to planning our activities."
More recently, Kopp has made strong investments in its manufacturing infrastructure to optimize processes, making them more cost-effective and energy-efficient. "With these robust investments, we wanted to strengthen our core processes by expanding sustainability and efficiency, increasing energy efficiency and effectiveness through strategic digitalization," Stephan reveals. "In short, that is our investment strategy. Therefore, we will continue to focus on innovative tooling technologies and the self-production of energy. Before the end of this year, we have planned the launch of a new product that will save solar installers a lot of time and effort. So, stay tuned! Furthermore, we are constantly searching for opportunities through new industrial partnerships. After all, the needs of our customers are constantly changing, and we always want to be close to the professionals and the consumer."
Looking ahead, Kopp is keeping the spark alive with several more exciting launches planned for the rest of the year. "We are planning to expand our partnerships in the areas of energy management, service, and storage control," Stephan details. "In terms of switch ranges, which is our core sector, we also have numerous new products and line range expansions in the pipeline. Even though it is currently difficult to plan for the long term due to supply bottlenecks and raw material problems, we do not want to stand still. We must keep moving. After all, progress and the desire for state-of-the-art electrical engineering continues, and we intend to stay one step ahead of the competition.
"The current energy crisis shows that we have to make better use of available energy," he concludes. "Electric cars, as well as the growing number of electrical devices in our homes, will further increase demand for electricity – and the energy source will not get any cheaper. That is why we will continue to work on expanding our product ranges and on the individual functionality of products in electrical installation, building automation, and across our energy segment."
Heinrich Kopp GmbH
www.kopp.eu/en
Products: Electrical installation equipment