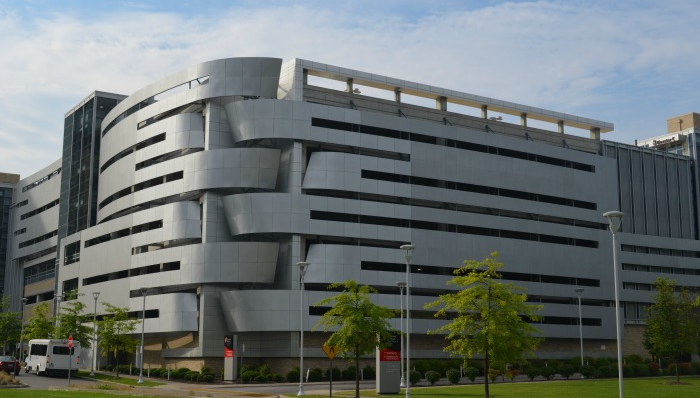 After 140 years, Hendrick Manufacturing has a lot to be proud of, President Mike Drake says. "We're able to give our employees a safe place to work that gives them opportunities to grow in their careers and as people," he says.
Based in Carbondale, Pa., the company manufactures perforated and fabricated metal products. Eli Hendrick started the company in 1876, after selling his oil-refining patents to John D. Rockefeller.
From there, Hendrick began looking at the coal industry and how it moved its product through the use of water slurries. He ultimately developed perforated screens so that the coal could be moved, dried and reused, but with less wear to the coal. "He invented the all-across perforating process," Drake says.
Today, Hendrick Manufacturing serves many industries, including mining and aggregate clients. These customers provide stones that are used for driveways and other applications, and which require screening plates and gauge screens for large and fine particle removal.
The company also provides perforated metal products to OEMs. These are often used in machinery, tractors or for "liquid/solid separation where they have something that's in a liquid and they want to filter it out," Drake explains.
Hendrick Manufacturing also sells perforated products to distributors. But its fastest-growing segment, Drake notes, consists of its work for architectural clients. Often, the company has provided signage and cladding for parking decks and buildings.
"We also do entrance grills and sun screens," he says, noting that it has provided products for arenas, cafeterias, office buildings and schools. "People may want to look out the window, but they want sun filtration. So they get a perforated screen so they can see through it."
The Family Business
Drake's family has a long legacy with Hendrick Manufacturing. When the company had a strike at its main plant in the 1980s, the Hendrick family hired his father, Michael L. Drake, to address the issues and fix the problems.
"His specialty was turnarounds, so he turned it around in 18 months," the younger Drake recalls, noting that his father bought the company in 1994. Mike Drake joined his father at Hendrick Manufacturing two years later. A year later, Mike's brother, Darin, also joined the organization.
He credits the company's success to a bonus system his father implemented where it shares its profits with its employees. "[It] makes everyone really attuned to costs and what their bonus is," he says.
The elder Drake also focused on modernizing the company's planning and execution process, which continues to this day. Currently, "We're doing an analysis of marketing opportunities [with regard to] where we think our strengths are, and where we can apply those to a new market," Mike Drake says.
The company also added an active R&D section that looks for opportunities for growth. "We're very tied to the GDP growth rate," Drake says. "Our goal is to always exceed that significantly through innovation, low costs and those markets where we can make an impact. It all comes back to serving the customer with quality, service and delivery."
Doing Things Right
Hendrick Manufacturing focuses strongly on quality. "We have intensive training that takes place in terms of skill sets and cross-training," Drake says. "We also do a fair amount of documentation in terms of quality inspection."
The company also has utilized lean manufacturing practices for the past seven years. Today, "We run kaizen events and we do one-piece flow," he says.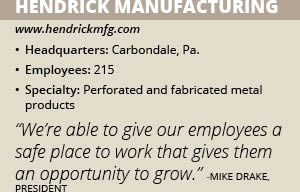 "We map things out and go back and revisit them after six months to make sure it's in place," Drake says. "The goal is to do [things] in the least amount of time with the fewest number of touches."
Satisfied Customers
Hendrick continuously monitors its customers' satisfaction via a survey with hundreds of clients annually. "More than 95 percent of the respondents mention that they are satisfied or very satisfied with Hendrick," Drake says.
"The data indicates that the main reasons for our strong customer satisfaction are product quality, meeting customer needs and the ease of doing business with Hendrick," he says. "The survey also measures customer loyalty against industry benchmarks.
"Hendrick significantly outperforms the benchmark, which is a true testament of our customer's loyalty to Hendrick and the reason for our continued success," he adds.
Key Advantage
Hendrick enjoys low turnover in its staff, Drake says. "With all 215 employees, the average tenure with the company is 10 years," he says. "Thirty percent of our employees have 10 to 40-plus years of dedicated service."
This sets the company apart, Drake says. In 2014, the U.S. Bureau of Labor Statistics reported that the median number of years that wage and salary workers had been with their current employer was 4.6 in January 2014. Today, "Hendrick is more than double that," he says.
"This not only explains our high level of employee satisfaction, but it's another key competitive advantage for us," he says. "We can offer our customers a strong knowledge base of our products and services. Production is improved and employee-related quality issues are minimized due to the higher skill and knowledge level of our long-tenured employees."
The next few years of Hendrick Manufacturing's future, he notes, will find it coping with staffing issues. "Like other manufacturers, we're having a hard time finding younger people to actually be interested in manufacturing," Drake says. "What we have to do is we have to look at ways to make the job more creative and more interesting."
But an increased investment in automation may help as well. "We're going to see a much larger trend towards automation and using robots because it's difficult to find younger people to work in manufacturing and some of the costs associated with people nowadays with healthcare costs," he says.
Celebrating a Legacy
Hendrick Manufacturing will celebrate its 140th anniversary on Oct. 7, the same day as National Manufacturing Day, Drake says. "We're actually combining [them]," he says, noting that the company will have events at its three plants to celebrate.
"We're going to invite local dignitaries and we've got schools signed up for kids to do tours," he says, noting that the company will have giveaways and cookouts. "Everyone's going to have [fun]. It's going to be a special day."