Sound investment
Initially formed as a family company serving the agricultural industry with telescopic cylinders, Hendry Hydraulics Ltd has evolved into a manufacturer and global supplier of hydraulic cylinders
Hendry Hydraulics Ltd's roots date back to the transformative years of the 1960s. Mr James Hendry purchased the company in 1964. During this time the business operated solely in the manufacture of telescopic cylinders with a single employee. After acquiring the business, Mr. Hendry saw an opportunity to supply double acting cylinders to the agricultural industry during the late 1960s and the business has continued to grow during the subsequent years. "The business has grown according to a well-controlled trajectory, allowing expansion to be managed year on year. In 1969 we moved to a new site and the business is still based at this location today. The site now encompasses over 100,000 sq ft," expands Managing Director, Mike Hendry.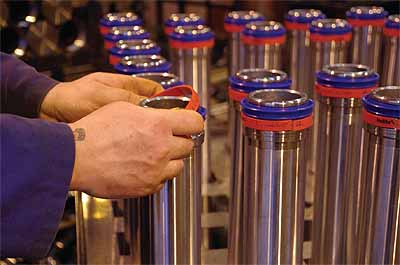 "We will be looking to further expand this site in the near future. In 2002 we also opened a second factory in Ashington, just north of Newcastle which is a mirror image of the Elgin plant."
Today Hendry Hydraulics delivers an extensive line of hydraulic cylinders to a broad base of industry applications including the construction, oil and gas, automotive, agricultural, environmental, mining, forestry, access work platforms, and material handling sectors. The company works with leading UK, European and global OEM's as well as clients seeking to make orders as small as only one or two cylinders. Furthermore, Hendry Hydraulics is proud to be associated with technical advances, and successful innovations in applied hydraulics through the delivery of both standard and bespoke designs. "We have a full design department with many years of industry experience in the design of hydraulic cylinders. We are able to offer clients both high-volume batch run orders as well as prototype and small batch work. It is important to be able to show that the company has strong prototyping experience. This process would be the start point for larger production volumes. We have divided the business somewhat and currently operate high, medium and low volume production sections. Throughout the business, work is undertaken by a highly skilled team of staff and apprentices," Mike elaborates.
"We have invested heavily into new machinery over the years and this has been part of the secret behind the success of the business – investing back into the company," he continues. "We have more than 60 CNC machines within our factory facility where we do all of our processes in-house. Utilisation of robots within the factory allows us to undertake high volume machining and welding, as well as an automated paint line. This means that we can offer the client a turnkey manufacturing solution, from design and manufacture through to the final paint job. We are able to offer a full package of services that is fully ISO 9001:2008 accredited."
During the course of its history Hendry Hydraulics has continually invested back into the business, which has allowed the company to consistently grow both in terms of market presence and manufacturing capability. Additionally Hendry Hydraulics also takes pride in employing a skilled and dedicated workforce, which represents a further investment for the business in terms of training and individual development. "During the past 30 years we have operated several apprenticeship programmes. We are located in an area where the main industry is comprised of whisky production, farming and fishing, and there is limited access to good engineering training packages. Therefore we have traditionally had to employ a lot of in-house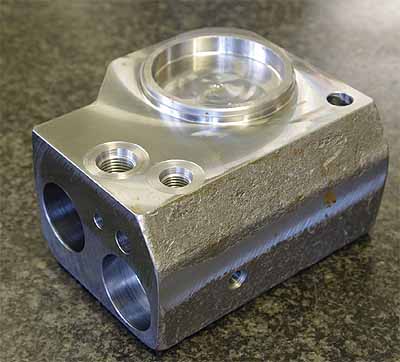 training to ensure the future engineering capability of the company. Today we have a lot of staff who have been with Hendry Hydraulics for long periods of time, having begun with the business as young lads and trained as apprentices. These members of the team have been trained up through the manufacturing system and are capable of monitoring the robotic cells and high-tech CNC machine tools that the company employs today," Mike details.
"We have several highly skilled manual machinists in our small batch prototype department. We are investing in in-house training, developing apprentices dividing their time between working on the job and attending college," he continues. "While it is a significant advantage to have retained most of our employees for long periods of time, there is a danger of becoming complacent and before you know it there is a need to bring new blood into the business. I think it is quite exciting to bring new people into the company because the younger members of the team are keen and eager to learn, which is something that gives everybody a lift."
By investing its own capital back into the business, Hendry Hydraulics has developed a strong base of core strengths ranging from modern manufacturing facilities to a well trained and skilled workforce, that will keep the company in good stead during the rest of 2016 and beyond. "I think that one of the company's main strengths is that we consistently continue to grow the business and have managed to fund this growth ourselves. We haven't had to borrow any sums of money to purchase new plant equipment, as we have had the required funds available, generated by and reinvested into the business," Mike concludes. "I anticipate that while we continue to win further work, 2016 will represent a relatively flat year. We will use this time to introduce a new production scheduling system, which will take some time to implement but will allow us to start to push once market confidence returns during 2017 and 2018. We are very fortunate to have long-term relationships with several large OEMs which provides continuity and  means that we seldom have to look far to know what we will be doing next. This allows us to plan our production schedule three months in advance. This continuity gives us the opportunity to engineer the cylinder giving our customers a quality and competitive product."
Hendry Hydraulics Ltd
Products: Design and manufacture of hydraulic cylinders