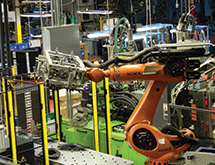 Global manufacturing operations have been at the heart of Henniges Automotive since the company's formation in 2007. The company operates 15 manufacturing plants and five engineering and technical centers in North America, Europe and Asia, and serves international automotive makers including Ford, General Motors, Chrysler, Daimler, BMW, Volkswagen.
The company – formed as the result of a merger between Metzeler Automotive Profile Systems North America and GDX Automotive – takes its name from a brand founded by GDX in Germany in 1951. Headquartered in Auburn Hills, Mich., Henniges Automotive designs, develops and manufactures vehicle sealing and anti-vibration products.
Three recent alliances and an acquisition will allow Henniges to increase its international reach. "Our customers are moving more toward global platforms, as such, we're looking at ways to grow into those same regions to further support our key customers," Vice President of Global Sales and Marketing Boris Gavric says.
Henniges in late 2013 announced alliances with Burkool S.A., a sealing solutions manufacturer based in Buenos Aires, Argentina; and Amee Rubber Industries Pvt. Ltd., a sealing systems producer with operations in India. Then in mid-January, it announced a customer specific strategic alliance with a specific Russian plant of the Croatian company AD Plastik. Furthermore, in January 2014, the company became the sole owner of Beijing Wanyuan-Henniges Sealing Systems Co. Ltd., which was formerly a joint venture with the China Academy of Launch Vehicle Technology.
Strong Partners
The agreements with Burkool and Amee focus on supporting the growth of automotive OEMs in Argentina and India. Burkool has more than 70 years of experience producing rubber and plastic seals, weather strips and other types of extruded profiles. The company has roughly 60 percent of Argentina's market share for automotive sealing products and exports to more than 20 countries.
"As one of the largest manufacturers of sealing products in Argentina, we are excited to enter into this agreement with Henniges Automotive as it enables us both to expand our reach and deliver high-performance, quality products for our customers," Burkool CEO Matias Graviotto said in a statement.
Headquartered in Mumbai, Amee Rubber Products supplies OEMs including Force Motors, Mahindra Rise Ltd. and Tata Motors Group. Like Henniges itself, Amee specializes in blending and mixing raw materials through extrusion and vulcanization processes and using those materials in its products.
"Since 1980, we've provided sealing systems and molded rubber parts for automobiles, and we continue to offer a wide range of sealing systems for all types of architectural building profiles," Amee Rubber Managing Director Vishal Miglani said in a statement. "With a new partner in Henniges Automotive, we're able to leverage its experience and provide advanced and complex products to satisfy customers. Globalization today makes every OEM offer a global program, and [by] partnering with Henniges we would be able to provide advanced and future technology to achieve their global presence."
Beijing Wanyuan-Henniges Sealing Systems Co. started in 1995, and operates five locations in China including one in Beijing. The company employs more than 1,500 people and designs, develops and manufactures sealing solutions. "China is a growing automotive industry market, and Henniges is focused on supporting key OEM customers through our unique understanding of the critical nature of the economy, the government influences, the global OEM needs in emerging markets and global program management," says Margaret Sheng, Henniges Automotive executive vice president of Asian operations.
Sharing Successes
Henniges Automotive prides itself on being a company that can operate on a global scale while retaining the operational agility of a small, local company. "When our customers have issues externally or internally, we can be nimble and quick to respond to those and give them solutions, which I think separates us from our competitors," Vice President of Global Operations Larry Rollins says. "I'm proud of our ability to share processes, best practices and technology across a global company."
Henniges' manufacturing processes are largely guided and enhanced by the company's embrace of lean methodologies. The company's manufacturing processes include molding automotive seals from extruded rubber that is cut to length, molded and then trimmed and ready for shipment. Post-assembly work includes adding pins and small brackets and coating. The company manufactures 85 percent of the ethylene propylene diene monomer (EPDM) synthetic rubber and other material compounds used in its products and develops its own formulations to meet customer requirements, Rollins says.
Each of the company's manufacturing facilities has a lean manufacturing manager in place who reports to the plant manager and has a dotted line reporting relationship to the corporate lean director. Henniges' lean toolbox includes kaizen events, Six Sigma analysis and SMED (single-minute exchange of die) methods. "Depending on the project, we will use these lean tools to push productivity up, scrap down and improve our overall product flow and quality," Rollins adds.
Henniges follows the key metrics of safety, quality, delivery and cost. Under each of those are other metrics such as minimizing and eliminating the number of formal complaints the company receives, reducing energy costs, preventive maintenance and productivity.
All lean managers report their facilities' progress during a monthly call-in meeting. On-site meetings take place four times a year. "We are very good at taking our technology, processes and improvement ideas, sharing our best practices across all our regions and supporting our facilities with resources as needed," Rollins says.
The company also involves its major suppliers in its manufacturing processes. The company works with a core group of equipment and other vendors who meet with Henniges management once to twice a year. Vendors have also assisted the company in preparing for major projects. "When we receive large quotes, we ask suppliers to be part of our efforts to improve output, reduce scrap and develop unique product designs," Rollins adds.