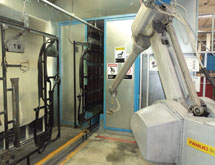 But some domestic manufacturers are combining auto­mation with highly trained employees to provide solutions that – if not sexy – are at least attractive.
"The younger folks coming up don't view going into a plant as something sexy or interesting to do," Henniges Auto­motive CEO Rob DePierre lam­ents. "As a company, we're trying to change that, but as a country, we have to get back to our roots."
DePierre says manufacturing companies have the majority of their human and capital resources invested in their production efforts.
"To not take a greater interest in how manufacturing excellence can give you a competitive advantage is disappointing at times," he says. "I don't want to be negative – only to call for those of us who are running manufacturing companies to do our part and take responsibility to bring manufacturing back as a sexy and cool thing to do and develop the talent right along with it."
Developing Talent
Henniges Automotive designs and manufactures sealing systems for the automotive industry. The company molds most of its automotive seals from extruded rubber that is cut to length and then trimmed so it is ready for injection molding. Post-assembly work includes adding pins, small brackets and coating. The company's other product group makes anti-vibration bushings for engine and body mounts.
Many of the company's technical training candidates are promoted from within. "This is a new development with the idea to beef up our technical talent within the company to give people the opportunity to gain that skilled expertise," DePierre says. Other candidates primarily are engineering students who interned at the company during summer breaks. Hiring engineering students has been particularly successful at the company's two manufacturing plants in Mexico.
"We have some candidates that could come in as junior engineers," he notes. "We have hired young, talented, high-potential folks right out of college from local engineering schools here and at our locations around the country. We are pushing to continually develop that stream of talent coming into the organization and mining the talent within the organization to do bigger and better things."
Succession planning is less formalized at the company than the manufacturing and design training. Exec­utive staff and plant managers identify likely candidates who have the potential to be leaders.
"Each of those folks we sit down with and create special development plans for them, which includes outside education and special projects to work on," DePierre explains. "We assign mentors to each one of these folks for the leadership programs. The leader who is nominating the individual is essentially the mentor. We try to include them in strategic planning sessions and more operational reviews where they can learn to take the lead."
In addition, each year Henniges selects 15 high-potential candidates to participate in an Emerging Talent Pro­gram. The group is broken into three teams of five people who are assigned a project. "New ways to utilize technology was one of the last group's projects," DePierre remembers. "They came back with all kinds of ideas, and many of these ideas were implemented in our manufacturing processes and on the shop floor. We'd like them to do projects that make a difference. They've come up with fabulous ideas."
New Corporate Center
Henniges was formed in 2007 when Metzeler North America acquired select facilities from GDX from around the globe. "The Henniges name was taken from one of our existing plants in Rehburg, Ger­many," DePierre explains. "It was a rubber molding company founded by Ernst Henniges in 1951. The history of his company and the strong reputation of the company made this decision an easy one."
After the acquisition, the GDX headquarters in Farmington Hills became the new global corporate center. How­ever, it was too big for the new company, so when the opportunity arose to end the lease, the company decided to build its own corporate center.
It found land in Auburn Hills, Mich., from Chrysler. "Engineering the ex­act building we wanted was as cost-effective as moving into an existing building – with the difference being we could have a state-of-the-art facility," DePierre says.
The 55,000-square-foot structure is scheduled to be completed in June 2012. It will have a bioswale with 1,500 species of plants to filter rainwater. Its open architecture will facilitate collaboration among the location's 140 em­ployees, approximately 100 of whom work in engineering and design.
Competitive Advantage
DePierre says his company leads with its manufacturing expertise when winning new business. One company was hesitant about having Henniges produce its pro­duct. "I explained to them, 'I can show you PowerPoints, but believe me, if you were to get in a plane and go to the production facility in Gomez Palacio, Mexico, you would see our state-of-the-art facility,'" De­Pierre recalls. "'I'm 100 percent sure when you left that facility, there would be no doubt in your mind that we are the best company to produce your product.'"
The clients toured Henniges' two Mexican facilities. "The response was, 'Not only is this the best manufacturing facility in this commodity, but we think this is one of the best manufacturing facilities we have seen in terms of lean manufacturing, key process indicators and metrics, and the talent of your people,'" DePierre says. "We got the order. The real point is that manufacturing can be used to create that competitive advantage. If you do it well, in my mind there's no better sales pitch."