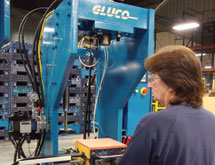 Where its customers go, so does Henniges Automotive. Cars are made and driven all around the world, so to meet the needs of its clients, automobile component manufacturer Henniges Automotive has established a global presence. The company manufactures vehicle sealing systems such as door seals, hood seals, glass encapsulations, outer belts and inner belts. It also makes complete anti-vibration solutions that include items such as spring pads, stabilizers and suspension strut mountings.
The company is headquartered in Michigan with four U.S. plants in Iowa, Oklahoma, Missouri and North Carolina. It operates one plant in Canada, three in Mexico, two in Europe, and four in China with plans for a fifth. It also has engineering and technical centers on each of these three continents.
"We are continuing with our strategy to align our global footprint with our customers," says Larry Rollins, vice president of operations. "Because they are global, we have to align to meet their needs. Strategic alignment has always been one of our primary goals and we are expanding more in Mexico and China to keep up with growth in those regions."
The company has executed vehicle programs for world-class auto manufacturers such as GM, BMW, Audi, Ford, Peugeot, Nissan, Chrysler, Volkswagen and Honda, signaling Henniges' own world-class capabilities. In addition to keeping up with its customers' global footprint, Rollins says Henniges is also focused on keeping up with its customers' demand for quality.
The company says its culture is founded on achieving exceptional focus and flawless execution in everything it does. This foundation allows Henniges to quickly develop and deliver high-quality innovative body sealing and anti-vibration solutions to its customers.
Henniges' commitment to attracting and cultivating a skilled workforce along with developing technical resources, processes and procedures all play a crucial role in meeting its customers' needs.
Upfront Excellence
"The other part of our strategy is manufacturing excellence," Rollins says. "We make sure we make a good product that meets or exceeds customer expectations. It's easy to say that, but it's about putting in quality systems, electronic measurements, laser systems and other processes so our employees don't have to make hundreds of decisions; they can just make a couple of key decisions each day."
Because its parts pass through multiple hands, Rollins says streamlining the process is critical and ensures consistency and quality. For its North American plants, Henniges buys raw material such as rubber and PPV and creates its own compound. The compound is mixed in its Iowa plant and distributed to plants in the United States, Mexico and Canada. For the Asian and European operations the company sources compound mixes from select suppliers. Once the raw materials are in, the entire process is handled in-house, including design, tooling, extrusion and finishing.
"We have to be certain the product is manufactured to the specs given by the customers," Rollins says. "At the end of the day that's how you separate yourself. If you give customers what they want day in and day out, it gets you to the front of the line."
Henniges has made several investments in its production lines. Its extrusion line is completely computer controlled. Rather than manually resetting the machine to manufacture different parts, operators pull up a menu of parts and with the push of a button are able to switch the line to make a different part. The process speeds up the manufacturing process and reduces the chance for error.
Henniges is also rolling out a new laser-based, no-contact, dimensional measurement system provided by manufacturer Bytewise. Based in Columbus, Ga., Bytewise offers laser-based, non-contact, dimensional measurement systems that are employed on the factory floor for quality monitoring, process control and inspection.
Henniges also has installed quality assurance machines that detect surface defections and contamination of parts.
"Our technical investments are focused on adding automation to our lines that monitor the process and measure our profiles for us so that we know our product is good," Rollins says.
Flexible Abilities
In addition to precision, the company is also developing its flexible production capabilities. Rollins explains that since the downturn the auto industry has honed its skills in forecasting. Rather than building large inventories, automakers are building more targeted inventories that consist of a smaller but diverse stock.
"Automakers are looking at their build schedules against customer demand, which forces everyone to adapt quickly to consumer demand," Rollins says. "We do flexible changeovers with our equipment. If our customers decide they want to go in a different direction or with a different product, we need to make sure we can go in that direction too and do it quickly."
Henniges also has integrated single-minute exchange of dies (SMED) technology into its operations. The process is a lean manufacturing method. It provides a rapid and efficient way of converting a manufacturing process from running the current product to running the next product. It allows Henniges to pull molds from one press to another without buying new pieces of equipment.
Although Henniges knows the importance of state-of-the-art machines and processes to enhance quality, is doesn't discount the need for high-quality employees as well. Henniges has been helping its quality engineers get their Certification of Quality Engineering from the American Society of Quality for the past three years and the initiative is nearly completed.
"Our greatest strength is our people," Rollins says. "The average seniority at our plant is over 20 years. During the downturn, a couple of years ago, we had to ask people to take 12- to 16-week layoffs without pay and we only lost two people. We have a lot of hardworking people who have been in this industry for a long time. They make the difference between a great company and a  good company."