Breaking the mould
Recognnised as world-renowned designers and manufacturers of windscreen wiping systems, Hepworth Group has begun establishing itself as an important player in the fiueld of Reaction Injection Moulding (RIM)
With a history that dates back to the founding of B Hepworh and Company Limited in 1868, then as a manufacturer of chemicals for the local carpet industry, Hepworth Group is today
known for being a global leader in the design,manufacture and supply of windscreen wiping systems, washing equipment and associated control systems. Under the guidance of J. P. Eddy, representing the third generation of owners from the Eddy family, the group has a worldwide network of more than 20 agents, and exports its marine, rail and automotive products to over 50 countries each year.
As first tier suppliers to the marine and rail industries, with accreditations that include IRIS, ISO-9001 and EN15085, Hepworth Group's fabrications division manufactures a wide range of custom-made items, from heavy duty brackets, space frames, enclosures and control box housings, to precision engineered, mirror polished super yacht deck fittings.
"We are very unique, as far as being a manufacturer of wipers is concerned, in that we make the vast majority of our products and systems entirely in-house, with subcontracting kept to an absolute minimum," explains Bert Thijssen, Hepworth Group's Group Sales Director. "Every item is designed under one roof and is made using raw materials that we buy in before they are run through the machinery that we have accumulated, including laser cutting, folding, drilling, milling and welding machines, and even a powder coating installation. We have made a very conscious effort to become a one-stop-shop, making the group a more attractive proposition to work with than those fabricators that can only offer a limited set of skills."
Having established itself within its field of expertise, in March 2017 the group announced the launch of a new Mouldings Division, offering in-house Reaction Injection Moulding (RIM), as a way of complimenting its extensive range of manufacturing services. A flexible, cost efficient process for manufacturing polyurethane resin products, especially in comparison to conventional injection moulding, the advantages and benefits of RIM include typical turnaround times of two-to-three weeks, the ability to produce dimensionally accurate mouldings and castings, a wide range of high impact and high temperature resistant resins, and the ability to specialise in shor t runs of between one and 1000 units.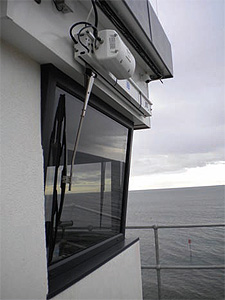 "Having secured work, we set about investing capital in custom machinery, including a heat controlled production cell and a dedicated trimming area," states Technical Sales Manager, Tom Dunkley. "The nature of the business that we are in lends itself well to the type of niche, low volume work that we can expect to take on with the Mouldings Division. The cost savings offered by this type of process, where in some cases tooling expenditure can be slashed by up to a tenth, has resulted in a resurgence in its popularity and we expect to see this intensify within the markets that we are already present in going forward. While the Mouldings Division is just a small par t of the business at present, we already have contracts and sizeable automotive aftermarket projects lined up for 2018 and 2019. With these coming into effect we will be looking to invest further, potentially doubling our capacity as we look to identify further opportunities elsewhere."
Having effectively started the Mouldings Division from scratch, the initial goal for this area of Hepworth Group is to establish it as a key supplier and manufacturer in the UK, and one that can compete for business alongside the companies and brands already present. "Our focus in the short-term is to embed ourselves in the UK market, securing customers and contracts as we go, particularly within the automotive sector, which is enjoying a period of growth right now. Once this is achieved we can star t to look at the potential of other industries and for exporting the business and its products fur ther afield," Tom continues. "In the interim we have the added bonus of being able to leverage the recognition and respect that is reserved for Hepworth Group as we build this new business. It also helps that when a potential customer arrives at our site to see what it is we do they are able to appreciate the true scale of the business and the level of professionalism and group-wide efficiency that we have forged over the years."
Turning back to the business of wiper systems, which at this point remains the largest area of Hepworth Group's activities, it is the products appeal across multiple industries that allows the group to be flexible to changing customer demands. "The marine market faces a period of uncertainty at this moment in time, particularly with offshore oil and gas investments decreasing significantly, however we have become well versed over the years in being able to pursue business opportunities in such circumstances," Bert says. "In the meanwhile, and as stated previously, the automotive market continues to be a source of strong growth, as does the rail market. Our status in these sectors has helped to secure a very nice order book that covers the next three years at least.
"While our effor ts in the respective fields of marine, automotive and rail continue, so too will our drive to establish Hepworth Group's Mouldings Division as a real player of note in the UK. We appreciate that there will likely be some growing pains to overcome, as there tends to be with any new venture, however we are confident that with our track record these can be overcome and that we can now lay the foundations for a prosperous future to come."
Hepworth Group
Products: Windscreen wiping systems and Reaction Injection Moulding (RIM)