Herbaland's owners are supporting many similar journeys to their own
Consumers across the globe are steadily becoming more conscious of the micro elements that can have a macro impact on their health. Whether to moderate the age of convenience, which offers easier access to an ever-expanding selection of tempting treats, or perhaps just the rise of a more educated generation when it comes to nutrition, in the 21st century, we are all more aware of our vitamin-based requirements. This was a passion and market that Aisha Yang, Co-Founder and CEO, and her husband Musharaf Syed, Co-Founder and COO, decided to venture into, with the founding of Herbaland Naturals Inc. (Herbaland) in 2009.
"My husband and I moved to Canada 22 years ago, seeking a peaceful country in which to raise our children and find work," Aisha opens. "I was born and raised in Taiwan, whereas my husband is from Pakistan, and we were very grateful to have the opportunity to start a life here together. Our third child was born in 2009, which was when we started toying with the idea of establishing our own business, so that we could give the children a better life, and be able to spend more time with them. In pooling our talents, I have a background in sales and marketing, and Musharaf is an engineer, we literally started Herbaland from our kitchen table.
I started researching all of the different health and wellness products on the market and, over time, it became apparent that gummies are one of the industry's key performers, so that's where we decided to primarily base our focus.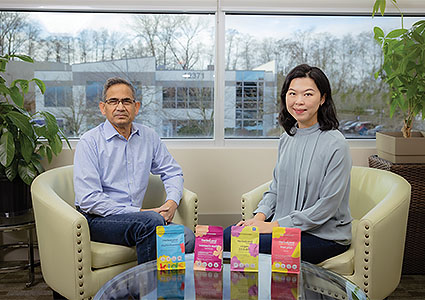 Organic growth
"We knew that this was a strong industry across North America," Musharaf adds, "and initially we found a Canadian manufacturer to work alongside. During this period, we were more focused on the marketing element of the business, as we would relabel and sell their products with our branding. When we started our own manufacturing, we ran into a wide range of different challenges, which were partially due to being new immigrants to the country. We didn't know much about Canada's regulatory systems, such as the city, building, and machine permits that we required."
"In 2013, our original supplier was acquired by a new American owner, who decided they were no longer going to supply us," Aisha explains. "So we decided to take a risk and buy a machine ourselves, to become our own manufacturer. In the beginning, we had no idea how to produce gummies, so we spent around three months practicing through trial and error, until after 250 runs, we finally worked out how. It was such an incredible journey as a team.
We have worked so hard to meet not only Canada's GNP requirements, as a nutraceutical gummy manufacturer, but also those of our export market, in our mission to be the most high-end, clean-labelled producer in the industry, across the globe."
"It wasn't long after we'd established the first machine that we got a second, and then a third," Musharaf continues. We now have seven lines across four locations, fulfilling our packaging and production operations 24 hours a day. We export our goods to 40 countries and have even bigger plans for the future."
Teamwork and timing
In just 14 years, Herbaland has extended its reach and capabilities enormously. Aisha attributes this growth to three main factors: "Our company culture is the first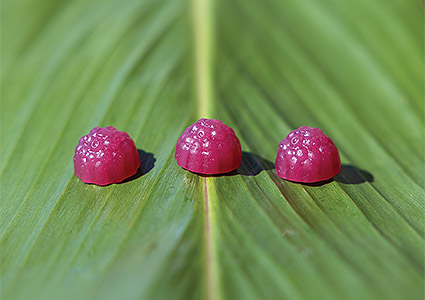 key to our success. We take good care of our people, who we refer to as 'Herbalanders,' and our staff turnover rate is super low, which allows us to keep growing together. Focus is our second factor; as we don't get distracted by trying to do too many things at once, but instead keep to our core strategy of developing the best products possible for our customer base, with whom we have built a strong and reliable network. The final one is our timing. As a team, we are never afraid of facing new challenges, it's part of our DNA, and we are always looking to find new limits to push, which is reflected in our product development. R&D is huge to us, we will soon be introducing our probiotic powder sticks, a senior-nutritional range, and begin to offer some of our products in a liquid form too."
Social responsibility
A few years back, the business started researching new environmentally friendlier packaging options for its products, to try and stave off the culture of single-use plastics, which is synonymous with the industry. "Innovation is a big part of who we are, but it doesn't stop at our ingredients and recipes," Aisha states. "The first one we found was a compostable pouch for our protein gummies, which worked really well. Unfortunately, the supply is very limited, but that didn't stop us from being the first producer to completely switch over to this style of packaging, for both the environment and our consumers."
The B-Corp certified enterprise does a lot more than care for the wider environment, as it also plays a crucial role in its immediate communities. "Canada is a great country and people dream of being able to come here to find a good job, and a better quality of life, which is something that we can offer. Of our 250 employees, around 70 percent are immigrants, so it's an incredibly multi-cultural workforce. We also employ a number of people with disabilities, which has given them fresh opportunities to work outside of their homes. When we were immigrants, it was really hard to find jobs, so we want to make it more accessible to others.
"We get a lot of referrals," Aisha concludes, "from people's positive experiences in getting established and settled with Herbaland. At this point, it's become more of a social responsibility to create opportunities for as many different people as possible, rather than just generating revenue for the company. It's something for which we feel incredibly grateful to be able to offer."