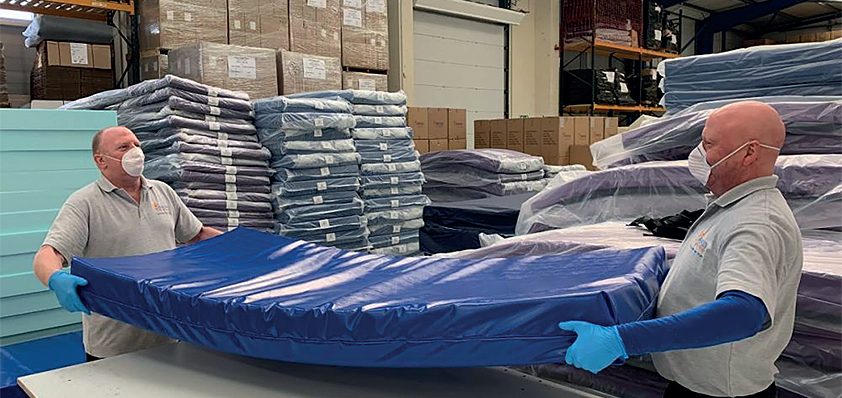 Lasting impression
Leeds-based mattress specialists, Herida Healthcare Ltd continues to cushion the blow of pressure injuries and cater for the most vulnerable people in society
Founded in 2015, Herida Healthcare Ltd is a proudly British manufacturing company that supplies to some of the most essential services in the country with pressure relieving support surfaces, moving and handling equipment and accessories. What makes Herida stand out in the market are its early investments in high-end, laser-guided computer numerical controlled
(CNC) foam conversion machinery. This new German-technology is based on a computer-aided design, and offers significant versatility, speed and accuracy of output. When coupled with both high frequency and pulse welding facilities, this variation of reliable technology enables the group to produce multiple weld programs to suit an array of both support surfaces and fabric variances.
With a focus on foam support surfaces, the company has been able to grow impressively since its inception. In 2017, it expanded its range to include innovative support surfaces and in 2018, introduced a range of moving and handling equipment that set the business on track to continue its momentum.
The subsequent growth led to more rapid developments, which facilitated its drive to invest in its people and take on other business ventures. In 2019, the company appointed an industry leading healthcare Production Director and a Head of International Sales. Following this in March 2021, the business completed the acquisition of Select Medical, a company that also supplies support surfaces, but crucially has a full service and repair offering to complement the broad range of Herida products. Owing to its well-respected product offering and capabilities, the company had been a target of Herida for some time. Over the past 20 years, Select Medical has built a very stable platform and the relationship between the two businesses is set to provide an innovative product range and value for money to Herida's customers.
Along with the acquisition, the business brought David Elstone on board, the Managing Director with Select Medical, and he now also heads up the manufacturing division. David shares with us how Herida has consistently strived to deliver the highest quality to the industries that are looking after the injured and most vulnerable. "We work closely with clinicians and industry professionals to enable us to develop and provide products that will enhance both the quality and comfort of patient life," highlights David.
This is why the acquisition proved to be a strategic move for Herida as it opens the door to endless opportunities for both businesses. "On the one hand, we have an incredible manufacturing facility with very strong customer relationships, and in Select Medical we have a well-established service business with a market-leading range of dynamic support surfaces. Surprisingly, given both businesses operate so closely in the market, there is actually very little cross-over and so both sets of customers have gained through each of our skill-sets, expertise and facilities brought in from each side of the business. The scale of the new company will allow us to be much more aggressive in terms of the size of projects that we take on," David shares with us.
Although plans for the acquisition instilled excitement into the company's future, they also came during an international crisis, which forced Herida to postpone its development activities. "It was difficult, but we are all now focused on the task at hand and we will be knuckling down in the coming weeks and months to offer our enhanced products and services," David notes.
Despite this being a setback for the company during the Covid-19 pandemic, in other ways the business was able to pull together its resources to continue delivering to frontline workers. "In all honesty, I have no idea how the Herida team managed it. Covid-19 restrictions made manufacturing life tough enough, but to add to that, the team experienced completely unprecedented levels of demand. We had to facilitate additional shifts, lots of overtime and some really clever sourcing activity, only made possible by staff commitment and a knowledge and expertise of the space," he exclaims. With these measures in place, the business was able to stabilize its orders and provide its much-needed services to its clients. When Nightingale hospitals were launched across the country to facilitate the overwhelming number of Covid-19 patients, Herida's mattresses were on the beds of the care centers as part of the vital equipment required to assist the NHS during the unprecedented year.
It goes without saying that its ability to satisfy the influx of demands would not have been possible without the commitment of its dedicated staff. Manufacturers will often discuss how the people of their business are the greatest assets, but within a manual-skill sector, people really are the secret to success. "I've not yet found a planned preventative maintenance program for a person, so from an efficiency improvement perspective, it's about creating the right production flow, standards, process and an environment where people want to come to work and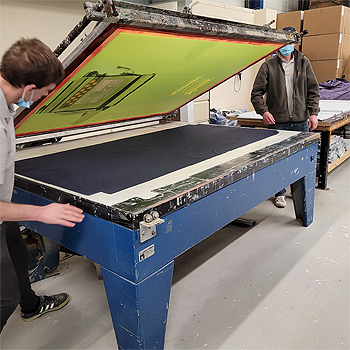 contribute. I think we do this very well at Herida," says David.
Part of how the business is able to maintain a motivated company culture is due to distributed leadership and goal alignment. David elaborates on how Herida empowers its people to perform optimally by beginning with the premise that people fundamentally arrive at work to contribute, and that encourages the business to create an environment for its team to do just that. "Coaching and supporting is what we focus on, rather than managing and directing, and definitely not abandoning, which is often the pitfall of empowerment. Goal alignment is about creating an exciting direction of travel, then cascading down achievable goals and objectives to everyone to ensure we are all aligned behind the common goal," David iterates.
This goal-aligned ethos is clearly what has given the company its push for forward development and identify opportunities to improve patient wellbeing. By having access to state-of-the-art CNC machines, welding and printing facilities, as well as in-house sewing technology, Herida is able to develop new product initiatives into actual product quicker than most, providing it with further opportunities to expand. "We are currently looking at an exciting sling opportunity for export, as well as in-house manufacturing of high-end cross-over mattresses, which is a hybrid support surface that we are very happy with," shares David.
Added with these exciting investments in infrastructure, the team is determined to fulfill an aggressive growth plan over the next 12-to-24 months. Recent synergies have shown to be incredibly useful acquisitions, which have put Herida in a position to strike again. "Now that we have garnered the scale and the management infrastructure, we are able to aim high and move quickly," David pinpoints for us, further adding that despite the company's number of highly skilled fabric cutters, its next phased investment will be linked to a vast CNC fabric cutting facility, which will allow fast cross transfer of divisions and materials, whilst targeting an inevitable reduction of waste and the continued commitment to a smaller environmental footprint.
"Then, on the exporting side, we now have a Channel Director who is responsible for facilitating our exports. British manufacturing, particularly in the medical devices spaces, has huge capital globally and we have built up a very strong export business already, which currently accounts for around 25 per cent of total business, but there is huge scope for further growth and we are determined to explore those avenues," David explains.
With restrictions on the one hand and a surge in demand on the other, the company has been through a tumultuous year to say the least. However, despite the challenging environment for manufacturing, Herida has grown to become one of the biggest operators in this industry, underpinned by an ambition to look after the many different care providers across the country. In the space of five years, it has managed to leave a remarkable impression on the sector and only hopes to continue on this trajectory. "Above all, we are passionate about improving the lives of those who need to be cared for," David concludes.
Herida Healthcare Ltd
Products: Manufacturers of mattresses, cushions and various accessories
https://www.heridahealthcare.co.uk/